Offline Strength
Huaqiang Electronic World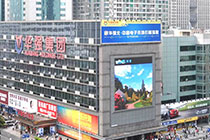 As the largest electronic trading market in Asia, Huaqiang Electronic World, located in Shenzhen, China, provides a strong support for online transactions of www.hqew.net. Covering a total area of 100,000 square meters, it includes more than 7200 shops of different types, with a great importance attached to its first three malls in Shenzhen.
First Mall in Shenzhen
With an area of 45,000 square meters and over 3000 shops, it is the first large-scale professional electronic market that has passed the ISO9001 management quality system certification, gathering a variety of electronic components which can meet different needs of buyers.
Second Mall in Shenzhen
The second mall, occupying an area of 43,000 square meters, is equivalent to the first mall with over 3,000 shops. As a large multi-functional one-stop sourcing base, it can provide buyers not only sufficient offline supply of goods but also online high-quality products of reasonable prices.
Third Mall in Shenzhen
There are more than 1,200 shops around the 1,500 square meter mall with a great variety of electronic parts and components for sale, which can also be a good supply for online transaction.
Huaqiang Electronic World witnesses 6 million purchase transactions each year. With buyers from more than 200 countries, the circulation of goods is still efficient. Meanwhile, Huaqiang Electronic World has built strategic partner alliance with over 20,000 brand manufacturers, distributors and retailers. With a complete coverage of main cities in China, it expands across the whole country.
Shenzhen LED International Trade Center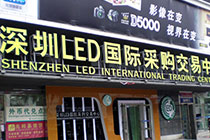 Located in Huaqiang North Commercial Area, Shenzhen, Shenzhen LED International Trade Center is built by Shenzhen Huaqiang Group with huge investment. Strongly supported by the Shenzhen Municipal Government and Shenzhen LED Industry Federation, it is an offline support for www.hqew.net.
As an international LED procurement trading market, Shenzhen LED International Trade Center plays an important role due to its solid strength.
The first phase of the trade center occupies an operating area of 8,500 square meters and business stores of the second phrase covers 4,000 square meters. What's more, shops here, strictly screened and evaluated by the trade center, must have good production and processing techniques and comply with relevant standards. There are a lot of internationally renowned LED brand enterprises offering products of good quality and excellent price, including Waichi, SED and Mason.
Thanks to the above suppliers, Shenzhen LED International Trade Center encompasses tens of thousands of LED products, such as LED commercial lighting, home lighting, outdoor lighting, LED chips, and LED components. These products can also be bought on hqew.net so that buyers can enjoy convenient one-stop purchasing services online. It is expected that the volume of trade will be more than 2 billion yuan to occupy the commanding heights of LED business.
HQ Electronic World Malls all over China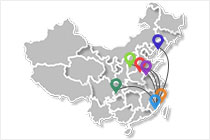 Chain markets of Huaqiang Electronic World, just as the electronic world, has a strong supply capability covering major cities in the East, South, West and North China. Currently, there are 12 large-scale professional chain stores in Shenzhen, Shanghai and other key cities in order to gather outstanding suppliers of electronic, strive to provide more diversified products and services for Chinese and global buyers and provide more comprehensive product offering services for www.hqew.net.
Supply Chain & hqepay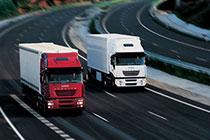 As the largest express delivery service supplier of www.hqew.net, HQ E-Pay has integrated several well-known express companies, including SF Express, Long Bang, Zar, China Post and DHL. It makes effective use of express delivery network to provide efficient express delivery services for global buyers with the purchased products delivered to the buyer in a safe, quick, efficient and secure way. And with lower delivery costs and less delivery time, it offers more efficient customer service tracking and problem handling so that customers can enjoy "intimate and assured service."
In addition to HQ E-Pay, Huaqiang Group has also acquired a number of well-known electronic components distribution companies in China, such as Sanet Electronics, Mogul Tech, Qinuo Electronics and APL Electronics, forming a powerful electronic components distribution network.
With efficient supply of electronic components, these companies also provide complete supply chain services, including warehousing, logistics and distribution, and customs declaration services, which can quickly meet the needs of China and global electronic components buyers.
HuaQiang Bei International Maker Center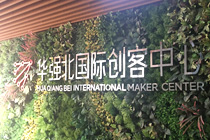 Located in Asia's largest electronics market, Huaqiang North International Maker Center is a comprehensive innovation and entrepreneurship ecosystem platform built by Huaqiang Group to serve entrepreneurs. Thanks to its unique geographical location closing to Asia's largest electronics market and supported by the premium online supplier platform - www.hqew.net, it brings together the creators from 86 countries around the world.
With the high-quality suppliers and huge electronic component inventory on www.hqew.net, the makers can get the electronic components expediently to facilitate the development of their own products without worrying about the shortage of supply.
The electronics products independently developed by the makers can be sold on www.hqew.net, such as PCBs or other electronic modules. In this way, the makers become one of the members of Huaqiang Electronics suppliers. With the help of the one-stop supply chain, the DEMO of the product can be delivered at least in 3 days.
On this premium platform, the components buyers can not only obtain first-hand trends in the electronic components industry but also complete the purchase fast and conveniently.