Conclusion
In the current situation, distributors are developing their thinking, actively changing and developing suitable value-added products for their core. Innovation has become a synonym for all industries in this era. So, on this premise, whoever can solve the pain of innovation can win the upgrading battle of electronic component distribution.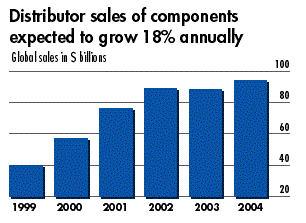 As one of the biggest electronic components market in Asia, Huaqiang Electornic World has always insisted on the concept of innovation service as well as provides the high-quality products and best services for all cooperators and buyers. In the past 30 years, huaqiang electronic world has almost served all the leading electronic enterprises in home and broad. It is also because of the cumulative experience of this long time service, an manager of huaqiang electronic world strong summaried of innovation probably has four major stages, that is, "knowledge, selection, research, use", each of which has a corresponding pain point.
---
What is electronic components?
Electronic components are the general name of components and devices. It is an integral part of electronic components and small machines and instruments. It is usually made up of several parts and can be used in similar products. Often refers to electrical, radio, instrumentation and other parts of the industry, such as capacitors, transistors, hair springs, clockwork and other sub devices.Commonly used electronic components include resistors, capacitors, inductors, potentiometers, transformers, diodes, transistors, MOS tubes, integrated circuits, and so on.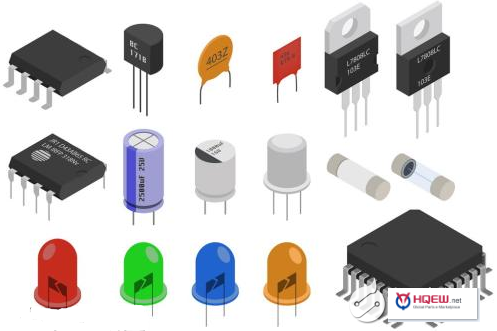 ---
What's the main problems of electronic components distribution industry?
It is easy to see that there are two main points in the current electronic components distribution industry:
One is a technical problem. There is a heavy software and hardware statement in the electronics industry, which directly leads to the fact that many young engineers are not willing to learn hardware, but in fact, research and development need the accumulation of experience.
Two, it is difficult to obtain small quantities of R & D materials, and there is a problem of defective materials. There has been a media explosion, the products of intelligent hardware enterprises have made major problems. After analysis, we found that the products bought have been stopped for many years in advance, that is, to buy fake goods. As for the problem of the defective products, the semiconductor packaging industry in Southeast Asia, especially in Southeast Asia, has a complete industrial chain, which sells the scrap of the enterprise in the world, which will bring many difficulties to the research and development of the enterprise.
---
The trends of electronic components distribution market
For such problems, the trend can be found:
In the future, on the one hand, with the trend of mergers and acquisitions will be more and more obvious, micro agents and small agents will gradually be eliminated, the number of distributors will be greatly reduced. On the other hand, more and more distributors will enter the Internet market, expand the electronic business platform, and test the water Internet to solve the pain problem in the electronics industry.
At present, although the sales of electronic components are dominated by offline channels, with the development and extensive use of the Internet, the younger generation of shopping habits have been offset and adjusted. There is reason to believe that the future sales of electronic components will gradually shift to the line. As in all fields, the channels on the offline lines will coexist, and they will support each other.
Here I will introduce how mouser,digikey,hqew.net to meet these challenges.
---
How does Mouser meet these challenges from electronic components industries?
As is described in the wikipedia, Mouser Electronics was founded by Jerry Mouser who was a physics teacher.At beginning,The company relocated to to its branch location in Mansfield, Texas, and in 2001 expanded into a new facility on seven acres there.[2] In January 2000, Mouser became a wholly owned subsidiary of TTI, Inc. in Fort Worth, Texas. In December 2006, a majority ownership of TTI was sold to Warren Buffett-controlled Berkshire Hathaway. In 2007, the company expanded its warehouse and office space by 231,800 square feet.
There is a talk about key changes in the electronic supply chian during Glenn Smith's 40-year tenure at Mouser.
Glenn Smith said:"The electronics industry and the distribution industry both have seen many changes and challenges. In distribution in particular, there have been other changes. As just one example, FedEx started as a company the first year I started at Mouser. That has certainly changed the way distribution has worked. [Back then], we used carriers, but there was no global or nationwide carrier that covered everything. As a result, everyone had warehouses all over the country. Those have mostly gone away. Getting into the top 10 global distributors has certainly been a great milestone. It shows how the distribution landscape has changed. Nobody thought that catalog distributors would really be the force that we are in the industry.
what are the greatest challenges the company faces in serving a worldwide customer base? Smith answered this question: "the challenge is that while [customers are] trying to design a new product and bring it into production, there are still local regulations and processes and business practices that affect them, not to mention different languages and currencies. So you have to blend all that together and still provide the service customers need. As a result, you have to determine the things in your service model that are global and what has to be tailored individually. That's challenging.We've chosen to put marketing and salespeople in each region and in different countries because of those different requirements—also because you're talking to customers that might think differently in different parts of the world. They might think differently in Italy than they do in Sweden, for instance."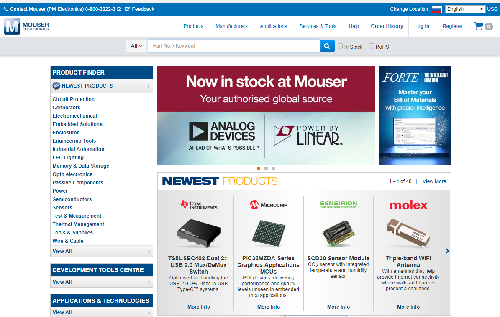 ---
How does Digikey meet challenges from electronic components industries?
Digi-Key is one of the fastest growing distributors of electronic components in the world. And its solution is similar to mouser,here I don't want to write more.Digikey provide a multilingual website for customers in different regions. People can buy electronic components by selecting their local language.It largely improves urers experience services.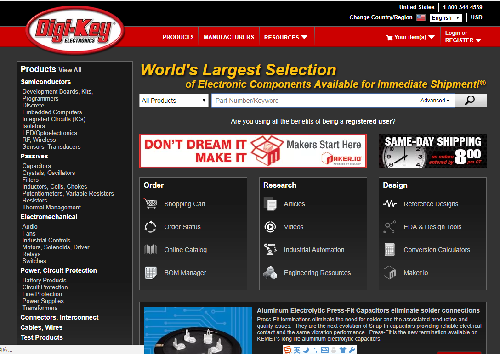 ---
How does hqew.net to meet challenges from electronic component industries?
HQEW.net is the global leading B2B online trading platform for electronic components industry in China, aiming to offer E-commerce service to purchasers and suppliers worldwide from beginning to end.Consumers can compare whose products are in high-quality and low price. HQ Electronic World Mall has accumulated strengths and experience during the over past 16 years and has developed a long-term strategic partnership with over 20,000 factories, distributors and retailers in the industry. As for now the coverage of HQ Electronic World Mall off-line chain stores has reached to the main megalopolis in the different regions of China and it will never stop its expanding. HQEW.net has been in a high speed developing period and become the vital link between China and oversea electronic component trading. It's true that www.hqew.net is a new type of electronic components platform.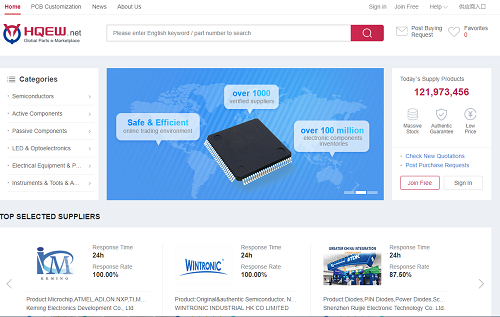 One of the leaders of hqew.net said: "in fact, traditional enterprises are facing a challenge to do Internet innovation, that is, the challenge of resource allocation, including the balance of attention, center of gravity and the tendency of enterprise strategy. The market and the social environment are the factors that affect the development of the electronic industry. Electronic distributors must have insight and foresight for the development of the whole economic environment and industry. With smart phones as an example, smart phones are very hot in recent years, hundreds of millions of orders emerge in endlessly, the smart phone market is becoming more and more explosive and mature, but the more mature the market, the lower the profit, the risk of operation will also increase accordingly."