TP4056 is a complete single line lithium ion battery with constant current / constant voltage linear charger. Its SOP8 package with fins at the bottom and the number of fewer external components make TP4056 an ideal choice for portable applications. TP4056 is suitable for USB power supply and adapter power supply.
TP4056 is a linear charger circuit designed for a lithium ion or lithium polymer battery, which uses power transistors inside the chip for constant current and constant voltage charging. The charging current can be programmed by external resistance. The maximum continuous charge current can reach 1A. No additional blocking diode and current detection resistor are needed. The TP4056 consists of two state outputs with open drain outputs and charge state indication terminals.
The power management circuit inside the chip automatically reduces the charging current when the chip's junction temperature exceeds 145 degrees C. This function allows users to maximize the power processing capability of the chip, without fear of the chip overheating and damaging the chip or external components. In this way, the user can not consider the worst when designing the charging current, but only according to the typical case, because in the worst case, the TP4056 will automatically reduce the charging current.
TP4056 Features
The programmable charging current of up to 1000mA does not require MOSFET, detection resistor or isolating diode to be used for single lithium ion batteries, a constant current / constant voltage operation of a complete linear charger with SOP package, and a thermal regulation function that can maximize the charging rate without overheating danger.
No MOSFET, Sense Resistor or Blocking Diode Required

Complete Linear Charger in SOP-8

Package for Single Cell Lithium-Ion Batteries

Constant-Current/Constant-Voltage

the Radiator need connect GND or impending

Charges Single Cell Li-Ion Batteries Directly from USB Port

Preset 4.2V Charge Voltage with 1.5% Accuracy

2.9V Trickle Charge Threshold (TP4056)

Automatic Recharge

two Charge Status Output Pins

C/10 Charge Termination

Soft-Start Limits Inrush Current

Available Radiator in 8-Lead SOP Package
TP4056 absolute maximum rating
| | |
| --- | --- |
| Input power supply voltage (VCC) | -0.3V to 8V |
| PROG | -0.3V ~ VCC+0.3V |
| BAT:-0.3V to 7V. | -0.3V to 10V: -0.3V to 10V |
| TEMP | -0.3V ~ 10V |
| CE | -0.3V ~ 10V |
| BAT short circuit duration | continuous |
| BAT pin current | 1200mA |
| PROG pin current | 1200uA |
| Maximum temperature | 145 degrees centigrade |
| Temperature range of working environment | -40 C ~ 85 C |
| Storage temperature range | -65 C ~ 125 C |
| Pin temperature (welding time 10 seconds) | 260 C |
TP4056 Pin and their function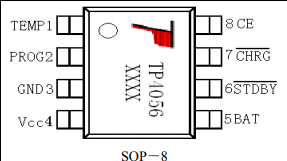 TEMP(Pin 1) :Temperature Sense Input Connecting TEMP pin to NTC thermistor's output in Lithium ion battery pack. If TEMP pin's voltage is below 45% or above 80% of supply voltage VIN for more than 0.15S, this means that battery's temperature is too high or too low, charging is suspended. The temperature sense function can be disabled by grounding the TEMP pin.
PROG(Pin 2): Constant Charge Current Setting and Charge Current Monitor Pin charge current is set by connecting a resistor RISET from this pin to GND. When in precharge mode, the ISET pin's voltage is regulated to 0.2V. When in constant charge current mode, the ISET pin's voltage is regulated to 2V.In all modes during charging, the voltage on ISET pin can be used to measure the charge current as follows:
GND(Pin3): Ground Terminal Vcc(Pin 4): Positive Input Supply Voltage VIN is the power supply to the internal circuit. When VIN drops to within 30mv of the BAT pin voltage, TP4056 enters low power sleep mode, dropping BAT pin's current to less than 2uA.
BAT(Pin5): Battery Connection Pin. Connect the positive terminal of the battery to BAT pin. BAT pin draws less than 2uA current in chip disable mode or in sleep mode. BAT pin provides charge current to the battery and provides regulation voltage of 4.2V.
(Pin6): Open Drain Charge Status Output When the battery Charge Termination, the
pin is pulled low by an internal switch, otherwise pin is in high impedance state.
(Pin7): Open Drain Charge Status Output When the battery is being charged, the
pin is pulled low by an internal switch, otherwise pin is in high impedance state.
CE(Pin8): Chip Enable Input. A high input will put the device in the normal operating mode.
Pulling the CE pin to low level will put the YP4056 into disable mode. The CE pin can be driven by TTL or CMOS logic level.
TP4056 Circuit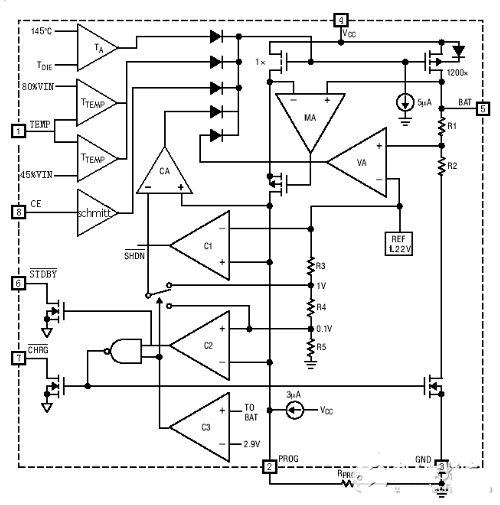 Typical circuit basic on TP4056 lithium battery charger module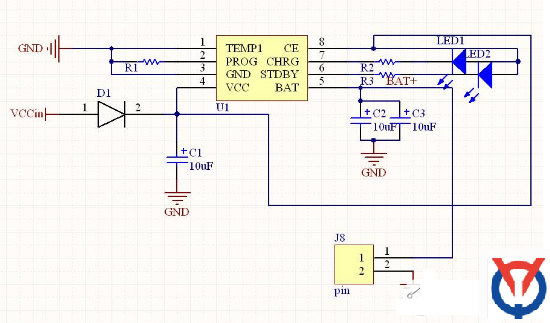 Combined current circuit base two TP4056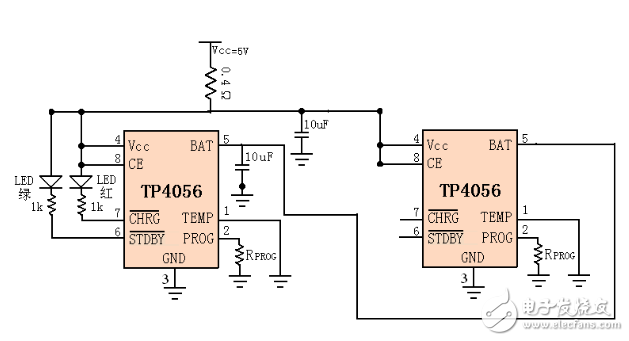 Notice:
The charging current can reach 1.8A, and the LED lamp uses only one chip. The other foot can be suspended. At the power supply side, the capacitance of the battery terminal should be placed in the middle of the two chips to protect two chips at the same time. The input 0.4 ohmic resistance should be more than 1W, which can be replaced by SS34 Schottky. If the input voltage is 4.8-5V, this resistor can be avoided.