When we were on the Ching Ming Festival holiday, the operators in the United States and South Korea were conducting a commercial competition in<5>5G. This has caused great concern in the global communications industry.
On April 3, we saw three major operators in South Korea (SK Telecom, KT, LG U+) announced the official commercialization of 5G and the opening of 5G mobile network services. Grab the title of "the world's first commercial". One hour later, Verizon, the US operator on the other side of the ocean, was very convinced to announce the launch of 5G wireless network services in some regions.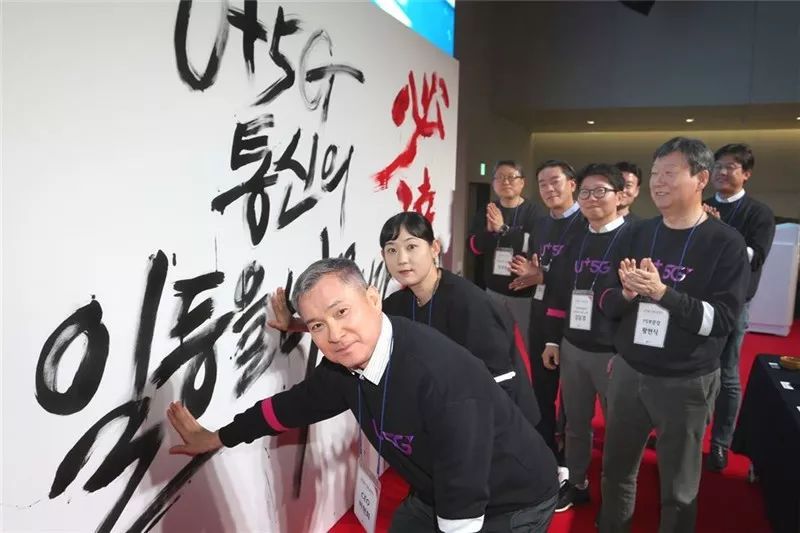 It is understood that by April 5,South Korea's three major telecom operators officially began to handle 5G mobile phone access procedures for the public, of which LG U+'s 5G growth took the lead. As of the afternoon of the same day, 15,000 buyers had subscribed to the 5G service of LG U+.
Compared to KT, there are more than 10,000 5G users. SK Telecom does not provide 5G user data. However, according to Korean media reports, the phenomenon of SK telecom users shifting to LG U+ and KT is particularly prominent.
In terms of 5G networks, SK Telecom, Korea Telecom and LG U+ have built 34,000 base stations, 30,000 and 18,000, respectively. As we all know, South Korea's LG U+ 5G base station construction has been leading the construction of 5G networks in Korea and the world. However, we found that SK Telecom and KT suddenly announced the large-scale construction of 5G networks in the short term, and did not know the quality of the network.
From the perspective of user development and user feedback, South Korea's LG U+ has an overwhelming advantage.This is because LG U+ has an early layout of network, service and package capabilities, and has more powerful advantages, attracting more 5G users. What is the specific situation?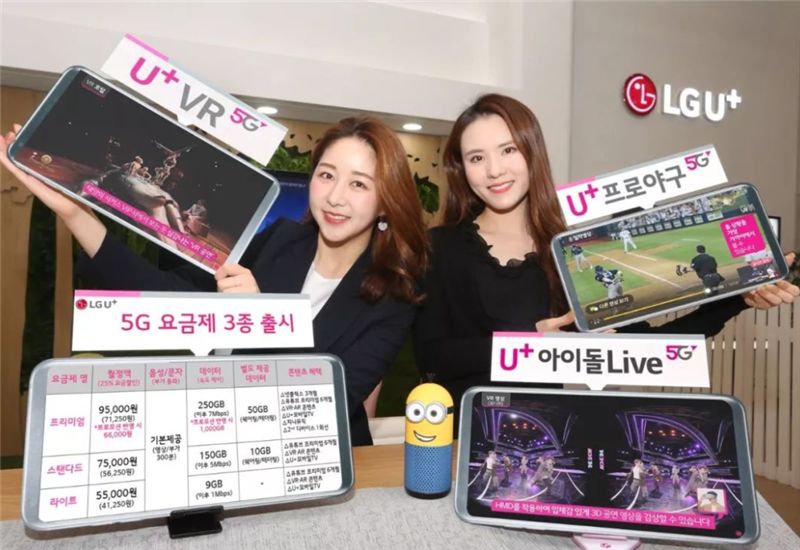 LG U+ leads the network, services, and packages.
In the near future, LG U+ CEO and Vice Chairman Ha Hyun-hwoi It said that LG U+'s 5G service will be second to none, because LG U+ provides quality network services, competitive 5G pricing plans and sufficient 5G content.
First of all, in the 5G network, the 5G network is the basis for providing 5G services, and its importance is self-evident.LG U+ is one of the three largest operators in Korea. It started the 5G construction. From design to exploration, from construction to optimization, it has developed rapidly and step by step to create a network with stable quality. Moreover, LG U+ first planned to deploy a contiguous network in and around the capital Seoul to ensure the experience of urban users.
We saw LG U+ take the lead in selecting Huawei to open 5G base station construction, from last October to this year MWC, LG U+ 5G fast Construction has always been the focus of attention:
On December 1, 2018, LG U+ announced that it has deployed 4100 5G base stations;
At the end of December 2018, LG U+ deployed more than 7,000 base stations;
LGC during the MWC at the end of February 2019 U+ announced the completion of more than 10,000 5G base stations.
Until early April 2019, LG U+ announced that it has established 18,000 5G base stations in the capital Seoul and surrounding areas and metropolitan areas of the country, covering nearly Half of the population. The goal of LG U+ is to build more than 50,000 base stations nationwide in the first half of 2019.
It can be seen that the development of LG U+ 5G base station is gradual, steady and rapid development. It is reported that LG U+ mainly chooses Huawei 5G (more than 95% of 5G base stations are Huawei's construction), which continues the previous cooperation relationship between the two parties, ensures the compatibility of 5G and 4G networks, and guarantees the leading quality of 5G network services.
It is understood that Huawei's 5G minimalist solution enables a minimal deployment of the entire scene, building the ultimate network performance and user experience, and reducing network operating costs. In the previous speech, Yang Chaobin from Huawei's 5G product line introduced the 64T64R AAU device launched by Huawei.Compared with 8T8R, it can increase coverage by about 80%, which can help operators save 70% of new sites, and can basically achieve the same coverage with existing 4G sites.
And Huawei has built a highly integrated blade base station to help 5G low-cost delivery. It is reported that the 5G multi-antenna AAU does not require feeder cable connection, does not require the cable waterproofing process, and greatly reduces the installation process, which can save about 35% of the installation service hours. Based on Huawei's minimalist 5G site solution, it takes 7 people to install a traditional 4G base station for operators, and only 4 people to install a 5G multi-antenna.
2019 will be a year of large-scale commercial deployment of 5G, and 5G will be deployed in a variety of scenarios. Only a minimalist solution can handle complex and diverse deployment environments. LG U+ chose a more evolutionary, lower cost approach from the start.
Second in terms of packages, LG U+'s 5G package is divided into three categories:
The first file is 55,000 won (about 325 yuan) per month, including 9GB of data traffic. After more than 9GB of traffic, the speed limit is no higher than 1Mbps;
The second file is 75,000 won (about 443 yuan) per month, including 150GB of data traffic. After more than 150GB of traffic, the speed limit is no higher than 5Mbps;
The third file is 95,000 won (about 561 yuan) per month, including 250 GB of data traffic. After more than 250 GB of traffic, the speed limit is no higher than 7 Mbps;
LG U+ also said that the third-grade package can enjoy a 25% discount during the promotion period, which is 41,250 won/month, 56,250 won/month and 71,150 won/month.
Compared with the packages of the three major operators in Korea, we can find that the first file of LG U+ provides more data traffic (more than 1GB), and other gears are more powerful than SK Telecom and KT. In terms of terminal subsidies, LG U+ is also more active.
Last in the service sector, LG U+ announced that it will continue to develop 5G AR/< in games, sports, entertainment, online comics and performances. u>VR service, providing consumers with a wonderful experience. Currently LG U+ launches virtual reality (VR) social applications and uses VR and star one-on-one dating services. From the terminal level, the three major operators in Korea The Samsung Galaxy S10 5G phone is selected for Samsung. The phone is priced at $1225 (about RMB 8167, 256GB version).
LG U+ users lead other Korean operators
In the case of network conditions, 5G packages, 5G subsidies, etc., the number of LG U+ users is ahead of other Korean operators. According to Korean media reports, as of the afternoon of April 5, LG U+ The growth of 5G users has more than doubled compared with other companies, reaching more than 15,000. KT has more than 10,000 5G users.
The situation of SK Telecom is not very good. Relevant persons in the industry said: "The flow of LG U+ and KT by the participants of SK Telecom is particularly prominent. According to the Nikkei News, in a SK Telecom business office in Seoul, South Korea, the clerk said that only one user signed a 5G service that day.
LG U+ subsidies for terminals are one of the key factors affecting users. It is reported that LG U+ subsidies for terminals are raised to 308,000 to 475,000 won, and an unlimited fee promotion of 5,800 won per month. If you add the subsidy fund paid by the agency itself, the price of the Galaxy S10 5G 256GB mobile phone that chooses LG U+ will drop to 850,000 won (about 5023 yuan).
5G networks are also a key factor influencing user choice. It is reported that LG U+ built a 5G network earlier, leaving the LG U+ 5G in the hearts of consumers in a leading image. In the actual 80km/h mobility test, LG U+'s 5G network stayed ahead in Korea.
The United Kingdom, Canada and other multinational operators have previously publicly stated that Huawei is currently leading the telecommunications equipment vendors. It is reported that,Huawei helped LG U+ deploy a number of Massive MIMO devices, which performed well in mobile testing. Moreover, due to the large investment in productization, Huawei's manufacturing and delivery capabilities are more powerful, which means a higher quality 5G network experience.
"LG U+ has developed a winning game plan to shake the telecommunications market and lead the 5G era. We will definitely win in this competition because we In the three cores of 5G services - network, service and pricing plans have a competitive advantage." Ha Hyun-hwoi said that LG U+ will become the nation's fastest 5G operator.
Summary:
5G first commercial is significant,
first-mover advantage is key
When the industry has questioned the value of 5G in the past, South Korea and the United States have proved that the importance of 5G is beyond imagination with actual commercial actions. For telecom operators In other words, 5G is also an important technology to increase market share. "5G service is an excellent opportunity for LG U+ to change the telecom market structure. "HHyun-hwoi, CEO and Vice Chairman of LG U+, said.
Among the three major operators in Korea, LG U+ is more active, through the network, packages and The content is multi-layered to attract users' choices. From the past few months and recent contests, LG U+ has achieved first-mover advantage in the network and won the lead.
According to Global System for Mobile Communications, by 2034, 5G is expected to bring in a global economic benefit of $565 billion. Operators in all countries are active. Launched 5G services. China is expected to issue 5G licenses in 2019, and the three major operators will invest more than 30 billion yuan in 5G. Japan is expected to commercialize before the Tokyo Summer Olympics in 2020. Several European operators plan to commercialize 5G in 2019.
It is predicted that in 2019, more than 50 countries will issue 5G spectrum in the world, more than 60 operators will deploy 5G, and more than 40 5G commercial terminals will be available. Wave 5G commercial will cover a vast market of 1/3 of the population, which will make the scale of 5G construction greatly exceed the same level of 3G and 4G.