Recently, the Fox website published an article by Patrick Moorhead, which analyzed the layout of ON Semiconductor in the field of electric vehicles, especially its comprehensive power semiconductor coverage, which left a deep impression on the author.
The following is the full text of the article: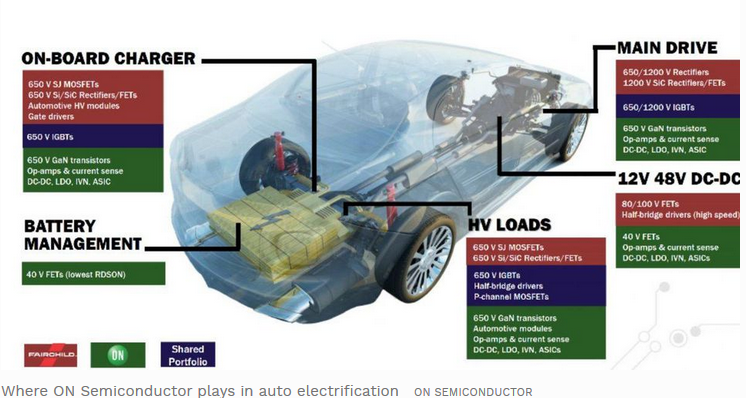 Anson Semiconductor is a company I have been following closely in the past year. When the Motorola Semiconductor Products Division was spun off in 1999, the company built power and signal management, discrete, logic and other custom devices for a variety of industry applications. Recently, its influence has grown in the growing automotive electronics market, one of the top 10 automotive semiconductor suppliers in the world. In the next few decades, autonomous vehicles will undoubtedly become one of the most influential technologies, therefore,I pay close attention to technology companies that play a role in this field, but today I want to know more about ON Semiconductor's ongoing automotive electrification market.

Automotive: Fast-growing areas

As cars become smarter and more powerful, they use more and more advanced electrical components and circuits. It is worth noting that these electrifications involve many different types of vehicles, not just electric vehicles, including internal combustion engines (ICE), battery electric (BEV), hybrid electric (HEV), plug-in electric vehicles (PHEV) and fuel. Battery electric vehicle (FCEV), etc.

Future autonomous driving requires several different types of sensors, including lidars, radars and cameras. These sensors collect data and feed it into a more powerful processor (or set of processors) that can determine in real time what happens outside and inside the vehicle, and how the vehicle should respond.

Since the mid-1950s, cars have been using 12-volt battery systems, but they simply can't afford the heavier electronic loads of the next-generation vehicles.By boosting the battery system to 48V, the overall efficiency will be greatly improved. But literally, the addition of a 48V voltage rail means that thousands of different product combinations are needed to meet the needs of different electric vehicles and different voltages or other specifications.

Anson Semiconductor's Automotive Market Layout

Ansem Semiconductor's automotive electronics portfolio covers a wide range of active safety and autonomous driving, connectivity and in-vehicle networks. , LED lighting, fuel economy and emission reduction, power system and bodywork are all laid out. What I really want to talk about today is ON's vehicle electrification product portfolio.

The company's power products include IGBTs (Insulated Gate Bipolar Transistors) with a wide range of bipolar current carrying capabilities. These products include high power IGBT devices for traction drive applications in the 650V-1200V range.

ON Semiconductor also manufactures high voltage gate drivers (power amplifiers that use low power IC inputs and generate high current drive inputs for IGBTs or MOSFETs) and high voltage rectifiers to convert AC to unidirectional DC.

In addition, ON Semiconductor also offers super junction MOSFETs and metal oxide semiconductor field effect transistors. A MOSFET is a field effect transistor that amplifies or switches electronic signals. This is achieved by the insulated gate of the transistor, and the amount of voltage applied determines the conductivity of the device. MOSFETs can be used in low-power AC/DC converters, while high-power three-phase chargers use silicon carbide MOSFETs or IGBTs. For the 48V automatic start-stop system, ON Semiconductor offers discrete and modular solutions for the 80V and 100V levels. The company claims that its discrete MOSFETs in TO-Leadless packages have the industry's lowest thermal resistance, covering voltages from 40V to 150V.

In the field of on-board chargers and DC-DC conversion, ON Semiconductor's product portfolio includes high voltage 600V to 650V SuperFET II / III devices, as well as low and medium voltage MOSFETs. For electric power steering applications, the company also offers a range of standard three-phase power modules.

In addition,ON Semiconductor also focuses on the development of wideband-gap semiconductors for silicon carbide and gallium nitride, which will help next-generation solutions. Looking ahead, ON Semiconductor is investing in advanced packaging methods such as high-power modules, single/double-sided cooling and double-sided direct-cooling packages.

To meet the growing power needs of next-generation vehicles, ON Semiconductor says it has also expanded its high-performance eFuse technology from 12V to 48V.

The Value of ON Semiconductor

Obviously, ON Semiconductor's extensive product portfolio is an important part of its success strategy, with EV, PHEV and HEV markets With exponential growth, ON Semiconductor has the right IP to take advantage of. Another advantage of the company is its automotive system engineers' solutions for the global automotive solutions engineering center. In addition, the company has a global manufacturing operations that provide multi-source supply chain support for manufacturing, assembly and testing. It is also worth noting that although ON Semiconductor has remained relatively low-key until recently,But it actually has more than 50 years of experience in the automotive semiconductor business (can be traced back to Motorola).
Ansemite can cover more than $500 in BOM in the HEV/EV field

Ansemite's product portfolio covers the growing automotive electrification market, with reduced carbon emissions and Vehicle efficiency and pressure to reduce fossil fuel dependence continue to increase, and the importance of electrification is increasing. Each car has a huge market prospect. At present, the power system of a gasoline vehicle may cover a value of 40 dollars, and the future power system of an electric vehicle will contain a value of up to 500 dollars. The number of cars produced globally is nearly 100 million a year - you can count how big the market will be.