Abstract: In recent years, the rapid development of electronic technology and wireless communication technology has led to various non-contact wireless data transmission standards. The continuous advancement and upgrading of technology has led to more stringent requirements for these standards, and a low-cost technology for implementing contactless wireless data transmission has emerged.
The most common wireless data transmission technologies currently include Zig-Bee, Bluetooth, and Wi-Fi, which have their own advantages and disadvantages and different applications. Is these technologies able to meet all product needs? In fact, it is not the best for you. This paper introduces a NFC-based short-range contactless wireless data transmission technology with a transmission distance of 10-100mm and a transmission rate of up to 848kbps. For users who do not have too high a requirement for transmission distance and transmission rate, but seem to be the best choice for users who have quick and fast operation, versatility and cost control requirements. So how is it achieved? Let's follow the Xiaobian to get to know the newborns of this era.
know NFC channel chip
NFC is a new short-range wireless communication technology, using one An NFC chip can greatly enhance the convenience of our lives. So what is the difference between an NFC channel chip and an NFC chip? As we all know, the NFC chip has three modes of operation: card reader, card simulation and point-to-point. The NFC channel chip has only two modes of card simulation and point-to-point operation, which embodies its low-cost characteristics in use.
Introduction to the chip
The FM11NC series chip is an NFC channel chip developed by Fudan Microelectronics Co., Ltd. in accordance with ISO/IEC 14443-A. As shown in Figure 1, the chip There are two interface versions of I2C and SPI, which can complete the data interaction between the I2C/SPI interface and the NFC contactless interface.
The FM11NC series chip can be a contact only interface. The universal MCU provides a contactless communication channel that allows the general-purpose MCU to interact with the reader for immediate or non-instantaneous data interaction. Instant data interaction is done through the chip's built-in FIFO, and non-instant data interaction is built into the chip with high reliability. The EEPROM is completed.
The FM11NC series provides non-contact field energy for external power supply. The VOUT pin can be configured with a maximum output voltage of 3.3V and a maximum output current of 5mA. It can be used with low-power MCUs for some portable NFC applications.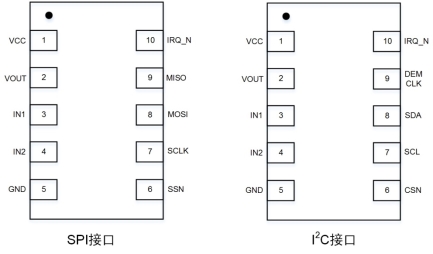 Figure 1 Chip Pin Interface
Chip Features
Take FM11NC08 as an example, which has the following characteristics:

Communication Protocol: ISO/ IEC 14443-A;

Operating frequency: 13.56MHz;

Built-in 8kbit EEPROM (user area 7200bit) , FM11NC00 series chip without EEPROM);

Three channel working modes can be selected: ISO14443-3 mode, ISO14443-4 mode, AFE transparent transmission mode;

The non-contact end has anti-collision function;

Non-contact data transmission rate: 106 kbps, 212 kbps, 424 kbps, 848 kbps;

The non-contact end uses 16-bit CRC to ensure data integrity; p>

7-byte UID on the non-contact side, double anti-collision;

SPI maximum clock frequency: 10Mbps;

I2C maximum clock frequency: 1Mbps;

Double interface sharing 32-byte data buffer FIFO;

The field energy is externally powered, and the output voltage and current are configurable.
establish a data interaction channel
as shown in Figure 2. The MCU only needs to provide an SPI/I2C interface to access the EEPROM and FIFO of the NFC channel chip.The channel for establishing data interaction with the NFC device is simple to use and the data is stable and reliable. The passive communication mode is used throughout the communication process, and the originating end, that is, the NFC device, is responsible for generating the RF field, and the target end responds to the command of the originating end in the load modulation mode.
ZLG Ligong Technology developed a complete set of FM11NC series chip driver package based on this, and wrote a detailed operation manual to facilitate customers to get started quickly. The driver package provides the following functions:
Chip EEPROM access interface function;

Chip register access Interface function;

chip FIFO operation function;

chip and NFC master device data transceiving function.
Figure 2 NFC channel chip application diagram
Using NFC channel chip to realize MCU contactless data interaction is not only easy to use, but also very convenient and fast to operate. There is no need to perform pairing and connection between devices, just two devices can be used to achieve data interaction.
NFC channel chip versatile characteristics Its application in many fields. It can not only supply power to external MCU, but also its card simulation working mode can be applied to access control, traffic checkpoints, etc.; peer-to-peer mode can be applied to device firmware upgrade, Bluetooth and Wi-Fi matching. , smart home and other scenes.