I. Analysis of the trend of the semiconductor industry (7.01-7.07) (I) The basic situation of the semiconductor industry ups and downs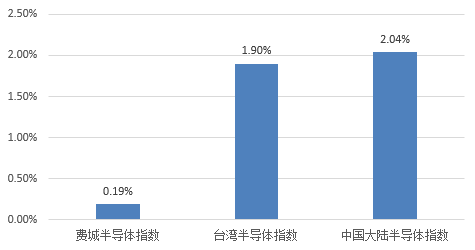 Source: Huaxin Research Institute Finishing
Figure 1 Last week, the world's major semiconductor index rose and fell
last week, Philadelphia The semiconductor index rose 0.19%, lower than the Nasdaq index by 1.75 percentage points; the Taiwan Semiconductor Index rose 1.90%, higher than the Taiwan Information Technology Index by 0.1%; the China Semiconductor Index rose by 2.04%, higher than the A-share index.96 percentage points. In the China Semiconductor Index last week, 46 companies rose and 19 companies fell. Among them, the companies with relatively large increases include Guowei Technology (+14.15%), Powerful New Materials (+13.45%), Xiangyang Huicheng (+9.80%), Quanzhi Technology (+9.62%), and Bichuang Technology (+9.05). %)Wait. Species:
From the index trend, the mainland China Semiconductor Index performed well last week. In the future, with the acceleration of domestic semiconductor autonomy and the increase in capital support, the industry's prosperity will continue to improve.
The science and technology board is just around the corner, and semiconductors are at the top of the list. The Shanghai Stock Exchange announced on July 5 that the first batch of companies of the Science and Technology Board will hold a listing ceremony on July 22. Currently, there are six companies related to IC, MEMS and AI in the 25 registration effective companies in the Shanghai Stock Exchange queuing sequence. The opening of the science and technology board is expected to open up the valuation space of the current A-share corresponding industry and benchmarking enterprises, and boost the investment sentiment of technology stocks.The semiconductor industry is a high-risk, large-investment, long-cycle industry. Under the situation that the US will continue to suppress the domestic IC industry as a long-term national policy, domestic semiconductor companies must keep pace with the industry, R&D and capital investment in the localization substitution and innovation. Be sure to keep up with, especially a large number of private enterprises need long-term, stable capital support, and this is the meaning and value of the science and technology board. Kechuang Board provides a relatively loose listing environment and convenient financing channels for semiconductor companies, which will help promote the development of the domestic semiconductor industry, and is expected to raise the valuation of semiconductor companies with core technologies to a new level.
Japan has imposed export restrictions on South Korea, and the importance of the controllability of semiconductor materials is highlighted. Japan's Ministry of Economy, Trade and Industry announced that it will restrict the export of semiconductor core raw materials to South Korea from July 4th: fluorine-containing polyimide, high-purity hydrogen fluoride, and photoresist, from the original application-free export license to case-by-case review, review The process will last up to 90 working days, highlighting the important constraints of raw materials on the development of the semiconductor industry. As the domestic replacement of semiconductor materials in China is still grim,And some products are facing serious patent technology seals. If the independent innovation of semiconductor materials cannot be realized and the domestic substitution is accelerated, the development progress of China's semiconductor industry will be subject to long-term constraints, based on the necessity of industrial chain development and The current complex situation of international trade, the future of China's semiconductor materials autonomous controllable importance will be further highlighted.
The current focus of the domestic semiconductor industry is still focused on the science and technology board, because the first batch of registered enterprises in the board of science and technology include China Micro Semiconductor, Qiqi Technology, etc. Mingxing's semiconductor industry chain suppliers, therefore, we believe that before the substantive board of the board, the market sentiment is still good, and the valuation of leading semiconductor companies is expected to continue to increase.
(2) Change in the field
Source: Huaxin Research Institute
Figure 2 sub-area ups and downs
In terms of fields, last week, China's semiconductor design, packaging and testing, materials Both the discrete device industry and the equipment industry have seen a decline. The industry and equipment industries have declined. Among them, the design industry index has increased by 3.05%, the packaging and testing industry index has increased by 2.25%, and the manufacturing industry index has decreased by 2.64%. The equipment industry index fell by 1.79%, the material industry index rose by 0.28%, and the discrete device industry index rose by 1.23%.
Manufacturing field, currently The rapid decline in DRAM prices has not changed.Prices fell by nearly 30% in the second quarter of 2019, and are expected to continue to fall by about 20% in the third quarter. The demand for smart phones and servers will be lower than originally expected in 2019, and the CPU out of stock issue still has a slight impact on the shipment of notebooks, resulting in eMMC/ Shipments of UFS, SSD and other products are not as expected, and the decline is difficult.
Equipment industry, due to the smooth progress of 7/5nm investment, the determination of the market demand in mainland China, etc., the semiconductor equipment leader will hold back to the semiconductor equipment industry in the second half of 2019. Optimistic. SEMI expects the equipment market to decline slightly by 4% in 2019 and will hit another record high in 2020. In addition, driven by funds, policies and talents, major domestic equipment suppliers are expected to enhance their own strength and will speed up import substitution.
In the field of design, the process of autonomy in China's IC design industry is accelerating. Recently, Ziguang Zhanrui official revealed thatIt is expected that two 4G SoCs for 4G networks will be launched in the first quarter of 2020, and the 12nm process will continue to be adopted. In addition, the [5]5G SoCs released in the fourth quarter of 2020 are also expected to be confirmed. Adopt 7nm process. As far as time is concerned, 12nm is still used in 4G SoC in 2020, and 7nm process is adopted in 5G SoC. Compared with other competitors, it is slightly slower than other competitors in terms of process progress and introduction, but it also means Ziguang Zhanrui intends to consolidate the low-end market and prevent the Snapdragon 400 series and the MediaTek A series product line attack of Qualcomm.
In the field of discrete devices, applications such as new energy vehicles, 5G, and intelligent equipment manufacturing are becoming new growth points in the domestic semiconductor discrete device industry. Domestic enterprises have invested heavily in technology research and development and advanced equipment, and have penetrated into the middle and high-end products. On the demand side, according to the China Semiconductor Industry Association, the market demand for discrete devices will reach 310.35 billion yuan by 2020.In the long run, with the "Made in China 2025", "Internet +", 5G construction and "National Big Data strategy" successively organized to try, the domestic discrete device market will have a broader prospect .
(c) Last week's rise and fall rankings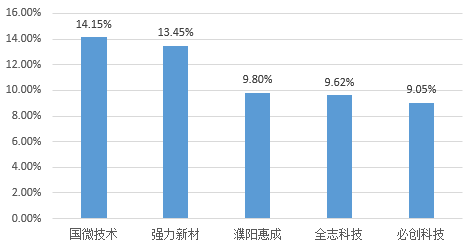 Source: Huaxin Research Institute
Figure 3 Top five companies rose last week
Source: Huaxin Research Institute
Figure 4 After three gains last week
The China Semiconductor Index has 46 companies rising and 19 companies falling. Among the top five companies, Guowei Technology (+14.15%), Powerful New Materials (+13.45%), Xiangyang Huicheng (+9.80%), Quanzhi Technology (+9.62%), and Zhichuang Technology (+) 9.05); the declines are ranked by Research Institute (-6.03%), China Microelectronics (-4.02%), Datang Telecom (-3.92%).
Guowei Technology's index last week was in good shape, with an increase of 14.15%.National Micro Technology is a high-tech enterprise with core technology and focus on content security distribution and transmission. It has become the world's leading provider of content security solutions and paid OTT platforms. On May 21, 2019, Guowei Technology announced that SMIT Shenzhen signed the "Equity Transfer Agreement" as the buyer and seller, Shenzhen Hongxin Weina Technology Co., Ltd. and Hongtai Hongxin Fund. According to this, SMIT Shenzhen agreed to purchase and the seller agreed to 10 million RMB for sale of approximately 0.99% equity of Shenzhen Hongxin Micro-Nano Technology Co., Ltd. In view of the company's technical capabilities in the design of integrated circuits and the strategy of developingEDA tools, the company was invited to participate in the investment project through acquisition. The acquisition will enable the company to access the latest EDA design software projects, further enhancing the Group's ability to develop a full-process EDA system.
The index of the new material last week fell by a large margin, down 6.03%.The company is mainly engaged in microelectronics optoelectronic film materials, ultra-high purity metals and rare metal materials, high-end rare earth functional materials, infrared optical optical fiber> Development and preparation of new materials such as biomedical materials. The company is based on the strategic new materials industry and builds the world's leading new leader in electromagnetic light. According to the first quarter report of 2019, the announcement shows that the revenue during the reporting period was 160,261,300 yuan, a year-on-year increase of 59.46%; the net profit attributable to shareholders of listed companies was 1,472.50 yuan, a year-on-year increase of 532.29%. Based on the company's strong development momentum, future index growth is expected to improve.
Second, industry dynamics (1) Ziguang established DRAM business group, China re-opens the road of DRAM independent development
On June 30th, Ziguang Group announced that it will form a DRAM business group and begin to enter the field of memory.
DRAM is called Dynamic Random Access Memory (Dynamic Random Access Memory), is Currently the most common computer system memory. In 2018, the global DRAM trend was good. The annual market sales reached US$96.565 billion, a year-on-year increase of 39%. In terms of vendor share, the share of Samsung Electronics reached 43.9% in the entire DRAM market last year, at $437.47 billion. Followed by SK Hynix, reaching 29.409 billion US dollars, accounting for 29.5%. US storage chip maker Micron Technology Inc. ranked third with a market share of 22.1%. In other words, these three companies account for more than 90% of the global DRAM market.
Ziguang Group has been in the design and manufacture of memory for a long time, starting in 2016.Ziguang has successively built storage chips and memory manufacturing plants with a total investment of nearly US$100 billion in Wuhan, Nanjing and Chengdu, and has accumulated rich experience in technology research and development, productization and industrialization.
Currently in the field of DRAM, Ziguang's Xi'an Ziguang Guoxin developed memory chip products covering standard SDR, DDR, DDR2, DDR3, DDR4 and low power series LPDDR2 , LPDDR4, of which more than 20 products have achieved global mass production and sales. The company's memory module products include server memory modules (RDIMM, NVDIMM), notebook memory modules (SODIMM) and desktop memory modules (UDIMM).
(2) Another breakthrough in domestic semiconductors: 8-inch silicon wafers on the core wafer, 12-inch next year mass production
June 30,Hangzhou SMIC Wafer Semiconductor Co., Ltd.'s first 8-inch (200mm) semiconductor silicon polishing wafers were successfully launched. This is the first large silicon wafers manufactured in Hangzhou. In addition, the 12-inch wafers of SMIC will be off the assembly line in December this year. In the future, after mass production, the company can achieve an annual output of 4.2 million pieces of 8-inch semiconductor wafers. The annual output of 12-inch semiconductor wafers is 2.4 million.
Co-invested by Japan Ferrotec Co., Ltd., Hangzhou Dahe Thermomagnetic Electronics Co., Ltd. and Shanghai Shenhe Electronics Co., Ltd. SMIC is the "standard factory" for the production of large-size silicon wafers in China. On September 28, 2017, SMIC was settled in Qiantang New District. The first project included three 8-inch (200mm) and two 12-inch (300mm) semiconductor wafer production lines.
At present, the project is in the stage of trial production, and it is expected that mass production of 8-inch wafers will be realized in October this year. At the same time, 12-inch silicon wafers will be completed in December this year, and the sample is certified.Mass production will be achieved next year.
(3) Huatian Science and Technology Nanjing Sealing and Testing Project will be commissioned early next year, Baoji Project will be put into operation this October
Last week, Tianshui Huatian Technology Co., Ltd. (hereinafter referred to as "Hua Tian Technology") disclosed in its latest investor relations activity record that its Nanjing integrated circuit advanced packaging and testing industry base project is expected to be Equipment installation and commissioning at the beginning of next year.
On July 6, 2018, Huatian Technology signed an investment agreement with the Management Committee of Nanjing Pukou Economic Development Zone (hereinafter referred to as "Pukou Economic Management Committee"). Nanjing Pukou Economic Development Zone invested in the construction of Nanjing Integrated Circuit Advanced Sealing and Testing Industry Base Project. The project has a total investment of 8 billion yuan and is constructed in three phases. It mainly invests in the newly-built integrated circuit advanced packaging and testing base, and is engaged in packaging [testing] of integrated circuits including memory, MEMS and artificial intelligence.
At the same time, Huatian Technology registered and established its holding subsidiary Huatian Technology (Xi'an) Investment Holding Co., Ltd. in July 2018. The holding company and Nanjing Pukou Development Zone High-Tech Investment Co., Ltd. jointly established the project company Huatian. Technology (Nanjing) Co., Ltd., with a registered capital of 2.5 billion yuan, is mainly responsible for the construction and operation of the Nanjing Integrated Circuit Advanced Packaging and Testing Industry Base. Among them, Huatian Technology (Xi'an) Investment Holdings Co., Ltd. holds 60% of its equity, Nanjing Pukou Development Zone High-Tech Investment Co., Ltd. holds 40% of its equity. At present, the project has started the groundbreaking ceremony in January 2019.
In addition, China Tian Technology also pointed out that Huatian Baoji's lead frame and packaging test equipment industry base project mainly involves the construction of infrastructure such as plant and power supporting and the purchase and construction of production lines. It is expected that the Baoji project will be put into operation in October this year, which will enable the company to package materials and The business of related equipment is further expanded.
Huaxin Institute Integrated Circuit Investment and Financing Research Center
Introduction to Huaxin Research Institute
Huaxin Research Institute was established in 2014 and is affiliated to the Electronic Industry Press. It is a member of the think tank of the Ministry of Industry and Information Technology. It currently has three consultations: the Industrial Economics Research Institute, the Information Security and Information Technology Institute, and the Intelligent Manufacturing Institute. The research department publishes magazines such as "Industrial Economic Review" and "China Informatization". The operation model is based on industrial research and uses magazines as a platform to provide strategic soft research, data analysis, information consultation, etc. for governments and enterprises. Service.
Since its establishment, Huaxin Research Institute has undertaken the Ministry of Industry and Information Technology in the fields of electronic information, intelligent manufacturing, modern service industry and information technology. More than 80 national key projects commissioned by the government departments such as the Central Network Information Office, the National Information Technology Expert Committee, and the Local Economic and Information Committee.He has undertaken the "One Belt and One Road" industrial and information resources construction, "the construction of integrated circuit investment and financing data resources platform", "the construction of SME investment and financing resources platform", "industry and information technology big data resources construction" and other countries It has built more than 50 research and consulting projects and industrial development planning projects commissioned by industry associations, large enterprises and investment institutions, and has accumulated a good reputation in the industry.
At present, Huaxin Research Institute has established a research team that has long been engaged in industry research consulting, with a total of 82 researchers, including 18 doctors, master's degree or above. 90% of the staff. It has nearly 500 excellent expert resource pools jointly established by well-known research institutes, large enterprises and industry associations in the fields of industry and information technology.