The Chinese Society of Artificial Intelligence publicized the final results of the 2019 Outstanding Doctoral Dissertation. A total of 15 doctoral thesis from Tsinghua University, Institute of Automation, Chinese Academy of Sciences, Nanjing University, etc. were selected!
Recently, the Chinese Society of Artificial Intelligence (CAAI) publicized the final results of the 2019 Outstanding Doctoral Dissertation.
Learn to organize experts to review 20 papers that were finalists, and 15 doctoral thesis awards from Tsinghua University, Institute of Automation, Chinese Academy of Sciences, Nanjing University, etc. Among them, 10 papers won the excellent doctoral thesis award, and 5 papers won the outstanding doctoral thesis nomination award.
CAAI's publicity is as follows:
According to the provisions of the "Regulations on the Selection of Outstanding Doctoral Dissertations of the Chinese Artificial Intelligence Society", the Society organized 9 well-known experts in the field of artificial intelligence to establish the Uber Review Committee. The chairman of the Society, Li Deyi, served as the chairman of the judging committee, and was responsible for 2019. The 20 Chinese papers of the China Artificial Intelligence Society's outstanding doctoral thesis finalists were reviewed. After the final review and two rounds of voting, the finalists identified 10 papers with excellent doctoral thesis awards and 5 papers with excellent doctoral thesis papers. Nomination Award. The final result of the selection of outstanding doctoral thesis of China Artificial Intelligence Society in 2019 is published (see attached table)
Any unit or individual If the result of the review is dissent, please file it with the Office of the Chinese Artificial Intelligence Society within 15 days from the date of publication of the list (before July 23). Any anonymous objection will not be accepted.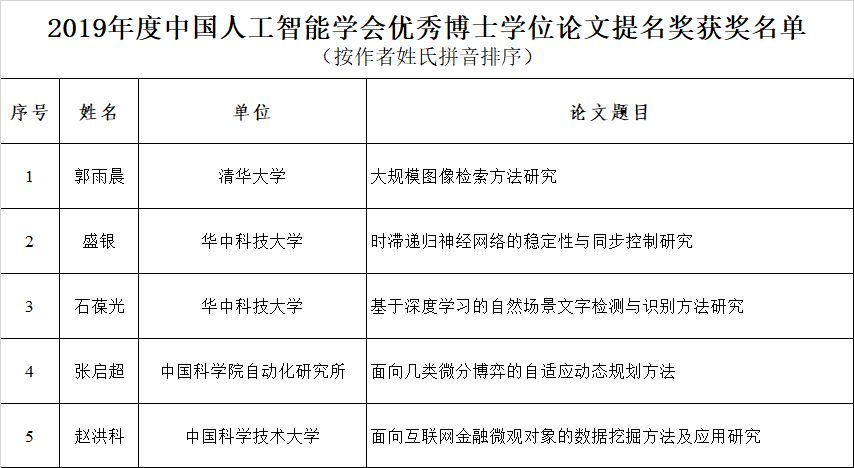 Next Xinzhiyuan brings the introduction of several excellent doctoral thesis:
Tsinghua University: Face-based based on depth neural network Kin detection
authors:Liu Wei
Organization: Tsinghua University
Thesis title: Face based on deep neural network Key point detection
Research background / topic meaning / research value
Face key The point is used to describe the control points and local features of the contour of the face and face. Therefore, the accurate and efficient face key detection technology is the basis and premise of face analysis. In recent years, deep neural networks have been used to study high-level semantic features through multi-layer nonlinear structures, and have been successfully applied to various computer visual processing tasks. The face key point detection method based on depth model performs well under constraint conditions, but its performance is still not ideal under natural conditions due to factors such as head posture and different expression differences and occlusion.
Main research content
For the detection of image key points, this paper proposes a depth for the structural correlation of different parts of the image's key points. The method of sharing and structuring the network; for video face key detection, this paper proposes a method of dual-stream depth network for the timing consistency of video face key points between different frames; for robust face key points Detection, this paper proposes a method for deep shape decision network based on the spatial correlation between face data and pose.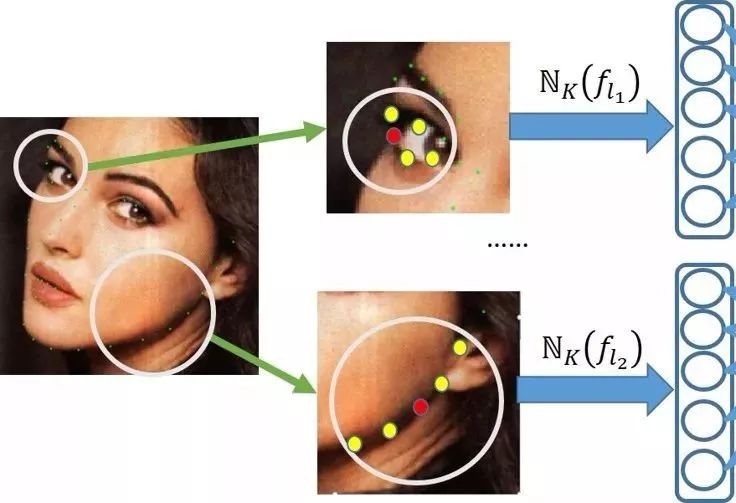 Structural feature learning to model local correlation of face key points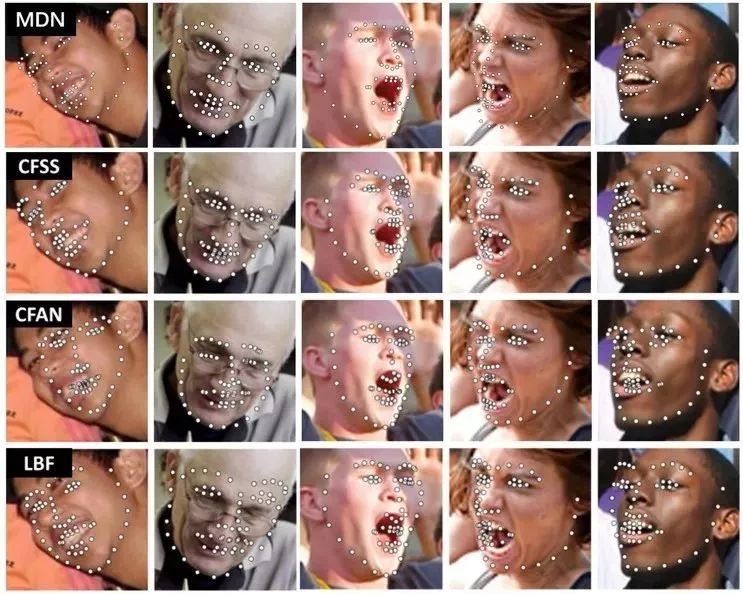 The proposed MDN method has a large gesture change face Detection effect on data
main innovation point
1. Proposed a deep structure The feature learning method enhances the feature representation ability by introducing the structural correlation local constraints of various parts of the face, thereby improving the effectiveness of key point detection;
2.A face key detection method based on deep dual-flow network is proposed. By combining the spatial appearance features and the continuity characteristics of time series information in video data, the depth learning framework of dual information flow is designed. , the effect on the video face data is significantly improved;
3. A robust face key detection algorithm based on the reinforcement learning framework is proposed, by using the face The key point detection is modeled as a Markov dynamic decision process, and an effective strategy based on the Markov process's convergence distribution is obtained, which improves the robustness against large attitude changes, strong expressions and strong occlusion.
National Chiao Tung University: Interaction studies emotional brain machine
Authors: Zheng Weilong
Institution: Shanghai Jiaotong University
Article title:Emotional brain-computer interaction research
Main content:
Emotions communicate with people in daily life Play an important role. In addition to logical intelligence, emotional intelligence is also considered an important part of human intelligence. Emotional intelligence refers to the ability of the machine to perceive, understand and regulate people's emotions. However, existing human-computer interaction systems still lack emotional intelligence. The purpose of emotional brain-computer interaction research is to establish an emotional communication path between people and machines by constructing an emotional computing model.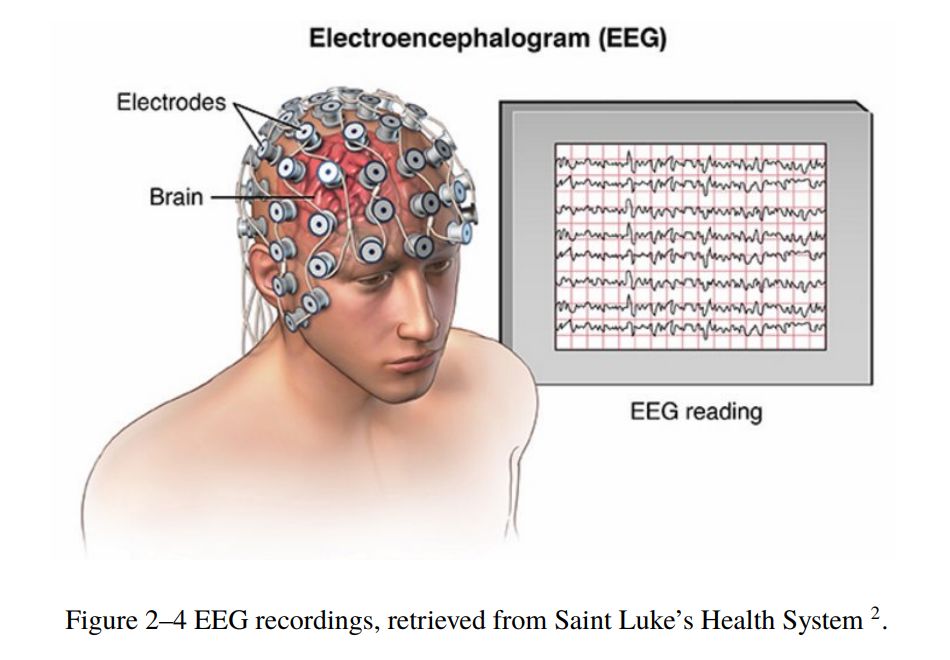 In this paper,We explored the theoretical basis, models, algorithms, implementation techniques, experimental validation, and prototype applications of emotional brain-computer interaction. The main work includes the following three aspects:
1) We use EEG, EEG and eye movement signals, and deep neural networks to construct multimodal emotion recognition and Alertness estimation system.
2) We propose a multimodal emotion recognition framework that uses EEG and eye movement signals to achieve an intrinsic cognitive state and external subconsciousness Modeling of activities.
3) We developed a multimodal alertness estimation system using EEG and forehead eyesight, and performed it in a laboratory simulation environment and a real driving environment. verification.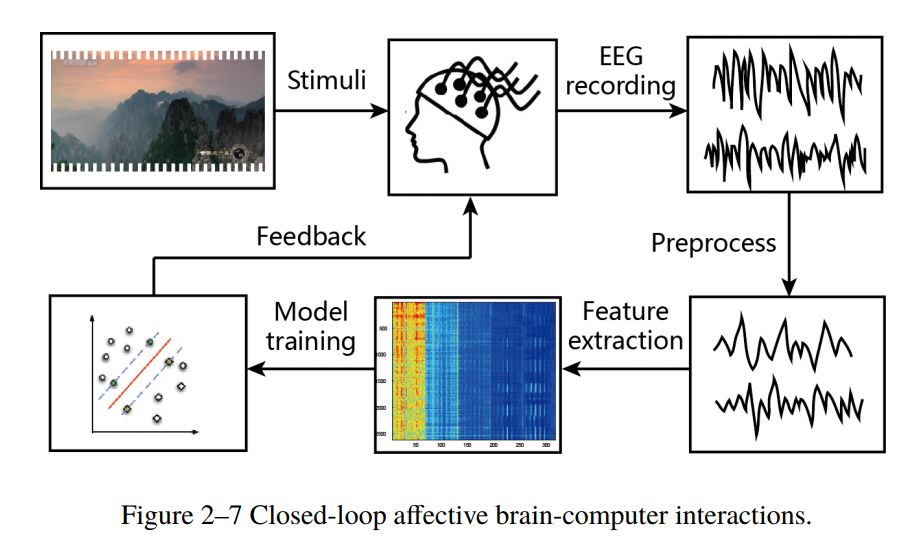 In the course of the above research, we developed three public emotion recognition and alertness The estimated data sets are three types of emotional data sets SEED (happy, sad and neutral), four types of emotional data sets SEED-IV (happy, sad, fear and neutral) and alertness estimation data set SEED-VIG, These data sets have been used by nearly 300 universities and research institutions at home and abroad.
Nanjing University: Weakly supervised and multi-labeled learning
authors: Xu Miao
institutions: Nanjing University
Title of the paper:Weakly supervised multi-label learning
In many realistic machine learning tasks, a sample has multiple tags at the same time, and the entire data set There are only a small number of samples, and even no samples have full marks. Learning such data samples is Weakly Supervised Multi-Label Learning (referred to as WSML learning). Such problems are widespread in practical applications, but few studies in the past are a new challenge in the field of machine learning.