CIOs know that they need to participate in the strategic plan for artificial intelligence, but they are not sure how to get into the world of artificial intelligence. Here, an example from the financial services industry can show you how to develop, integrate, and deploy AI simultaneously with your organization's business strategy.
Artificial Intelligence (AI) is increasingly entering our daily activities. Anyone who uses Google, Facebook or Microsoft products knows this. Although it is far from perfect, it is improving rapidly. Not every business is using artificial intelligence at the same speed. Has your organization begun to study the use of artificial intelligence? How do you know how to solve and implement artificial intelligence in your organization? How should your business and business architects check AI? Where should they start? Try to answer these questions with an example of wealth management.
What is artificial intelligence?
The first mention of artificial intelligence was about 60 years ago. There are many ways to define artificial intelligence. The following 10-minute video, "What is artificial intelligence?" is a good explanation of artificial intelligence and explains several of these definitions:
In addition, I also think Wikipedia's definition is very appropriate:
"Artificial intelligence, sometimes called machine intelligence, is the intelligence that is demonstrated by machines, with humans and others. The natural intelligence of animal display is different. In computer science, artificial intelligence research is defined as the study of intelligent agents: including any device that can sense its environment and take action to maximize its chances of successfully achieving its goals."
The recent enthusiasm for artificial intelligence is largely due to the development of deep learning, which is based on learning data representation. Neural Network,Rather than a task-based algorithm. Deep learning can be supervised, semi-supervised or unsupervised. As mentioned in the book Hopes and Challenges in the Age of Artificial Intelligence, deep learning networks can now easily exceed ten layers, with millions of simulated neurons.
Deployment Challenges
Not everyone has a strong Google, Facebook or Microsoft Financial and technical capabilities. Artificial intelligence is likely to provide value, but its development, implementation, and practical application are for most businesses and will continue to be a real challenge, not to mention for most public organizations. Technical knowledge and resources will be scarce. In some cases, the right to acquire, access, and analyze existing collected data remains a problem. Finally, the positive results of specific artificial intelligence initiatives may take longer than expected to be achieved.
As Google Brain founder Andrew Ng recently mentioned in an article on Forbes:
"Artificial Intelligence Technology Is Exciting But it is not mature. At the risk of screaming, but isolated artificial intelligence is useless. It requires a lot of customization to determine how it fits into your business concept. To do this, you need to have a broad understanding of your company and a deep understanding of artificial intelligence. Today, to extract the value of artificial intelligence, you need a team that understands the business environment and has cross-functional knowledge, such as how to apply artificial intelligence to hospitals, or how to use artificial intelligence in logistics networks. Without cross-functional knowledge of how business operations are conducted, it will be difficult to properly tailor AI to drive specific business outcomes.
Use the architecture to deploy artificial intelligence
As Raj Ram esh mentioned in this podcast, how the business architecture will help leverage AI:
"Business Architecture It will play an important role in the future of the organization. There is no doubt that artificial intelligence will be an integral part of future business. Some of the key questions raised by some organizations related to artificial intelligence applications include 'Where do we start?', 'How do we use these mature technologies to enhance our competitive advantage?' When business architects map business strategies to execution, they will Need to answer these questions.
Enterprise and business architects also play an important role in designing future scenarios for these organizations using tools such as AI. Building and deploying artificial intelligence applications cannot be used A confusing approach to execution. Without a rigorous business-oriented architecture, it is impossible to know the origin and meaning of artificial intelligence. Business and enterprise architects must understand the information, value streams, capabilities, applications that will be affected by artificial intelligence. And process.
An example: artificial intelligence in wealth management
AI is currently disrupting the financial services industry There are at least five ways, as follows:
1. Investing through a robot consultant can replace financial advisors almost quickly;
2. Chat bots powered by session AI will soon support getting customers involved;
3. Intelligence has recently begun to reduce false positives in fraud detection and risk management;
4. Artificial intelligence will eventually be able to "learn", remember and comply with all applicable laws and regulations Finally,
5.Artificial intelligence may soon predict stock prices and market movements, thus subverting wealth management.
Let's take a closer look at artificial intelligence and wealth management. If appropriate, perhaps start an ambitious project and try to replace the investment manager of a bad fund with artificial intelligence.

Management funds are essentially the choice of financial instruments to be traded, as shown in Figure 1. It includes the following value stages:
1 - check financial instruments in a selected category, 2 - select evaluation criteria for financial instruments, - evaluate all Available financial instruments, 4-select the quantity and price of each financial instrument,5- Place the selected financial instrument. There are a total of 16 features to support this value stream. There are five business capabilities that support the value phase of "checking financial instruments in a selected category". There are also five business capabilities to support the "evaluation criteria for selecting financial instruments". Three features support "assessing all financial instruments." Two features support "choose the quantity and price of each financial instrument." Finally, there are five features that support the value phase of "ordering selected financial instruments". In addition, some enablement features support multiple value phases.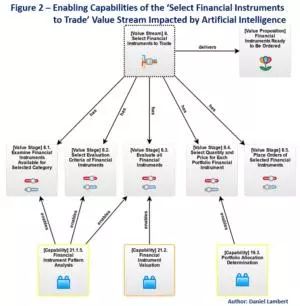 As shown at the bottom of Figure 2 above, the three key enablement features of the "Select financial instruments to trade" value stream need to perform very well in order for AI to behave like other competitions in the selected category. The first quarter of the fund is just as good.The first problematic ability is the "financial instrument model analysis". The second is the "financial instrument valuation" capability. Finally, the third problematic ability is the ability to "determine portfolio allocations".
The applications, processes, and requirements associated with these three features will need to be reviewed in detail to complete the design of the Wealth Management Artificial Intelligence Strategic Plan. Information concepts and databases related to these three capabilities need to be studied.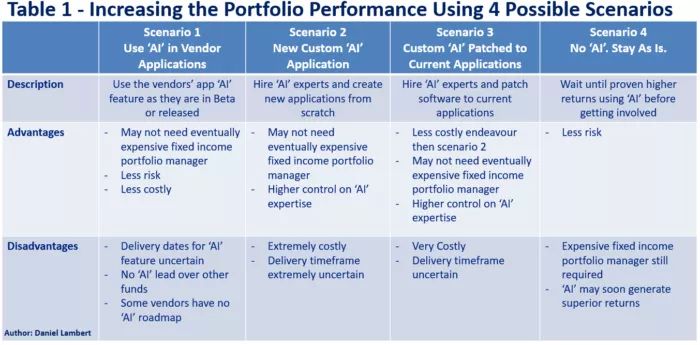 Enterprise and business architects can also describe and evaluate scenarios in detail to better use artificial intelligence to provide portfolio management. Table 1 above briefly describes the four possible scenarios. Obviously there will be more. Financial analysis, impact analysis, and risk analysis are required for each scenario.Due to the large amount of funds involved and the uncertain time frame for producing positive results, delaying the AI plan and maintaining the "status quo" should not be excluded from possible scenarios.
All artificial intelligence initiatives should always be carefully examined in a similar system and business architecture approach, in which cross-functional knowledge of how the business operates It will be used to properly customize the AI to drive specific business results. This will increase your chances of delivering a successful AI plan that is synchronized with your organization's business strategy.