Recently, the competition between OLED TVs and high-end LCD TVs has become extremely fierce. For example, the Sony 65-inch OLED TV is only $300 more expensive than the Samsung 65-inch QLED TV.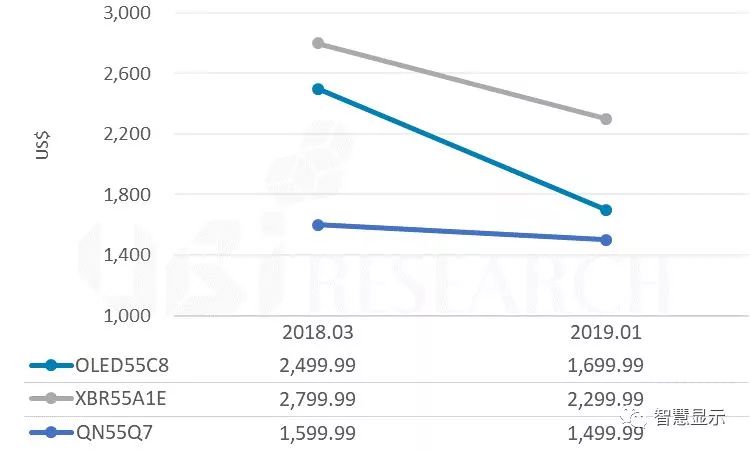 Last March, LG OLED55C8 price was 2499.99 US dollars, but in January this year, the price has dropped 47% to 1699.99 US dollars. Similarly, the Sony XBR55A1E also dropped $500 to $2299.99 from $2799.99 in March last year. The price of Samsung QN55Q7 is very small, which is very close to the price of LG OLED55C8.
Similarly, the price difference between 65-inch OLED TVs and 65-inch QLED TVs continues to shrink. The LG OLED 65C8 fell 30% from $3499.99 in March last year to $2699.99 in January this year. The price of the Sony XBR65A1E is falling faster, and the current price is $2499.99. The Samsung QN65Q7 maintains the original price, and the price difference with the Sony XBR65A1E is only $300.

With the relatively stable production of LG Display OLED panels, and gradually increasing, OLED TVs have provided room for price cuts, and OLED TVs are rapidly catching up with the price of high-end LCD TVs. And LG Display also built Guangzhou 8.5 generation OLED production line and Paju 10.5th generation OLED production line. Aowei cloud network data shows that LG Display Guangzhou 8.5 generation line will be mass-produced in Q19 in 2019, and the 10.5-generation line will be mass-produced in 2020. According to LGD, the output of OLED TV panels will reach 10 million in 2020. Therefore, with the further increase in the production of OLED panels, the OLED TV market will become more prominent in the high-end TV market.