Since the memory process is relatively simple, the memory cells can be quickly copied, which can help advanced process technology to quickly improve yield. Therefore, for a long time in the past, the memory has played the role of "advanced crabs" for advanced process technology. However, with the advanced process technology entering 65nm, a considerable number of advanced process technology manufacturers have accumulated enough experience to jump over the memory verification and directly apply advanced processes to logic products.
At the same time, along with the rise of AI and Internet of Things, the application of big data has become more and more extensive. These emerging fields are urging the memory to catch up with the advanced process. At present, major memory manufacturers are upgrading the 20nm process. Among them, traditional memory such as DRAM, flash memory and SRAM is still the main technology in the market.
In this process, traditional storage technology has encountered many difficulties. Among them, the DRAM adopts the continuous miniaturization unit design needs to introduce multiple patterning technology, and finally needs to adopt EUV lithography technology in mass production, and we all know that EUV technology has not yet been applied on a large scale. same,Planar NAND has also faced the limitation of miniaturization, and finally adopts the vertical direction transformation, which is the popular 3D NAND technology on the market.
Traditional storage technology faces challenges and has spawned new technologies. In this case, MRAM appeared. MRAM has high-speed read and write capability of static random access memory (SRAM), as well as high integration of dynamic random access memory (DRAM), and can basically repeat writing indefinitely. That is to say, MRAM can combine the density of memory with the speed of SRAM, while being non-volatile and highly efficient.
MRAM technology began in 1984 when Albert Fert and Peter Grünberg discovered the GMR effect. In the mid-1980s, proponents believed that MRAM would eventually surpass competing technology and become a dominant or even general-purpose memory. In 1996, the spin transfer torque was extracted. This finding enables the magnetic tunnel junction or spin valve to be modified by the spin polarization current. Based on this, Motorola started their MRAM research. one year later,Motorola has developed a 256Kb MRAM test chip. This made MRAM technology begin to be commercialized, and in 2002, Motorola was granted a Toggle patent. This is also the first generation of MRAM, Toggle MRAM. However, due to the high energy consumption of the first generation of MRAM under advanced process nodes, the development of MRAM has encountered bottlenecks.
In 2004, Motorola established its semiconductor business and established Freescale Semiconductor. In July 2006, Freescale began selling the world's first commercial MRAM chip. These chips have a capacity as low as 4Mbit and are priced at $25. At the same time, MRAM has begun to receive attention from other manufacturers. Infineon, TSMC, Toshiba, Renesas and other companies have also begun research on MRAM. MRAM technology has also been developed to the second generation. Currently, mainstream research is mainly TAS-MRAM and STT-MRAM.
One of the second generation MRAM devices uses spin-polarized current to switch electron spins, or STT-MRAM.In 2005, Renesas Technology partnered with Grandis to develop the 65nm STT-MRAM. Compared to MRAM, STT-MRAM devices are faster, more efficient, and easier to shrink. Compared with traditional memory technology, STT-MRAM devices can not only balance the performance of MRAM, but also meet the low current while reducing costs.
Based on the above advantages, STT-MRAM is considered to be a high-performance memory that can challenge DRAM and SRAM, and is likely to become the leading storage technology. Especially at the process node below 40nm, NOR began to expose many problems, and STT-MRAM was highly anticipated. The market believes that STT-MRAM can be utilized not only at the 40nm node, but also even below 10nm. What's more remarkable is that STT-MRAM can be based on the existing CMOS manufacturing technology and process development, and the technical difficulty in relaying is relatively small, so that the low cost of flash memory can be directly challenged.
The ideal is full, and the reality is very skinny. As technology shrinks, STT-MRAM suffers from severe process changes and thermal fluctuations.This greatly reduces the performance and stability of the STT-MRAM. For most commercial applications, the STT-MRAM road is still full of difficulties and obstacles.
From the structural point of view, the core of the STT-MRAM memory cell is an MTJ, that is, STT-MRAM stores data through the MTJ. Usually, the MTJ is composed of two layers of ferromagnetic layers of different thicknesses and a layer of nanometer-thick non-magnetic spacers, which are written by spin current. When writing information, a large current is required to generate a magnetic field to invert the MTJ free layer magnetic moment. As the size of the memory cell decreases, a larger free layer magnetic moment reversal magnetic field is required, and therefore a larger current is also required. However, the large current not only increases the power consumption, but also slows down the conversion speed, which limits the speed at which the memory cells write information.
At CSTIC 2019, experts have mentioned that the current STT-MRAM challenge mainly lies in the need for greater write current, MTJ scaling, and how to reduce the bit error rate. The balance between the three.
The challenge also represents an opportunity, and STT-MRAM is not attractive to major manufacturers. In 2008, Freescale established its MRAM business and established EverSpin Technologies. In 2014, Everspin teamed up with Global Foundries to produce in-plane and vertical MTJ ST-MRAM on 300mm wafers using 40nm and 28nm node processes. In 2017, Everspin claims to be the only company that sells commercial MRAM products, and thus can see the advantages of Everspin in this regard. In 2018, Everspin partnered with Global Foundries to launch the world's first 28 nm 1 Gb STT-MRAM customer sample.But we all know that Global Foundries has stopped investing in advanced processes below 7nm, focusing on 14/12nm FinFETs. The market's expectations for STT-MRAM have not stopped at 12nm. Next, which OEM will EverSpin choose to work with?
After returning to a decade ago, the partnership between Hynix Semiconductor and Grandis began in 2008, and the collaboration between them was to explore the commercial development of STT-MRAM technology.
In the above, we have stated that Renesas has also cooperated with Grandis in STT-MRAM, and Hynix's partners also chose Grandis. Can Grandis gain a place in the storage space with emerging technologies? It is reported that Grandis was founded in 2002, invented the first magnetic tunnel junction-based spin transfer torque film structure, and quickly became a leader in the field of STT-RAM. In 2011, Grandis was acquired by Samsung Electronics Co., Ltd. and merged into Samsung's memory business.Samsung has therefore begun to set foot on STT-MRAM. In 2018, during the Samsung Electronics Foundry Forum, the company reiterated its goal of producing STT-MRAM chips in 2018. Samsung said that the real production of STT-MRAM will begin in 2019.
In addition to Grandis, IBM is also a pioneer in STT-MRAM, working with Infineon and Samsung. In 2016, IBM and Samsung researchers demonstrated 11-nanometer STT-MRAM. In 2018, IBM demonstrated their FlashCore NVMe SSD, which provides 19 TB of flash storage and uses Everspin's 5-256Mb STT-MRAM chip for write caching and logging.
In addition to the Global Foundries and Samsung mentioned above, according to CSTIC 2019, Yole's survey shows that top wafer fabs including TSMC, Intel, and UMC are all ready. 28/22nm embedded STT-MRAM is used for the microcontroller.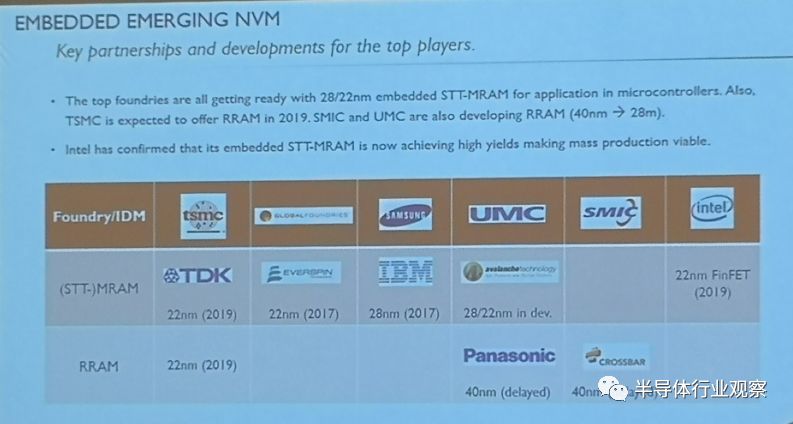 In February 2019, at the British International Solid State Circuits Conference, Intel revealed that STT-MRAM technology is ready for mass production. According to EE Times, the company expects to use a 22nm FinFET process to fabricate memory chips.
In 2000, TSMC teamed up with the Taiwan Institute of Technology to invest in next-generation memory development such as MRAM. In 2011, Qualcomm also demonstrated 1 Mbit embedded STT-MRAM fabricated using TSMC's 45nm LP technology at the VLSI Circuits Symposium. Due to cost reasons, TSMC abandoned MRAM. However, in mid-2017, TSMC returned to the memory market to target MRAM and RRAM. According to DIGITIMES, TSMC's STT-MRAM is very likely to be mass-produced and shipped in 2019.
Similarly, in 2018, UMC and Avalanche Technology announced that they have jointly developed and produced 28nm MRAM to replace embedded flash memory. UMC will also provide this technology to other companies through a license from Avalanche Technology Inc.
On the mainland side, in 2016, Zhaoyi Innovation invested US$5 million in Everspin. In 2017, Beijing University of Aeronautics and Astronautics and the Institute of Microelectronics of the Chinese Academy of Sciences jointly produced the first 80nm STT-MRAM device in China. Zhao Chao, a researcher at the Microelectronics Integrated Circuit Pilot Process R&D Center, and Zhao Yusheng, a professor at Beijing University of Aeronautics and Astronautics, have made important breakthroughs in the research of key process technologies in STT-MRAM. For the first time in China, a compatible CMOS process was used to successfully prepare a diameter of 80 nm. The magnetic tunnel junction has good device performance, and the core parameters of the device include tunneling magnetoresistance effect of 92%.
Shanghai Magnetics is the first MRAM product development and manufacturing company in China.It has the only complete PSTT-MRAM material film manufacturing equipment and testing equipment in China, and the pilot line of 12-inch special chip manufacturing under construction. It will be used for the development and mass production of MRAM memory chips for the third and fourth generation technologies. Its team members come from Everspin and TDK, and at the same time put into two technologies and market strategies of standalone and embedded.
Zhejiang Haikangchi Extension focuses on the development of MRAM storage technology. The team comes from many high-tech semiconductor companies such as Qualcomm and Western Digital. Currently, it is based on chip design and process design. Different devices that offer STT-MRAM technology.
From the above situation, the major fabs have planned the STT-MRAM mass production plan in 2019 and began to gradually move to products below 28nm. However, the mainland is still struggling with STT-MRAM above 40nm, and there is not much advantage. The emergence of STT-MRAM has enabled international manufacturers to shift their attention from NOR. same,At the semicon 2019 memory forum that ended not long ago, there is also a voice: it takes a while for NOR technology to completely replace STT-MRAM. This time difference provides an opportunity for the mainland to develop NOR.