"The demand for silicon-based sensors continues to grow rapidly in a variety of applications. In cars, they are the key to autonomous car navigation and safety. In industrial applications, they use To monitor and track assets. In personal electronics, they provide a great user experience." Recently, STMicroelectronics (ST) simulation, MEMS and Vice President of the Sensors Division, Andrea Onetti, General Manager of MEMS Sensor Products, said at the MSIG Artificial Intelligence and IoT Forum 2019.
Onetti believes that with the demand for intelligence, more and more data will be generated. Many companies use data as a fortune, and to get the data, the first thing to collect data is to collect the higher quality data. High-quality data acquisition is achieved at the node end with high-precision sensors, and higher quality data means better AI input for less data processing needs. The accuracy of the sensor can be achieved through a calibration procedure.This step allows each component to qualify to meet the needs of different applications. The continuous development of technology offers the potential for breakthroughs in the time and cost of these calibration procedures, which are more economical for the entire system than similar sensor assemblies manufactured using different technologies.
At the same time, at the media conference, Onetti and Wu Weidong, senior director of Asia-Pacific Division of STMicroelectronics AMS Division, elaborated ST and the whole MEMS with ST's MEMS product features, market strategy and development. The future direction of the sensor.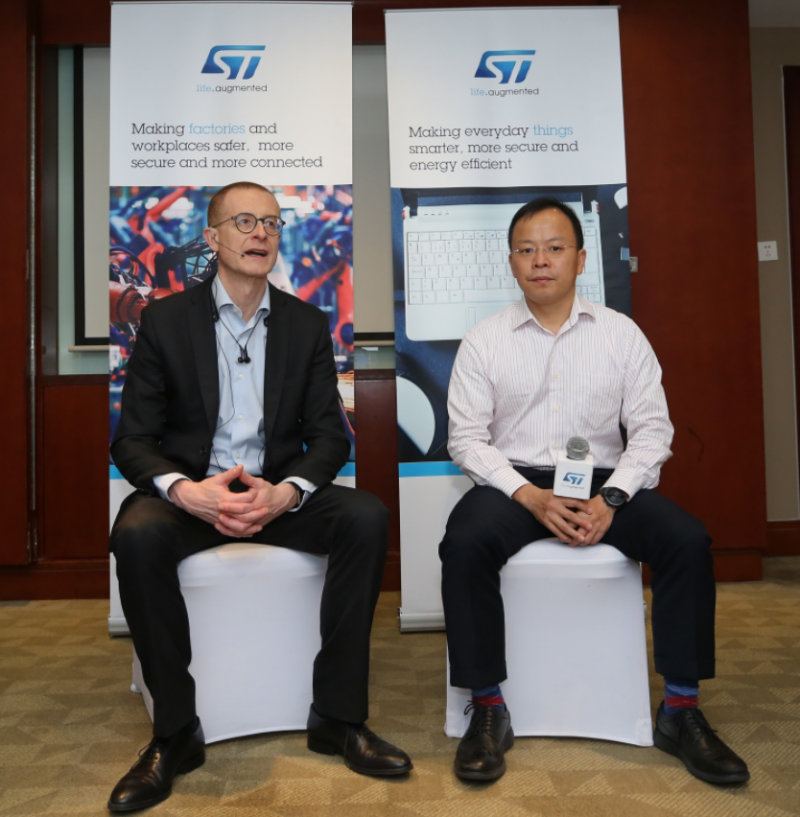 Left is STMicroelectronics Andrea Onetti, Vice President of Analog Devices, MEMS and Sensors Division (AMS Division) and General Manager of MEMS Sensor Products Division, and Wu Weidong, Senior Director of Asia Pacific, STMicroelectronics AMS Division.
ST's MEMS business development status
Onetti uses a set of data to illustrate the current market situation of ST MEMS products.
Today, ST has a total of 400 employees. In 2018, it has 145 patents and more than 150 products and software. In terms of production, like other ST products, it is supplied by a dual fab, with a daily output of 6 million pieces. As of now, the cumulative shipment of MEMS sensors exceeds 15 billion, serving more than 30,000 customers worldwide. "Now there is one ST sensor in every two mobile phones; there is one ST sensor in every three car navigation systems; there is an ST temperature sensor in every two memories of the base station and computer.
When it comes to customers, Onetti said that in order to ensure that it can cover more mass market customers, ST puts a lot of product design resources on the website, and also regards software as an important product development, which is convenient for engineers to develop quickly. At the same time, it will provide engineers with more reference algorithms or complete solutions.
Onetti emphasizes that the mechanical part of ST in MEMS is completely the capacity of its own factory, and at the same time Precision, ST has its own correction process to ensure product accuracy.
Onetti said: "I have been working at ST for 30 years and have been responsible for many product lines. Now I am very excited about the MEMS sensor business because MEMS and sensors are used for everyday life. In terms of the electronics industry, not only have a large business group, but also a lot of innovations and emerging things, even bigger ones, have made extraordinary contributions to this society."
STMicroelectronics Benedetto Vigna, president of AMS, said at the beginning of this year that in the field of MEMS sensors, ST will continue to focus on the end markets such as automotive and industrial, while capturing certain huge opportunities in the consumer electronics market.
Onetti detailed the blueprint planning for the three major markets of ST MEMS. From the blueprint planning of ST, we can also see the development trend of the sensor market in the future.
Blueprint for the consumer market
Onetti said that 15 years ago, ST began to cut into the consumer MEMS market, starting with the earliest horizontal and vertical screen switching sensors, constantly improving the function and performance of the sensor, including access to the gyroscope, Markets such as pressure sensors and microphones.
With the rapid development of Apple iOS, the MEMS market has expanded like never before. With the rise of the Android market and the decline of Apple, and to avoid the risk of large customers ST has made strategic adjustments and increased its investment in Android. Nowadays, for different versions of Android, due to some fine-tuning of sensor requirements, ST will launch its corresponding products, and get the Qualcomm native platform. Support.
Onetti emphasizes that power consumption is a critical factor in the development of consumer sensors.It is possible to reflect the world of perception all the time, including the pedometer, indoor navigation and other always on applications.
For the application scenarios of the MEMS personal electronics market in recent years, Onetti has summarized three major trends, firstly artificial intelligence, followed by vibration and sound, and third, vibration induction. The three major markets are also the development opportunities for the mega-markets that ST values, and the market applications that ST can differentiate.
Onetti emphasizes that consumer sensors must have several major elements: first, product accuracy, second, product performance and power consumption requirements; third, industrialization capabilities. "If it is not enough capacity, it will not meet the needs of the consumer market for a long time, so we repeatedly emphasize our manufacturing level and calibration capability, just to ensure that the space and capacity of supply can be stronger," Onetti said.
Add true artificial intelligence to the sensor
First, for the artificial intelligence market, consumer is the easiest application to land. One is also the place where edge computing is the easiest to show value.Onetti explains: "Basic sensors can already be filtered in the digital section, temperature compensated, etc., and in order to achieve a smarter predictable next sensor, or to deliver more accurate data to the cloud, ST has integrated in the sensor. The machine learning function."
Specificly combined with applications, such as nowadays on smart watches, if you start the sport mode, you need to choose the sport mode yourself, and after incorporating the AI function, The algorithm automatically recognizes daily behaviors, sports patterns, and even complex fitness modes, and can even determine aircraft movements to automatically turn airplane mode on or off.
At the end of the day, low power consumption and small size are the most needed for sensor products. By adding a hardware AI accelerator, the workload of the past processor can be reduced to 20%-30%. The system power consumption is reduced, and the processor also supports external data processing for better sensor data fusion.
When it comes to low power consumption, Onetti concludes that ST has excellent process manufacturing capabilities and calibration capabilities to achieve higher accuracy, which means lower power consumption; Secondly,In terms of mechanical execution structure, the analog drive part of ST is also very good at it, and can further reduce the excitation power consumption. Third, it is through the solidification of artificial intelligence algorithms, using hardware to implement the complex software algorithm functions of the past.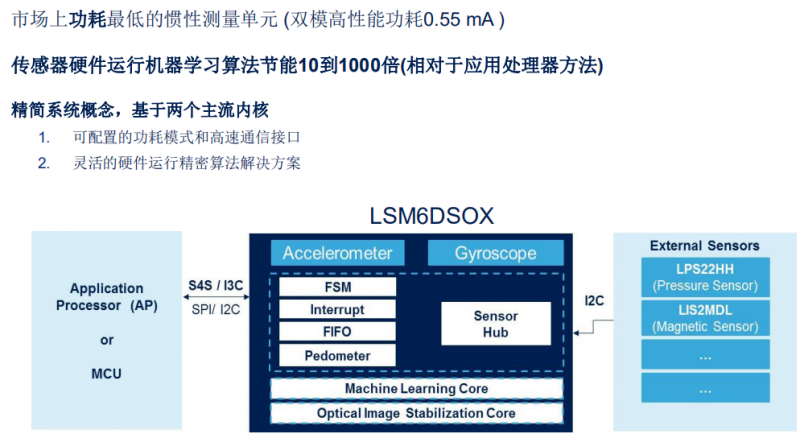 Intelligent sensor with built-in machine learning kernel and optical anti-shake kernel
Combination of vibration and sound
From Since Apple officially launched the wireless headset AirPods, the true wireless Bluetooth smart headset (TWS) has been widely concerned by the market due to its advantages of wireless, intelligent, small size, good sound quality, efficient connection and stability. It is expected that this year's TWS headset will continue. Instead of traditional headphones, it has become a hot spot in the accessories market.
The fusion of vibration and sound algorithms is a major breakthrough for ST.It is reported that ST has developed a number of sensors for this market. The first one is an accelerometer, which can realize the function control of the earphone by tapping and other actions. In addition, the accelerometer is used to detect the bone vibration, and then the fusion with the microphone sensor is realized to achieve accurate noise reduction. "Accelerometers have reached a relatively stable state in the past few years. The global demand for a year is about 1.5 billion, but last year because of this explosive, it has increased the demand by 3-4 billion." Onetti's view is that this is undoubtedly a "development opportunity for mega-markets."
At the same time, Onetti also said that before the wireless headset, the market did not have the integration requirements of microphones and accelerometers, and rarely saw the cooperation between different sensors, and this breakthrough, to the market Brought a lot of imagination. "In the future, in the industrial and automotive industries, the combination of acoustics, optics and motion through different types of sensors can achieve an unprecedented market demand," he said. "For example, in the motor vehicle noise reduction application, the noise can be picked up by the microphone and the acceleration sensor can be used to achieve better dynamic noise reduction technology.
Bone conduction headphones believe in disassembly diagrams
Market detection and e-cigarettes
Impact detection ST's optimistic application, before the impact detection or anti-drop detection is only applied on laptops, but including lightweight objects such as smart phones and valuables, the acceleration level of the drop is different from that of the notebook computer, so the demand for the sensor is also different. "If we can provide more accurate sensors, we can calculate the details of the impact more specifically, and can specifically calculate the damage to the battery or other items, in order to achieve better safety protection, avoid damage to the goods or battery fire, etc. Dangerous matters. "
Onetti also introduced the e-cigarette market, which is also an outbreak market.With its unique technical advantages in the field of MEMS packaging, ST developed a waterproof barometer that can effectively solve the harsh environment of smoke, moisture and particles in electronic cigarettes, and realizes the feeling of matching real cigarettes for electronic cigarettes. I worked with an e-cigarette customer in the US a few years ago. In addition, waterproof products are widely used in mobile phones, watches and other markets.
Industrial Market Applications
In industrial applications, Onetti mentioned high-precision tilt sensors for building aging Hidden danger detection. "There was a bridge collapse accident in Italy last year. The reason is that concrete buildings or building buildings are naturally aging over time. If there is a high-precision tilt sensor, it can help gauge the aging of the house, and then cooperate with low-power wireless transmission technology to the city. Bring security," Onetti said.
ST industrial sensor development blueprint
Automotive sensor applications
Onetti emphasizes ST's MEMS products in High-precision inertial navigation applications for real-time information feedback and safety assurance for vehicles with weak signal tunnels, basements or certain occasions, through high-precision inertial navigation systems, for future assisted driving or autonomous driving technologies, It is indispensable. "To achieve 20 cm accuracy of parking or braking in 30 seconds, one needs ultra-high precision sensors, and the other is to meet the accuracy and manufacturing requirements of the car gauge. Onetti said that this year ST will sell millions of high-precision inertial navigation sensors in line with L3 for Chinese partners.
ST car gauge sensor development blueprint
Views on sensor fusion
"With sensors in the consumer market The maturity and outbreaks of these experiences have also led to the convergence of sensors to other emerging industries such as industry and automobiles," Onetti said.
Onetti pointed out that not only the integration of sensors, but also the needs of the industry are integrated with each other. For example, in the consumer market, with the upgrade of consumption, customers will also have quality and time-saving requirements for sensors. . For automotive applications, with the development of electronic electrification, automotive products have become consumer goods, and many consumer functions must be realized in the car as soon as possible. In addition, with the realization of unmanned and shared cars, cars are driving. Time gets longer,It may take two or three years to reach the driving mileage of the past ten years, which will have new demand for the car life cycle. In addition, for industrial products, lifecycle management has become more demanding than in the past, and even requires a supply cycle of up to 20 years. To this end, ST has also introduced several sensors with a 10-year lead time guarantee.
Onetti also emphasizes that for applications such as consumer data that are less complex, sensor fusion can be implemented directly internally, which is the most economical, but for industrial The amount of data is large and complex. To ensure flexibility, accuracy and real-time performance, sensor fusion is not suitable for implementation directly inside the sensor, and more external processing resources are needed.
In combination with ST's product blueprint and Onetti's view of the MEMS market, I believe you will have a better understanding of ST's sensor layout and will also have some inspiration for sensor convergence trends.