LONDON — As the European association that brings together four leading research institutes in microelectronics meets this week in Brussels to mark its 10th anniversary, EE Times spoke to Emmanuel Sabonnadiere, CEO of Leti in France, to get a perspective on some of the work emerging from the French technology research institute — including its outdoor super-Wi-Fi communications network based on its multicarrier block-filtered OFDM (BF-OFDM) waveform technology.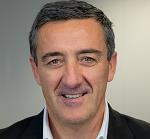 The Heterogeneous Technology Alliance (HTA) is an association of four major European research institutes in micro- and nanotechnologies — Leti (France), Fraunhofer (Germany), CSEM (Switzerland), and VTT (Finland). At this week's event, along with some of their industrial partners such as Globalfoundries, Soitec, Nestlé, and Murata, they are presenting their strategy and vision for development in Europe for various aspects of future developments needed in electronics.
Emmanuel Sabonnadiere said that Leti's short-term strategy (in the next three to five years) focuses on four broad segments: advanced data and computing, advanced communication and cybersecurity, advanced applications for new mobility, and bio-inspired smart medical devices.
Emmanuel Sabonnadiere
Emmanuel Sabonnadiere
In particular, he put an emphasis on devices and technologies for 5G. "As we move towards more of a focus on millimeter-wave communications, we are working on the types of devices that put more digital in the front end and closer to the antenna — and are working with a number of industrial players for this," he said. "This also means more use of the FDSOI technology."
Sabonnadiere said that they are working on multiple 5G projects. "It's important because 5G will be big, so the HTA collaboration is crucial for Europe, and we have learned how to work better together to deliver."
Sabonnadiere highlighted the success of its involvement in the 5G system prototype demonstrated at the 2018 Winter Olympic Games in South Korea earlier this year. "The demo involved a bus driving at 60 km/h, receiving data at 5 Gbps, and enabling people to receive two sports event broadcasts simultaneously."
In his talk at the Brussels event this week on low-power smart and secure technologies in the age of hyperconnectivity, Sabonnadiere will also demonstrate Leti's outdoor super-Wi-Fi broadband technology, which leverages the dynamic spectrum access (DSA) technique to create a flexible solution based on a patented scalable waveform for next-generation wireless networks.
"Wireless communications below 6 GHz face the dilemma of spectrum crunch: a lack of sufficient wireless frequency spectrum needed to support consumer devices, resulting in profound ramifications for the future," he said. "Outdoor super-Wi-Fi addresses this issue by targeting maritime communications and rural broadband, overcoming the deficiencies inherent in conventional technologies 4G and Wi-Fi: robustness to interference, versatility, and flexibility."
Leti's research resulted in a new BF-OFDM multicarrier waveform for the air interface, addressing a wide range of requirements with a unified physical layer in the same system bandwidth. Last year, it carried out a field trial of this technology, which it says overcomes all shortcomings inherent in actual OFDM waveforms (Wi-Fi/LTE) and is backward-compatible with existing receivers.
With outdoor super-Wi-Fi using BF-OFDM, Leti has demonstrated rural broadband content delivery on ranges up to 20 km using non-contiguous channels. The over-the-air Leti test platform was based on FPGA, ARM processors, and an agile RF front end to demonstrate a broadband transmission. The same set of equipment is also used in field tests conducted by Leti on 5G radios. Beyond rural needs for effective wireless connectivity, the technology is a good candidate for lower-cost maritime wireless networks. The waveform also unlocks the usage of spectrum sharing, such as license shared access in TV white space and citizen broadband radio services.
Sabonnadiere also talked about cyber-physical systems and bio-inspired devices as being key areas of focus for Leti. "For cyber-physical systems, we are developing the actuators, the sensors, and the capacity to process at the edge without having to go to the cloud," he said.
On bio-inspired devices, he said that Leti is working on a number of brain-computer initiatives and concepts to imitate organs such as the pancreas.
One of the demonstrators at this week's event will show the use of its quantum sensor for biomedical imaging and, particularly, quantum magnetometers that will reduce the cost of magnetoencephalography (MEG) devices while improving diagnosis and treatment for patients.
"The demonstrator shows [that] the first magnetometers operated at ambient temperature sensitive enough for delivering real-time images of currents circulating in the brain and the heart for medical diagnosis," said Sabonnadiere. "MEG sensors can lower the cost of MEG scans by at least a factor of five while improving diagnosis of epilepsy and guiding surgeons during brain surgery. It will democratize magnetoencephalography, reducing the cost from €2.7M to just €0.4M [from about $3.3 million to about $500,000]."
While Sabonnadiere focused on Leti's areas of activity, he emphasized the significance of the collaborations both within the HTA as well as the wider academic network globally. "We are working with Stanford on optimization of various architectures, with MIT on micro- and nanofluidics, with ShanghaiTech University to develop SOI in China, and INRIA in France for software," he said.
— Nitin Dahad is a European correspondent for EE Times.