BOSTON — While women are making inroads into engineering and STEM, there's more work to do. That was the takeaway from a panel of three experienced women engineers and one student who made up a panel at ESC Boston on April 19.
Moderated by ESC Brand Manager and longtime editor Suzanne Deffree, the panel looked at why the number of women engineers is still low despite increased interest in technology. The panelists were:
Lynn Birch, VP Product Engineering, Skreens Entertainment Technologies

Kimberly Clavin, VP of Engineering, Loop by Pillar, Pillar Technology

Anita Gajjala, Senior Technical Consultant, Mathworks

Sarah Love, Computer Science Major, Worcester Polytechnic Institute
Asking the age-old question that still needs asking, Deffree opened the panel with, "Why are there so few women engineers in the U.S."?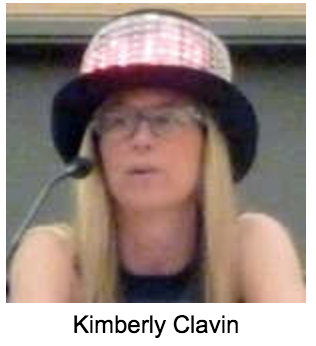 Kimberly Clavin
"It's better now," said Clavin, wearing an LED banner hat that she programs from her phone. "We're still fighting history, but there are more programs today that introduce STEM to girls."
Clavin also cited research from Ohio State University showing how women and girls often have difficulty understanding engineering graphics. "We tend to lose girls between third and sixth grade, often because they don't get the spatial aspects and fall behind." The research also showed another reason: Girls weren't getting into the university in the same way that boys were.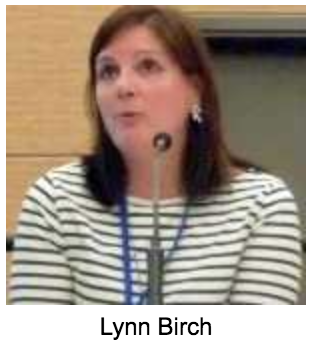 Lynn Birch
Birch picked up on Clavin's history aspect by noting her nieces and nephews — now in their twenties — as Boy and Girl Scouts. "The boys were learning practical things." Love jumped in by noting that "the boys were doing cool things and I was coming home with another macaroni necklace." When Birch and her older children, also in their twenties, suggested to the youngest (in middle school) that she try FIRST Robotics, she replied, "That's social suicide." Yet, I've seen plenty of girls on robotics teams, both at FIRST competitions and in the WPI robotics program.
When Birch and Clavin started their careers, there, indeed, were far fewer women engineers. Birch realized that in college and noted how things were difficult when she started having children. That's changing, and in some cases, Clavin has seen things happen in reverse. For example, a single-parent woman needed to travel, but management understood that it was impossible for her. Would that ever happen if the single parent was male? I think so. Indeed, in 2004, I interviewed a male engineer who was a single parent with school-age children. His management understood that he had to leave on time every day and could not travel. Is that an exception, even today?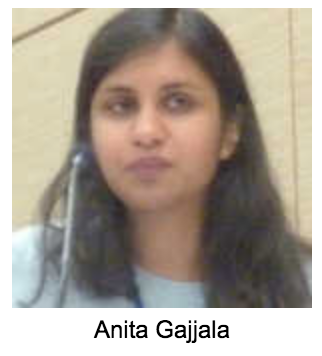 Anita Gajjala
Deffree queried the panel on the harassment issue. Clavin responded by saying that she's never felt uncomfortable working in such a male-dominated field. The other panelists concurred that they'd never directly experienced harassment.
What if you're a freelance worker or you work at a startup where there's nobody to report harassment issues? That's a question that Clavin posed to Birch. "We use a lot of contractors," replied Birch. "If you're a contractor, you just leave. Contractors have more options than full-time employees." "You need to have a strong support network, both inside and outside of work," added Gajjala. "If you report harassment, it doesn't go unseen and has a tendency to fix itself over time."
In response to a question regarding having a support network, the three working engineers recommended that women have advocates in their workplaces, preferably male advocates. For example, in meetings where nearly all those in attendance are men, it's good to have someone who will remind everyone when the women introduced a good idea because some people will try to take the idea and make it their own.
Sarah Love
"What are each of you doing to help other women climb the ladder to make sure there are more women engineers?" asked Deffree. Love responded first by saying that she participated in Girls Who Code and has helped those who are younger get into writing code. "In the Boston area," added Birch, "there are lots of meetups where women in STEM meet and talk. You feel like you're constantly networking, but that's important."
Gajjala recommends that women get involved with the Society of Women Engineers. She also suggests that women engineers have friends who are male engineers. She started by attending a brunch where she met numerous like-minded people. "Having a strong network can help you stay in STEM." That's another issue: women often leave engineering after entering the workforce even if they don't leave the workforce.
After working at Ohio State University for 10 years, Calvin started several programs to encourage girls to learn about STEM careers. She started a program called "STEM Sisters" for girls in third through 12th grade. She spoke with girls in 10th through 12th grade, trying to get them to apply to universities and study engineering. That's when Clavin discovered that most had little or no idea what engineers do. Realizing the problem, Clavin explained how she now works with younger girls, giving them fun engineering-like activities. "Provide kids with tons and tons of random experiences. It's all about exposure, exploration, and immersion."
Then there's the issue of women who leave the workforce and want to re-enter. Technology changes so quickly that what you learned in school becomes obsolete. Clavin noted that SWE is one way for women to gain the skills needed to get back in the engineering game.
Furthermore, Clavin explained that women in STEM tend to go toward life sciences rather than engineering because they often feel they can make more of an impact on the world. That's something that I've heard from my interviews with professors. She cited a company making medical equipment where management installed TVs so that the people designing circuits and developing code could see how their work was improving lives.
Although the numbers of women in engineering still seem low, they are improving and that trend should continue. For example, Sarah Love's WPI Class of 2021 is 44% women, up from 34% in just one year. Even though there are more women in engineering today than ever before, employers still have trouble hiring them. A man in the audience explained during the Q&A session that he wants to hire more women but simply can't find them.
Although such numbers as those in the WPI Class of 2021 are encouraging, female engineers who rise through the ranks will take time. Some had risen into management, and I've interviewed a few in my career. "Be bold," said Clavin. "Record your successes and make sure people know about them."