Professionals from many different industries are traveling to Zhuhai from around the world and contributing to the city's development under the support of the local government.
Zhuhai Naruida Technology, a low-cost advanced weather radar system provider, was launched in the city four years ago when its CEO Bao Xiaojun and six partners with similar aspirations returned from Canada.
Bao recalled that when he decided to start a business in China, Zhuhai was merely one of his prioritized choices.
"After talking with the Zhuhai government, I could feel their sincerity and strong competence in administration. They gave us the starting funds and provided the working space for free in the first few years.
"After considering the environmental conditions, I finally chose Zhuhai, as the city looks like the other Miami to me," Bao said.
As one of the beneficiaries of the previous talent policy, Bao was invited to take part in the discussion session on the new talent policy, which was released on Tuesday.
"The Zhuhai government has made efforts to draw up comprehensive, transparent and favorable policies to attract professionals, and has listened to opinions from different industries," Bao said.
He put forward the idea that the government should provide professionals with more support to buy and rent houses, which was adopted in the new policy.
Liu Suling, deputy general manager of the company, who heads its recruitment efforts, said that she looks forward to injecting new energy into the company after the new policy is released.
Zhuhai Naruida Technology focused on research and development during its first three years, and this year it will kick off production. Its weather forecast system has been applied in Guangzhou, Shenzhen and other cities in Guangdong province. It also plans to make a greater contribution to radar applications in weather forecasts in China.
Li Di, CEO of integrated circuit chip maker Zhuhai Boya Technology, used to work in Silicon Valley in the United States for 10 years, specializing in developing semiconductors.
"Compared with Silicon Valley, Zhuhai provides more development opportunities and better administration services, and the Zhuhai government is more eager to attract professionals," Li said.
Since he returned to China, Li has been selected as an expert in the national Thousand Talent Program and a leading professional of the provincial Pearl River Talent Program.
His company has 60 employees, 30-40 percent of whom have gained a master's or doctorate degree.
"Actually, our company has a recruitment bottleneck. The new talent policy is expected to bring more professionals and help us to retain talent with long-term prospects in the future," Li said.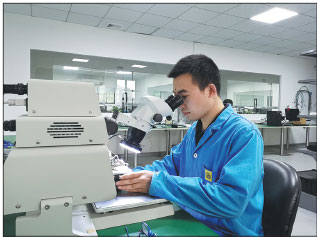 An engineer at Naruida Technology Co designs an electronic circuit.