Intro for l7805cv IC
Integrated circuit l7805cv is widely used in the electronics industry, which is designed as fixed output voltage regulators. It can be used on-card regulation for elimination of noise and distribution problems related to single-point regulation. Each type of those regulators will deliver up to 1.5 A of output current. the inner current-limiting and thermal-shutdown options of those regulators basically create themselves proof against overload. additionally to use as fixed-voltage regulators, these components are often used with external parts to get adjustable output voltages and currents, and can also be served as the power-pass part in preciseness regulators.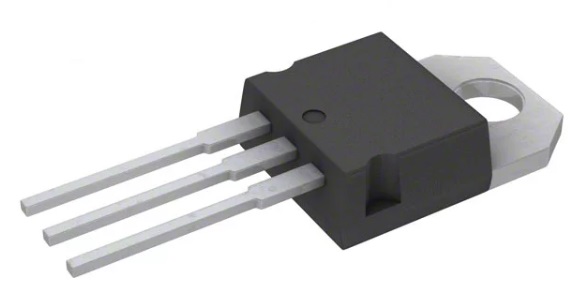 Features of l7805cv IC
l7805cv IC uses a 3 pinout Terminal structure and TO-220 Linear Regulator Case Style, belonging to 7805 fixed Voltage Regulators.
the input voltage for l7805cv circuit ranges from min 10V to max 35V, with a fixed output 5V voltage.
its Operating Temperature ranges from Min 0°C to max 125°C.
Available options, 5-V/8-V/10-V/12-V/15-V/24-V
Max Output Current to 1.5 A
Inner Thermal-Overload Protection
High Power-Dissipation Capability
Inner Short-Circuit Current Limiting
Output Transistor Safe-Area Compensation
Output Capacitor Not Required for Stability
Specifications of l7805cv
| | |
| --- | --- |
| Attribute | Value |
| Output Voltage | 5 V |
| Maximum Output Current | 1.5A |
| Package Type | TO-220 |
| Output Type | Fixed |
| Mounting Type | Through Hole |
| Maximum Input Voltage | 40 V |
| Pin Count | 3 |
| Minimum Operating Temperature | 0 °C |
| Maximum Operating Temperature | +125 °C |
| Number of Outputs | 1 |
| Polarity | Positive |
| Load Regulation | 100 mV |
| Dimensions | 10.4 x 4.6 x 15.75mm |
| Typical Dropout Voltage @ Current | 2 V @ 1 A |
| Line Regulation | 100 mV |
| Length | 10.4mm |
| Dropout Voltage Measurement Current | 1 A |
| Quiescent Current | 8mA |
| Width | 4.6mm |
| Height | 15.75mm |
| Series | L78xx |
The pin description of l7805cv:
PIN NO.

PIN

DESCRIPTION

1

INPUT

Pin 1 is the INPUT Pin.

A positive unregulated voltage is given as input to this pin.

2

GROUND

Pin 2 is the GROUND Pin.

It is common to both Input and Output.

3

OUTPUT

Pin 3 is the OUTPUT Pin.

The output regulated 5V is taken at this pin of the IC.
How to make l7805cv work?
A regulated power supply is very much essential for several electronic devices due to the semiconductor material employed in them have a fixed rate of current as well as voltage. It is very simple to make l7805cv to work as a complete regulator, only one requirement is the basic circuit. In fact, if the input supply is an unregulated DC Voltage, then all you need are two capacitor (even those are not mandatory depending on the implementation). The following circuit shows all the components required for a l7805cv IC to work properly. The 0.22μF Capacitor near the input is required only if the distance between the regulator IC and the power supply filter is high. Also, the 0.1μF Capacitor near the output is optional and if used, it helps in the transient response. VIN is the input voltage to the l7805cv IC and the source can be from either a battery of an unregulated DC. VOUT means the output of l7805cv IC, which is a Regulated 5V.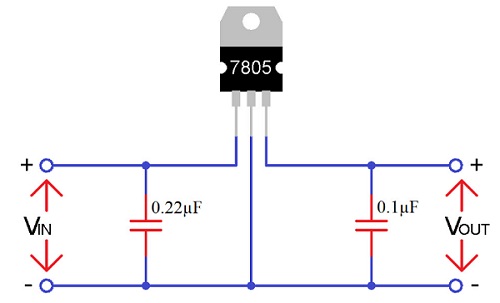 Schematic diagram of l7805cv
The l7805cv IC is designed to be fixed output voltage regulators with thermal overload protection that will shut down the circuit once subjected to any excessive power overload condition, inner short-circuit protection that limits the utmost current the circuit can pass, and output transistor safe-area compensation that reduces the output short-circuit current since the voltage across the pass transistor is increased.

Fixed output voltage regulator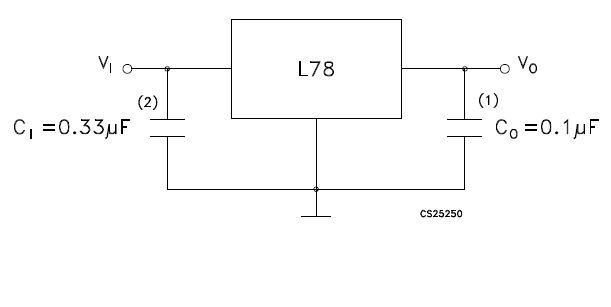 In several low current applications, compensation capacitors are not a must. If the regulator is connected to the power supply filter with long lengths, or if the output load capacitance is giant, However it's suggested that the regulator input be bypassed with capacitor. An input bypass capacitor should be selected to provide good high frequency characteristics to insure stable operation under all load conditions. A 0.33 μF or larger tantalum, mylar or other capacitor with low inner impedance at high frequencies ought to be used. The bypass capacitor ought to be mounted with the shortest attainable leads directly across the regulators input terminals.

Normally sensible construction techniques ought to be used to minimize ground loops and lead resistance drops since the regulator has no external sense lead.
The addition of an operational amplifier permits adjustment to higher or intermediate values whereas holding regulation characteristics. The minimum voltage obtained with the arrangement is 2 V higher than the regulator voltage.
Something you need to note for l7805cv
The primary thing is to note that the input voltage should always be higher than the output voltage at least above 2.5V.
The input current and output current are almost identical. It means that the output will be 5V 1A if a 7.5V 1A supply is given as input.
The remaining power will be dissipated as heat and hence a heat sink should be used with L7805CV IC in this situation.
Tips:
Need to download the datasheet pdf for l7805cv IC? you can directly search and get it from HQEW.NET.
Its a global leading electronic components & IC B2B platform based in Shenzhen Huaqiang Electronic World that has the biggest transactions for this industry in China,
It will be a great place for you to step into the electronic markets of electronic components and IC, gathering numerous suppliers and millions of e-parts.