The term "innovation" is no stranger to China's integrated circuit industry. In the course of decades of development, concepts such as "differentiated development" and "innovative model" have come and gone. However, there is no real industrial environment suitable for innovation. At present, the main body of innovation in China's integrated circuit enterprises is not clear, the separation of production, study and research, the introduction of technology by corporate superstitions, the distrust of independent research and development, the self-contained research institutions, and the disconnection from enterprises. The difficulty in sustaining independent innovation is the biggest reason why China's IC industry has been developing for many years.
"IC -Innovation" breakthrough
The development of any industry requires a Opportunity, as Wu Huaqiang, deputy director of Tsinghua University's Microelectronics Institute, said in the opening of the Zhongguancun IC Design Park and the second "IC chip-moving Beijing" Zhongguancun IC Industry Forum, innovation is crucial to industrial development. . "Developing the integrated circuit industry, the opening of the Zhongguancun IC Design Park is a very good opportunity. Its biggest advantage is that it can bring together various innovative elements." Wu Huaqiang said.
On November 16, the Zhongguancun IC Design Park opened and the second "IC Chip leading Beijing" Zhongguancun IC Industry Forum was held in Beijing. The theme of "Trainning Talents, IC Chip Leading Future" is to explore the development trend of global integrated circuit industry, talent cultivation and independent innovation, industry trends and capital integration under the new situation. A number of high-tech companies entering the park, including Bitland, Zhaoyi Innovation, Zhaoxin Electronics and Wen'an Intelligence, participated in the opening of the park and forums, and exhibited technological innovation products to increase the "innovation elements" of the company for Zhongguancun IC Design Park.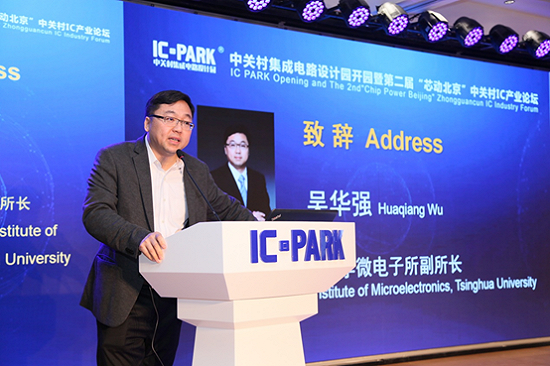 Wu Huaqiang, deputy director of Tsinghua University Microelectronics Institute
In order to solve the problem of separation of production, study and research on the road of innovation, the China International Talent Exchange Foundation, the Institute of Microelectronics of the Chinese Academy of Sciences, and Peking University Software at the Sub-Forum on Talent Cultivation and Technology Innovation established in Zhongguancun IC Design Park A number of university and business representatives, including the Institute of Microelectronics, Beijing Institute of Technology, Horizon Robot and Megan Semiconductor, discussed how to strengthen school-enterprise contacts and work together to train the talents needed in the industry. Feng Shiwei, dean of the Beijing Institute of Technology, said that although the value brought by undergraduates is very small, in the long run, it is indispensable for schools and enterprises to jointly train talents. Schools and enterprises need to communicate more and establish effective Training mode. Jia Zhipeng, vice president of Horizon Robot, said at the forum that he is very willing to cooperate with universities to strengthen the school-enterprise alliance and jointly explore the point of finding high-end technical talents under the high pressure of the market.
Round Table Forum about IC chip innovation
Service Enterprise Start with "IC Chip"
In addition to building a communication platform similar to the "Talent Training and Technology Innovation Sub-forum" for institutions and enterprises, Zhongguancun IC Design Park is committed to becoming a government-association alliance. - A powerful hub for university-enterprise-institutions to help companies grow rapidly by bringing together resources and creating an innovative environment and atmosphere.
The park's first major contribution to the enterprise comes from the top ten industry functional service platforms. This is the commonality and individuality problem that the park faces in the development process, such as investment and financing, party building, common technology, talent cultivation, marketing, overseas expansion and life support. . Among the top ten innovation platforms, there is a service platform specifically for enterprise innovation. On the park's innovative incubation service platform, companies can unite with professional incubators.Build a professional incubator path that best suits your field.
As Li Zhiqian, general manager of Beijing Sigma and Core Microelectronics Technology Co., Ltd., said, Zhongguancun Integrated Circuit Design Park is an innovative and intelligent park of integrated circuit industry, which is the key development area in Beijing. It cooperates with cloud computing and large numbers of people with professional industrial service ability, industrial cohesion ability, resource gathering ability and talent support ability. According to the Internet of Things, intelligent hardware, chip design, process manufacturing, packaging and testing, upstream and downstream enterprises form a complete industrial chain, which provides a good development environment and solid backing for IC enterprises.
Sigma is just one of many companies that have entered the park. Zhongguancun IC Design Park has attracted many well-known companies in the field of IC design with its complete operating system. After the enterprise settles in, the park not only helps integrated circuit companies to innovate, but also the Zhongguancun IC Design Park, which fully reflects the innovation elements in its own management and operation. Many traditional science and technology parks are difficult to construct a complete ecosystem, especially in the integrated circuit industry. Due to its high-tech technical threshold and dense and complex upstream and downstream environment, many people are discouraged. In the voices of many companies,The Zhongguancun IC Design Park has a shoulder-to-shoulder road to build "four major ecological circles" and "top ten industrial service platforms", and continue to carry out industrial organization and industrial services to help integrate integrated circuit technology and products to achieve autonomy, innovation and controllability.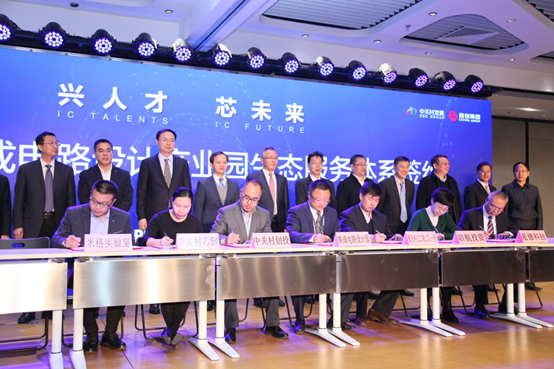 ICPark Opening and the second "Core of Beijing" Zhongguancun IC Industry Forum site
Service 'IC Chip' Innovation Leading development
It is understood that Zhongguancun IC Design Park is jointly built by Zhongguancun Development Group and BCL, with a total construction area. 220,000 square meters. In 2017, the park was awarded the National Spark Innovation Base of the Ministry of Industry and Information Technology. Miao Jun, chairman of Zhongguancun IC Design Park Co., saidThe park will focus on adding new impetus to the construction of the National Science and Technology Innovation Center. Zhongguancun IC Design Park not only highlights the concentration of innovation in corporate agglomeration, but also adheres to the principle of innovation in service. The park has listed the strategic positioning of "IC design industry ecological operation platform and cross-border integration and innovation integrated service provider", and has demonstrated innovative elements in promoting innovation and development of integrated circuit industry and operation management of integrated circuit parks.
"Service "IC chip" creates and leads development", Zhongguancun IC Design Park will continue to undertake this mission, regardless of the planned "IC Partner" program, or It is the annual "core Beijing" forum. Zhongguancun IC Design Park will strive to promote the development of the integrated circuit industry and build a broader platform for the innovation of integrated circuit enterprises!