Young Scientist Di Zengfeng: Scientific Research And management "
Semiconductor materials
" seeking development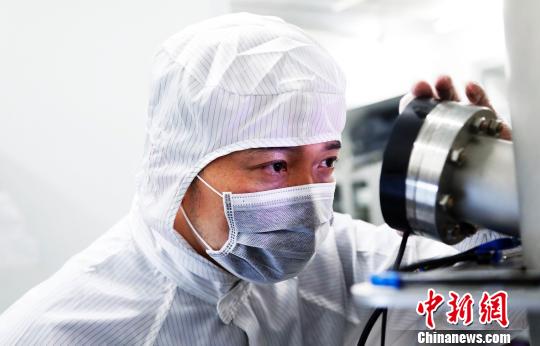 Both a scientist and a manager, Di Zengfeng, who is nearly 40 years old, has a dual identity.He is the head of the research department of the Shanghai Institute of Microsystems, Chinese Academy of Sciences, and is also a semiconductor material researcher at the institute.
The semiconductor industry chain is relatively long. From the basic materials to the manufacturing process to the long-term application of the system, the semiconductor materials studied by Di Zengfeng are the most basic and not easy to be concerned. That end. He said that this piece is difficult to "get out of color" in a short period of time, and the display is relatively low, but it is an important basis, so researchers have been insisting.
Di Zengfeng was born in Nantong, Jiangsu Province. In 1994, he was admitted to a well-known local middle school. In 1997, he was sent to the Department of Basic Education of Nanjing University. After graduating from college, he was sent to the Shanghai Institute of Microsystems, Chinese Academy of Sciences, where he slowly came into contact with semiconductor materials and became interested in information technology. After graduating from the Shanghai Institute of Microsystems, Di Zengfeng went overseas to engage in postdoctoral research. After leaving the station, he returned to the Chinese Academy of Sciences after his post.

Summarizing his own research field, he said, "There is basically no advancement around semiconductor materials, including SOI (Silicon On Insulator) materials. Bifurcation."
What is Sillicon On Insulator(SOI) Material
SOI material is a material that is used to form a semiconductor device with an insulator and is isolated from a material that only exerts a supporting effect. The original ordinary silicon wafer is a single-layer structure, while the SOI material has a three-layer structure. After "insulation isolation", the performance of semiconductor devices has been greatly improved. Its use, Di Zengfeng said, such as mobile phones, smart watches and other electronic products can not always charge,If the power consumption is particularly high, the battery will not stand, so low-power materials are needed, and SOI materials can come in handy.
When Di Zengfeng went to the Shanghai Institute of Microsystems, Chinese Academy of Sciences in 2001, China's investment in semiconductor materials was not very large. In 2010, when he went to work at Shanghai Microsystems, SOI materials had been mass-produced.
Choosing this field is based on personal interest. "Because the 21st century is the century of information, information technology must have a 'foundation', and semiconductor materials are the foundation of information technology development."
Di Zengfeng at Laboratory

In 2001, the Shanghai Institute of Microsystems of the Chinese Academy of Sciences established the only SOI material production and research base in China. Di Zengfeng said that the research of SOI materials at the Institute is currently at the leading and internationally advanced level in China.The researchers' new task is to overcome technical difficulties and upgrade materials. For example, for the next 10 years and 15 years, develop a new generation of SOI materials, and move from 3D SOI materials to 2D SOI materials to further improve their performance.
Focus on Integrated circuit industry
On the circuit of the IC industry, China is catching up, and other countries are continuing to move forward. Di Zengfeng said that if it is difficult to close the gap, it is difficult for researchers to stay around the clock. Technical innovation, find the "fast lane", "If you use SOI materials instead of ordinary silicon-based materials, maybe we can have a chance to change lanes."
In his view, the core Technology is very important, and in key research areas, the ability to "self-supply" needs to be increased. Over the years, he has shifted his research focus from the very basic research to some applied research combined with national industrial needs.
He also provoked new tasks in scientific management. After more than a year in management positions, he said that as a scientific researcher, he has certain advantages in doing scientific research management. "On the one hand, I know how scientists think about problems and what they need. On the other hand, I understand what the country needs from research institutes. .
What he is doing now is to help researchers manage their projects, find their research and innovation points, demonstrate their scientific research advantages, and let more people participate in cooperation.
"Do half the time to do research, half of the time to do management; if you do a good job in scientific research, but also help other researchers in management, it is also very meaningful, and I have a different life experience. "Di Zengfeng said."
In the future, he hopes to continue to carry out innovative research work and better serve scientists.
While busy with scientific research, To do management, time has to be used in half. Di Zengfeng said that the only regret in these years is because the work is busy with less family care, I hope to take some time and spend more time with my family.