In the 2019 year, 5G has undoubtedly become the focus of the market, and the leader in the RF field Qorvo also defines this year as the 5G first year.

In 2016, Qorvo began as a special representative to join 3GPP to help develop key aspects of the next-generation 5G wireless communication standard.

For Qorvo, the company has mastered all of the RF core technologies, from wireless infrastructure to mobile devices to more core GaN technology, all of which All are committed to paving the way for 5G development. At the same time, as a participant in the 5G standard, the company also actively cooperates with operators and standards bodies to make the ideals come true.

Qorvo's business unit is divided into two parts, namely the Infrastructure and Defense Division and the Mobile Products Division. Both of these are related to 5G, but the mobile terminal market is slightly higher than the infrastructure. This is a market that Qorvo is very concerned about.

Recently, David Zhao, senior sales manager of Qorvo Mobile Division, delivered a speech titled "5G RF Challenge" at EDICON 2019. The speech, and accepted media interviews, explained how Qorvo, as a leading RF supplier, faced and solved the 5G challenge.
What challenges does 5G bring to RF?

David zhao said that 5G's goal is to use the same standard to meet eMBB (enhanced MobileBroadband) enhanced mobile broadband, mMTC (massive Machine Type Communications) large-scale Internet of Things and URLLC (Ultra-Reliable and Low Latency Communications) requires high-reliability and low-latency scenarios, which brings more new requirements to the technology.

From In general, no matter which generation of technology evolves, the challenge of RF is focused on the improvement of design complexity.More and more devices, higher requirements for size, power consumption, heat dissipation, etc. To this end, David summarized the following four specific challenges:

1, support for more bands: because from the familiar b 41 to n 41, n77 and n78, this requires support for more frequency bands;

2, different modulation methods: Because 5G focuses on high-speed connections, there will be new changes in modulation, and there are more requirements on power consumption. For example, in the 4G era, everyone is more concerned about ACPR. But in the 5G era, you need to focus on EVM (generally less than 1.5%);

3, signal routing options: choose 4G Anchor+5G data connection, or go directly to 5G, which will bring different challenges.

4, change in switching speed : Although there are not many changes in this aspect, SRS will also Bring new challenges.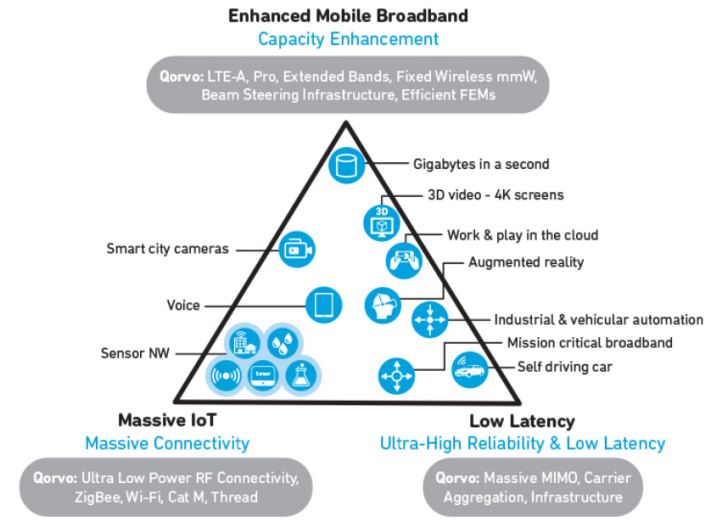 For the 5G requirements, Qorvo also has a solution corresponding to it. "We are the industry's leading provider of solutions from base stations to terminals, providing customers with the most comprehensive RF signal processing," said David.

How does Qorvo address these challenges?
For 5G mobile devices with Sub 6GHz applications, there needs to be a lot of Elements, and for millimeter waves, will face more complicated situations.

In response to various challenges, Qorvo's most important core weapon is craftsmanship and technology. David said, The biggest difference from other RF companies is Qorvo's unique in-house mode, which ensures that the company's process technology can be implemented on time.
As shown in the figure, these six technological advantages, combined with the product, are the advantages of Qorvo in the RF front end of mobile terminals.
BAW and SAW technologies: In order to suppress the influence of external interference signals on the sensitivity of the received signal of the terminal, and suppress the out-of-band interference of the RF signal of the transmitting channel , Filtering is essential. Currently SAW and BAW are more common and distinctive filters.

BAW filter has high Selectivity, low insertion loss and high power capacity make it ideal for demanding 3G, 4G and 5G applications.


According to Qorvo's suggestion, we can see that there are different filter product combinations depending on the frequency characteristics.

Qorvo's BAW Development Blueprint Plan
"If you want to achieve high performance on a medium to high frequency platform, BAW will be a more optimized option. "David said.
In a carrier aggregation application, a antenna is required to support multi-band simultaneous operation. Demand,This brings more challenges to the filter, and isolation loss and linearity are the most difficult to achieve. Antenna multiplexers and multiplexers based on the BAW process will be popular.

David said that the antenna multiplexer can share GPS, WiFi, IF, HF and UHF RF channels with limited handset size. One antenna saves the number of antennas. Among them, Qorvo's BAW, tuning and switch are integrated.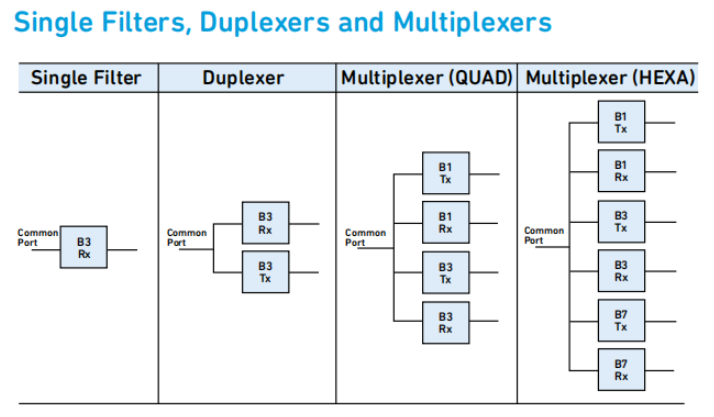 An increasingly integrated antenna multiplexer

SOI:For Qorvo, RF SOI technology is primarily used on antenna tuners and switches.

With the popularity of full-screen mobile phones, the antenna space is squeezed, which makes the antenna efficiency worse, which ultimately affects TRP (Total Radiated Power). It is the overall transmit power of the antenna. As the demand for 5G for MIMO and CA increases, the number of antennas needs to be more to cover a larger frequency band.

Qorvo's switch, tunable capacitors and impedance tuner for antenna control systems (ACS) offer the combination of improved radiation efficiency and reduced mismatch losses Technology that provides optimal antenna performance for single and multiple antenna implementations.
In 2019, Qorvo's third-generation SOI process will be available, and it can be seen that the process is evolving rapidly
With the standard The more complex and flexible antenna solutions are needed

GaAs:The GaAs process is Qorvo's mobile terminal PA Engine. 5G has higher linearity requirements for PA, so the GaAs process with higher withstand voltage is more popular. GaAs Die flip technology has been widely adopted by QRVO. Compared with traditional gallium arsenide wire bonding Package,The flip-chip process allows the module to be thinner and more consistent. With the flip-chip process of SOI, CMOS and SAW/BAW, smaller and more functional SiP RF modules are possible.
As shown, Qorvo is complete whether it is GaN or GaAs The blueprint, such as GaAs HBT7 process, GaAs inductors or the next generation of gallium arsenide pHEMT developed for millimeter wave, etc., will be realized one by one.

Advanced Packaging Technology:Because Qorvo is all its own factory, it is also possible to continuously develop the most innovative packaging technology. In fact, with the increasing demand for radio frequency from smart phones, including space, interference, and heat dissipation, mobile phone manufacturers face greater challenges. For this reason, Qorvo has launched RF Flex and RF Fusion brand products, RF Fusion can be reduced by integrating all major RFFE components in a single chip. The time required for the test is extremely simple, while minimizing RF and parasitic effects.

David In addition to the WLCSP, including the Double-sided BGA and other products that require further size, Qorvo is actively promoting.

"The high-end flagship machine More and more differentiation, such as the introduction of three-shot, four-shot and other elements, it is necessary to reduce all other parts including radio frequency, which is a great opportunity for System-in-Package products. Said David.
Complexing the future of integration

In the future, with the complexity of radio frequency, Qorvo can supply more and more products.

David also said that the current 5G standard is still not available. Completely determined, so for the RF front-end, only new standards and new standards are constantly being added to meet evolving standards and the needs of different operators. These uncertainties will develop in the industry chain and market demand. In the process of becoming clearer, it is gradually eliminated. "In order to promote the development of 5G terminals, we need to unite to build an open RF front-end ecosystem, including open ecosystems such as package compatibility and reference design support, which can promote the entire 5G. Customers and consumers will ultimately benefit from the development of the market and industry chain. Said David.