As AI and 5G get closer and closer to our lives, more and more questions are starting to receive more attention, such as the relationship between 5G and AI, and their future How will we change the way we live and produce, how will the development of the whole country be affected, etc. Recently, at the China Electronics and Information Industry Entrepreneur Summit in the same period of CITE2019, Lenovo, Qualcomm and Shangtang Technology and other senior officials addressed the above issues. They brought their own observations and thoughts.
Reviewing history, the development of China's electronic information industry can be roughly divided into three main stages: informationization, digitization and intelligence. Informatization has been the main feature of information systems and Internet popularization since the 1990s;Digitalization has been characterized by the rise of big data and cloud computing since 2010; intelligentization has been the main feature of Internet of Things, artificial intelligence and 5G acceleration applications since 2017. At the moment, we are in the stage of intelligence.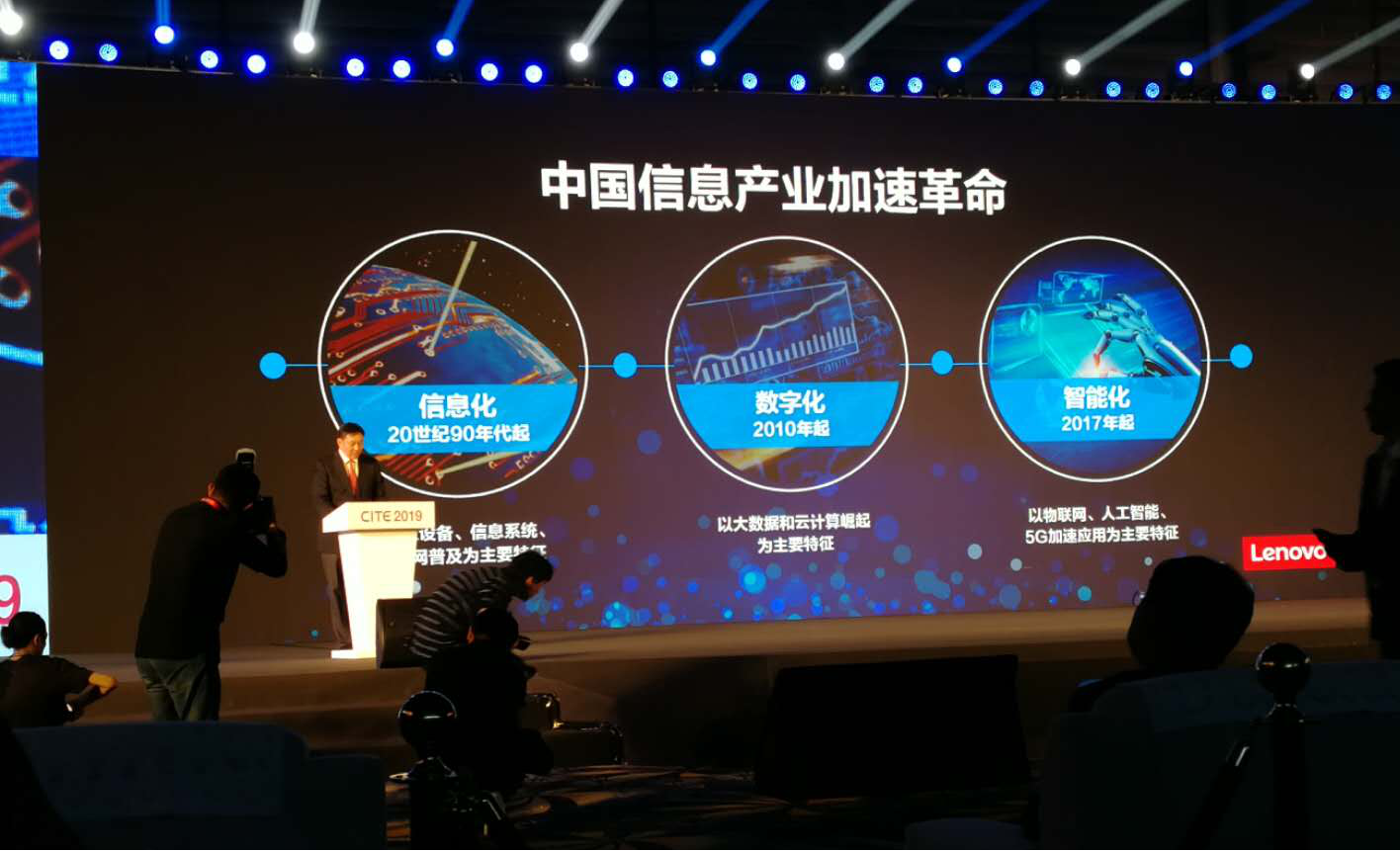 Liu Jun, executive vice president and president of Lenovo Group, believes that intelligent change will reshape the value of the entire country. From the perspective of society, social and public spheres such as education and medical care will be greatly improved by the promotion of intelligent technology. In recent years, Shenzhen has been vigorously promoting the construction of intelligent transportation, using the big data algorithm to simulate the traffic flow, improve the efficiency of road traffic, and make the citizens travel safer and more convenient.
From the perspective of the industry,By strengthening the combination of artificial intelligence and manufacturing, retail, and finance industries, the overall efficiency of the industry can be enhanced, and a large number of innovative business models can be promoted. In the case of smart retail, which is driven by the Internet and big data, it greatly optimizes information flow, logistics and cash flow, and provides users with personalized services. Compared with traditional retail, smart retail not only reduces operating costs, And optimize the user experience.
For enterprises, intelligent change can help companies improve efficiency and improve services in production, service, and office. Take the customer service center of the enterprise as an example. In the past, the artificial customer service has the problems of low efficiency and difficult to guarantee the quality of service. Nowadays, the emergence of intelligent robots with 24 hours of hard work, continuous learning and updating their own database reduces the labor cost of enterprises. And improved problem solving efficiency and customer satisfaction. For the individual, intelligent time is around us, making us more convenient to live, work and travel. Intelligent change not only profoundly affects all aspects of society, but for China, this will be a historic opportunity.
Liu Jun believes that with the leading edge in data computing power,China is expected to be a leader in intelligent change. In terms of data, China has the largest Internet user community in the world. It is estimated that by 2020, the amount of data generated by China will reach 80 Gbs, accounting for 1/5 of the total global data. By 2022, the total number of IoT terminals in China will reach 4.4 billion. In terms of computing power, China has the world's leading super-computing system and super-computing manufacturing capabilities. The scale and number of data centers are the fastest in the world, and China's personal computing devices are also ranked first in the world. In terms of algorithms, there are many research institutes and advanced enterprises in China that are researching algorithms, developing big data, and reaching international advanced levels in many fields.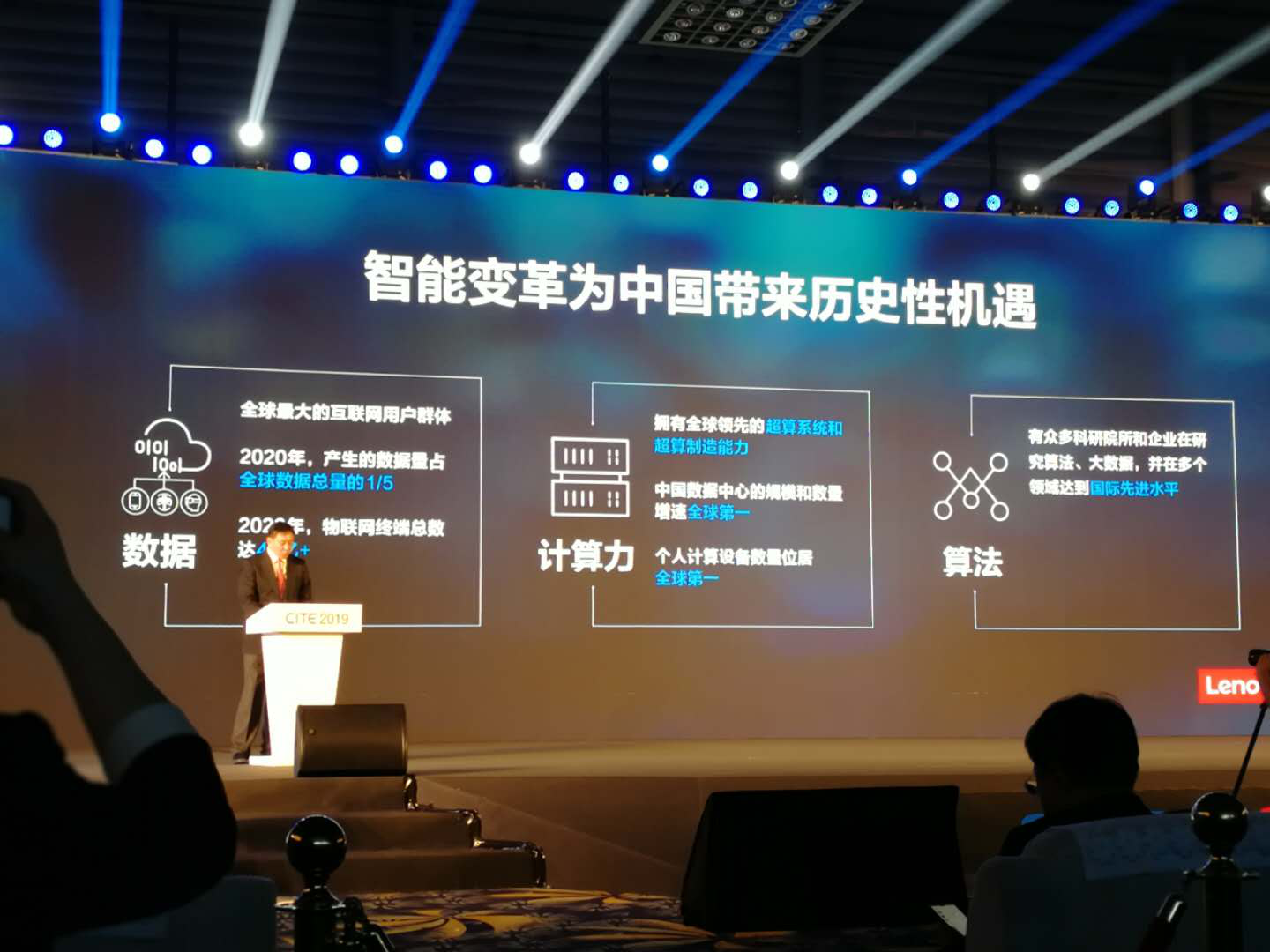 According to Liu Jun, Lenovo began to lay out a few years ago.And last year, Lenovo Group, the new vision is positioned to become the promoter and enabler of intelligent change. From the aspects of data accumulation, computing power and algorithms, Lenovo has inherent advantages. From the data point of view, Lenovo has reached 500 million smart devices in the world, and it also gathers the largest domestic manufacturing enterprise data. From the point of view of computing power, Lenovo also has leading super-computing construction capabilities. In the list of the world's top 500, it still ranks first in the world with 140 sets of shares. Because of this ability, Lenovo can provide intelligent solutions and services for all walks of life; from the perspective of algorithms, currently Lenovo's smart solutions in the vertical industry have covered more than 20 areas of manufacturing and transportation.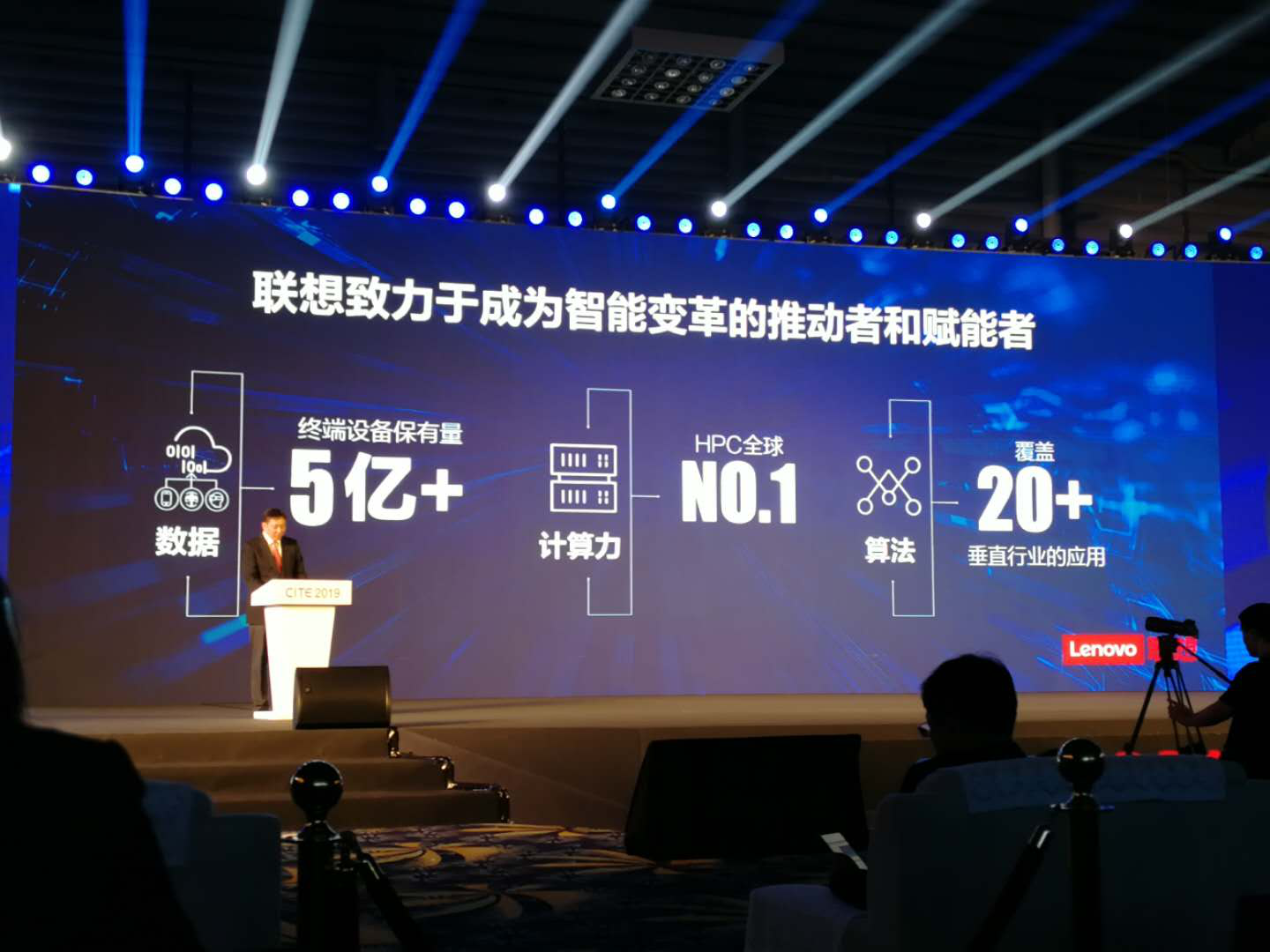 What has Lenovo done in the past few years? First of all, it is committed to its own intelligent transformation, in the research and development of supply chain management, manufacturing, marketing and after-sales service, etc. Reengineering, such as building intelligent predictive robots, using big data and deep learning to predict supply chains, the accuracy of such a speculation is now more than manual.
In personalized production, Lenovo It can also quickly retrieve thousands of computer components to form tens of thousands of personalized configurations. For example, the familiar ThinkPad computer has now personalized customization rate of over 70%. In terms of smart retail, Lenovo also created The unmanned business without cashiers, no queues, and 0.2 meters can complete the user experience and efficiency improvement. In terms of AI intelligent services, Lenovo now has more than 50% of user questions answered by customer service robots. Not only improves the accuracy, but also greatly improves the communication efficiency and user experience.
Based on its own intelligent transformation results and practices, Lenovo currently Things around intelligent, industry wisdom, intelligence service three business direction,Empowering products, programs and services to various industries, in the hope of promoting the development of Smart China.
Intelligent IoT will not only apply intelligent products to all PCs, tablets, mobile phones, but also a series of smart products such as smart patch panels, smart routers and smart door locks. These products are embedded with artificial intelligence technology, and also equipped with an open cloud platform of Lenovo. These products will be contextualized to sense user needs and provide related services. In the smart industry, we are currently working on smart transportation, smart manufacturing, smart healthcare, smart retail and smart education to promote the solution of smart solutions in the industry.
In terms of social services, Lenovo mainly creates value for society, enterprises and industries in three major directions: industry big data solutions, intelligent IT operations and smart city solutions. At present, Lenovo has already reached hundreds of Chinese customers, including circuit manufacturing, internet, financial education and other industries. Smart services have rapidly grown into the new pillar of Lenovo's business. Lenovo plans to sell more than $1 billion in sales in China within two years.
In the past 40 years, mobile communication technology has been basically every ten years or so.Global mobile technology will be upgraded. In the first generation of mobile communication, we transmitted analog voice signals; in the second generation, we introduced digital voice; in the third generation CDMA system, we began to enter the mobile Internet era; 4GLTE made us more A new era of mobile internet.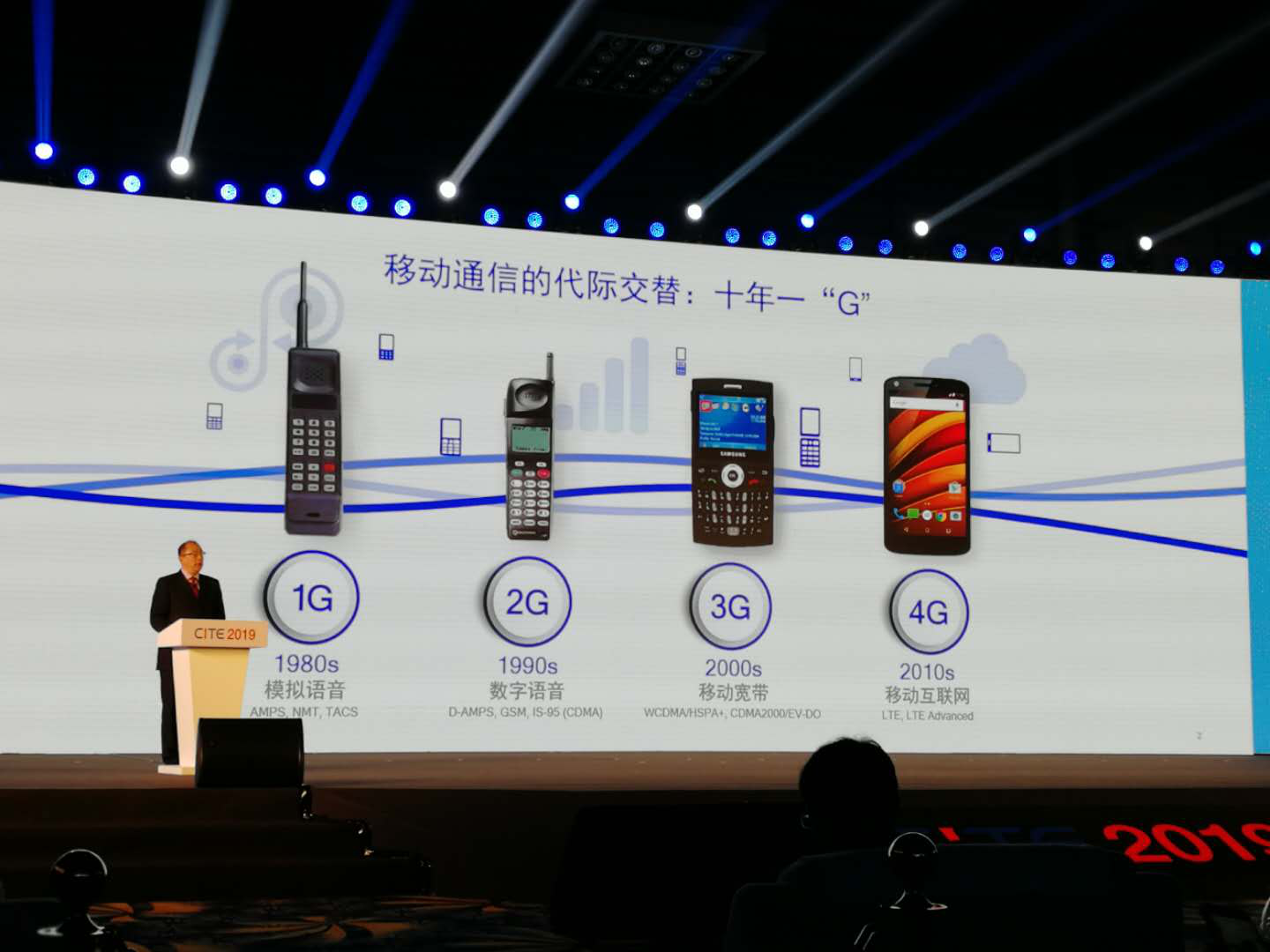 and every new technology deployment will bring an innovative leap to the entire ecosystem, drive economic development, and ultimately Let consumers and the whole society benefit. Entering the 5G era, mobile technology will break through again, from serving only people, people, and information.Developed into a unified connectivity architecture and innovation platform for all things.
5G has three technical features, large bandwidth, low latency, and massive connectivity. Corresponding to these three technical features, there are different types of services. 5G can not only improve the current mobile bandwidth service, but also move Network expansion, support for massive terminal services, and connectivity to new industries with better performance, higher efficiency, and lower cost.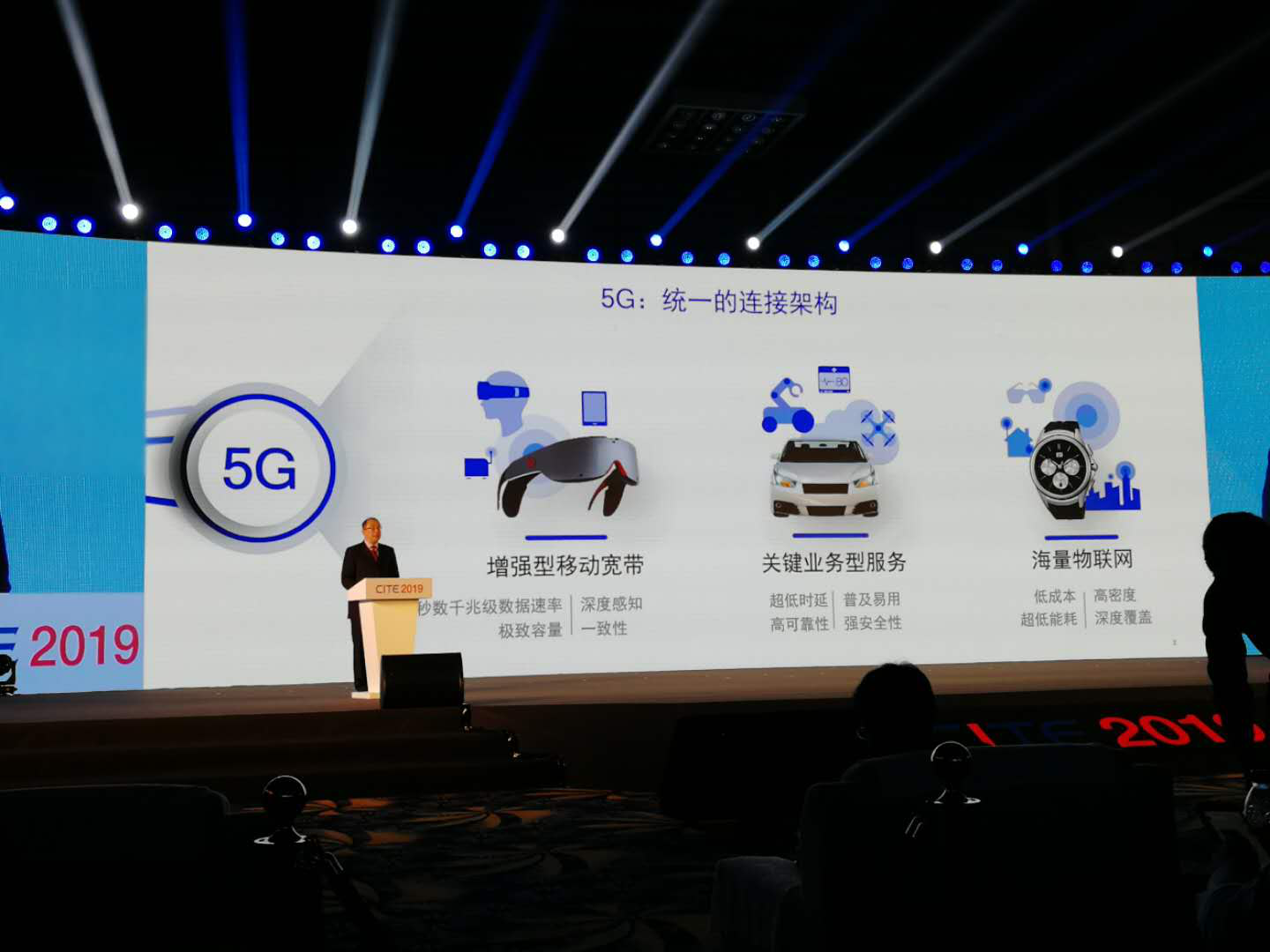 Mr. Park, chairman of Qualcomm China, said that 5G will redefine many industries that provide Internet services, from retail to Education, from transportation to entertainment and other industries.Just as the far-reaching impact of electricity and the Internet, the revolution driven by the popularity of wireless connectivity brought by 5G will lead the industrial and information ages, bringing about earth-shaking changes in human production and life.
With reference to the development of the past 4G, we can examine the significant opportunities brought about by 5G commercials. Looking back at the first year of 4G commercial use, there were only four operators and three mobile terminal equipment vendors in the world. At that time, they were more focused on the North American market. Today, there are more than 20 mobile operators and more than 20 terminal equipment manufacturers in the world, and we are fully committed to the 5G global release, creating this year's global 5G service, bringing you a decade of development and opportunities.
At this year's World Mobile Communications Conference, Chinese manufacturers and mainstream global manufacturers simultaneously released 5G commercial handsets, which have entered the foreign carrier and released the initial sequence. In the process of 2G follow-up, 3G breakthrough, and 4G synchronization, China's communications industry has ushered in an important opportunity to change lanes in the 5G era.
As the first year of 5G development in 2019, the major countries in the world are accelerating the layout and development of 5G. China is also accelerating the commercial pace of 5G.The development of 5G-related industries will be an important means of stimulating economic growth and promoting high-quality economic development.
After more than a decade, Qualcomm has started 5G forward-looking research, and has carried out a lot of work on 5G basic technology research and development, standard construction, end-to-end system prototypes and test equipment. . And successfully released multiple prototype test platforms, released the world's first 5G modem.
At the same time, Qualcomm conducts a large number of interoperability tests with operators and equipment manufacturers around the world. In January 2018, Qualcomm and China's mobile phone manufacturers OPPO, vivo, Xiaomi, ZTE, Lenovo, etc., announced the implementation of the 5G leadership plan, stepping up the pace, leading the global development of 5G.
In 2017, Qualcomm and the industry's 20 or so operators, terminal manufacturers, and system manufacturers are working together to make 5G commercial time one year ahead of 2020, to 2019. With the joint efforts of the industry, the goal of achieving 5G commercial globally in 2019 has basically been achieved.
The implementation of 5G is inseparable from the support of the chip. As early as October 2016,Qualcomm has already launched the world's first 5G baseband chip, and the Qualcomm Xiaolong X505G is tuned to the demodulator. In October 2018, Qualcomm introduced the world's first commercial mobile platform, Qualcomm Snapdragon 855, which fully supports multi-gigabit 5G connectivity with industry-leading artificial intelligence and immersive extended reality.
There are currently more than 30 5G terminal designs using Snapdragon 855, and other companies around the world, including Xiaomi, OPPO, Yijia, ZTE, Nubia, etc., have officially released or demonstrated the adoption of Snapdragon. 855 mobile phone, 5G smart terminal. In February 2019, Qualcomm released the second generation 5G baseband chip Snapdragon X555G modem.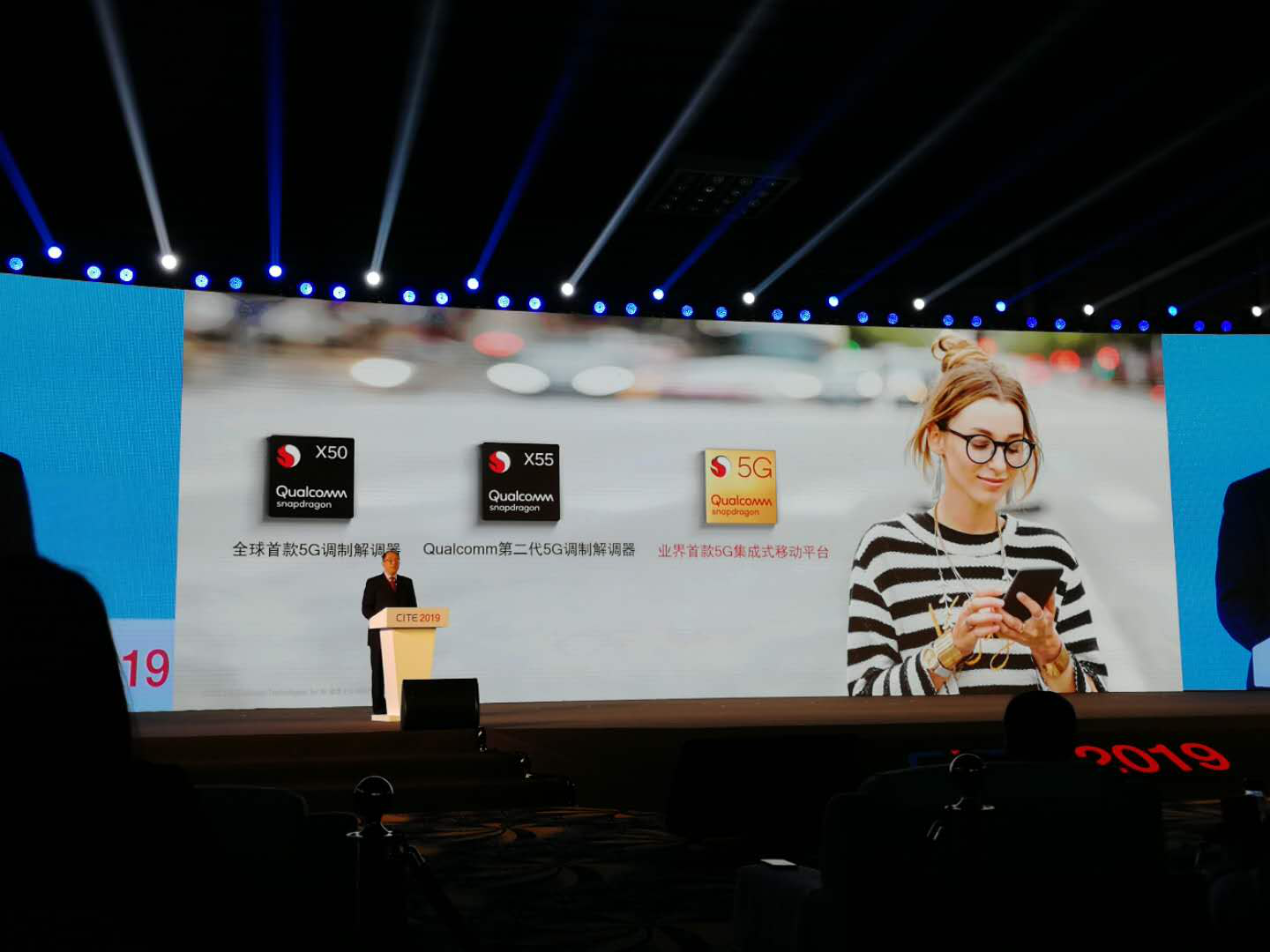 The implementation of 5G is not driven by a single company, but the progress of the entire mobile communication ecosystem partners through cooperation, Qualcomm is working with many mobile ecosystems in China Partners cooperate.
Meng Pu also introduced that China Mobile, China Telecom, and China Unicom's three major telecom operators have chosen to use Qualcomm's chipset, test platform, reference design and 5G network experiments. In addition, Qualcomm has completed logical interoperability experiments with telecom equipment manufacturers such as Huawei, ZTE, and Datang Telecom. In the 4G era, Chinese smartphones have occupied a very good market position in the world in 2017. Among the top ten mobile phone terminal manufacturers, there are seven Chinese manufacturers, and Chinese manufacturers occupy 80% of the domestic market, and their share in the international market is constantly expanding.
In the 5G era, with the help of the past Accumulation, China's smart terminal industry can better explore the international market. If China issues 5G licenses in a timely manner this year, operators begin network deployment, Qualcomm believes this will be domestic To provide greater support,It provides a very good foundation for China's global development in the 5G field.
As a new generation of communication technology, 5G will drive the global economic transformation and bring profound impact to the global economy. According to the 5G economic report released by the market research organization IHS, by 2035, as the economic benefits of 5G can be realized globally, 5G will create products and services of up to 12.3 trillion US dollars.
By 2035, China's 5G value chain will create $984 billion in output and create 9.5 million jobs. The role of 5G in promoting economic and social development is not limited to mobile phones and base station construction. 5G network, with its technical features supporting massive connectivity, will be deeply integrated with ultra-high-definition video, VR/AR, consumer and cloud computing, smart home, smart city, car networking, Internet of Things, intelligent manufacturing and other industries. Bring new growth to opportunities.
Qualcomm has a lot of good technology in both the traditional terminal industry and emerging automotive, smart manufacturing, internet of things, artificial intelligence and more. In China, Qualcomm sees itself as part of the Chinese industry.We will continue to cooperate with each other in the industry with open, inclusive and integrated attitudes, mutual trust, common progress, and embrace new opportunities in the 5G era.
At the summit, Mr. Xu Li, the co-founder of Shangtang Technology Co., Ltd., delivered a keynote speech, "5G opens the new era of AI", he said that AI and 5G are complementary, AI technology Bringing 5G applications, 5G can help AI expand into new phases.
Mr. Xu Li believes that we are in a very good era, and the development of artificial intelligence technology has accelerated our definition and exploration of the future. Throughout the past 200 years, we have been able to divide each era into various stages, each of which uses technology as the leading force to promote the development of the industry. In recent times, including the era of electrical appliances and the age of information technology, technology has brought about productivity innovation that transcends everyone's imagination.
There is such an academic insight from the last century Since the 1950s, the economy has a cycle of existence. In all economic development processes, there is a hidden cycle. For example, a cycle of 50 years is developing. It can be seen that the latest round of economic cycles has arrived. That is to say, the last technology dividend has been consumed and has been seamlessly integrated into our daily life, so a new cycle will come again.
We can see from the above figure These technologies are cyclical and can lead to large-scale productivity steps.
Mr. Xu Li believes that the development of 5G provides new opportunities and challenges for artificial intelligence. Three points, one is the interaction between people and machines. The new interaction mode is a core driving force for the development of the Internet, such as the emergence of the iPhone.Promoted the technology of multi-touch screen, this technology has promoted a variety of new applications, so this augmented reality like 5G is actually able to promote the development of the industry, and now a large part of the growth reality The core technology is done with AI and big data. For example, let's talk about a positioning in a scene. Now the core part of the lead is all data-driven. You can see that the industry can drive forward speed very quickly.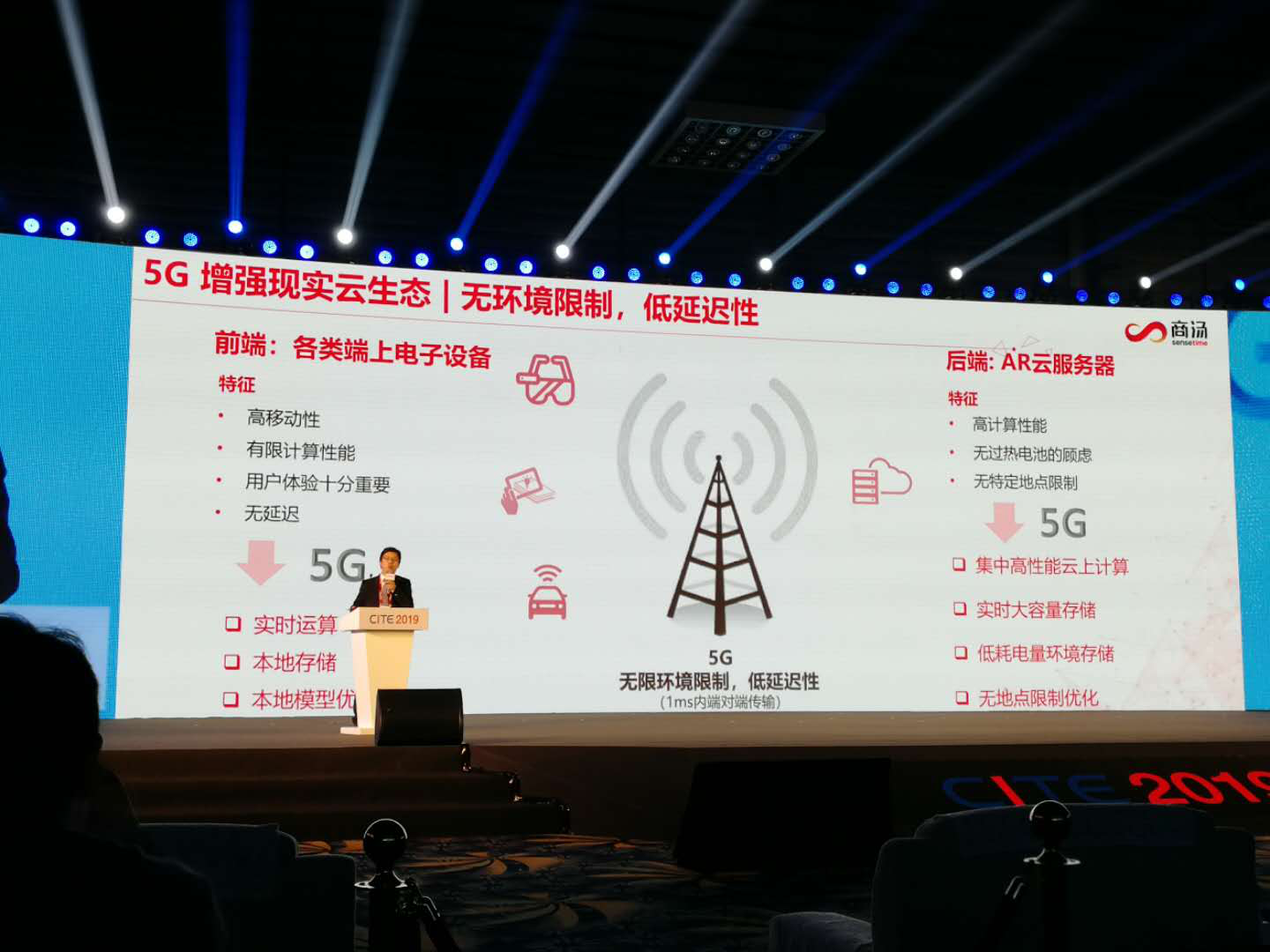 The second is that 5G can bring a lot of AGC content transmission, large capacity, high bandwidth, this part will be the future society. a hot spot,Because this part of AI can generate content in addition to AI, it can also inject new ideas into it, and it can be used as a sharing technology. In this process, it can partially replace actors, and people only need to be directors. It is able to generate better work.
The third is related to business. For example, in the case of a human face, the face may be the best one ID authentication abstracted by a person. Apple faceID is such a technology, but 5G can use the face as a A single ID card to get all the online and offline scenes completely open. When you do anything, you can go to the store and pay as much as you like.
At present, many things that must be circulated must be connected to the mobile phone. In the future 5G experience, various terminals may be connectable, such as various screens on the road. This part is to virtualize everything, connect all the online and offline things with a unified cloud and end, and form an ecosystem of connecting big data, such as customer identification, precise marketing, intelligent assistant, to the final The payment of the face, as well as the points system, including how much subway you have left today, and what you buy at a convenience store, can all be structured and digitized.
The core of the above mentioned points is that in all places and terminals, it is necessary to be able to use technology to open up this information.
What does Shangtang Technology do in this? Mr. Xu Li introduced from three parts. In the first part, Shangtang Technology mainly carries a core power of the visual part. Shangtang Technology also carried the task of building a new generation of artificial intelligence open platform for intelligent vision last year. Shang Tang Technology empowers three types of vision cameras. The first type is mobile terminal projects, such as mobile phone cameras, mobile car cameras, and the AI behind them. The second type is an immovable camera.That is, smart city-level cameras, such as cameras on the road, cameras in buildings, cameras at the door, and such cameras, Shangtang Technology is doing efficiency and cost reduction, and can optimize its efficiency. The third type of camera is a camera that looks down from the sky, such as a camera for remote sensing satellite data. This camera can bring the ability to provide a total and total analysis from the city level.
In the second part, Shangtang Technology hopes to get through the whole process of production, education and research. Last year, the company established a global alliance of artificial intelligence in Shanghai, which can bring together universities from all over the world. The famous schools MIT, the schools in Singapore, the schools in Hong Kong, the schools in Dawan District, and the famous schools such as Tsinghua University, Fudan University, Shanghai Jiaotong University, etc., Shang Tang Technology has connected them together to form a global alliance of artificial intelligence, hoping to Open up academic exchanges and use academics to promote the iteration and development of the industry.
In the third part, what Shangtang Technology hopes to do is to use AI to promote the development of basic education. Programming education is ahead of China in the West. China has not paid enough attention to it before, but programming education is a productivity tool.It has been shown early in the West, such as BillGates, SteveJobs, or Zuckerberg, who had mastered programming skills in his freshman year.
In China, programming education does not have a systematic and accessible space and channel. Previously, programming education was a programmatic deterministic thinking, that is to say, all things, after setting the rules, give the data, and then output the results. Now the artificial intelligence of this wave of big data is actually the given data, the output rules, that is, it has a lot of statistical, that is, the distribution of the data is different, and the final rules are different.
Only when our next generation truly realized that this is another mode of thinking that can bring another extraordinary productivity tool, they can enrich more new solutions. , give birth to more problem-solving skills.