The so-called "urban traffic hyper-brain" refers to a "based on online traffic simulation technology", with big data, artificial intelligence and online traffic simulation as the core elements It integrates management and service into an integrated traffic management platform, which can make top-level management decisions and comprehensively manage urban traffic.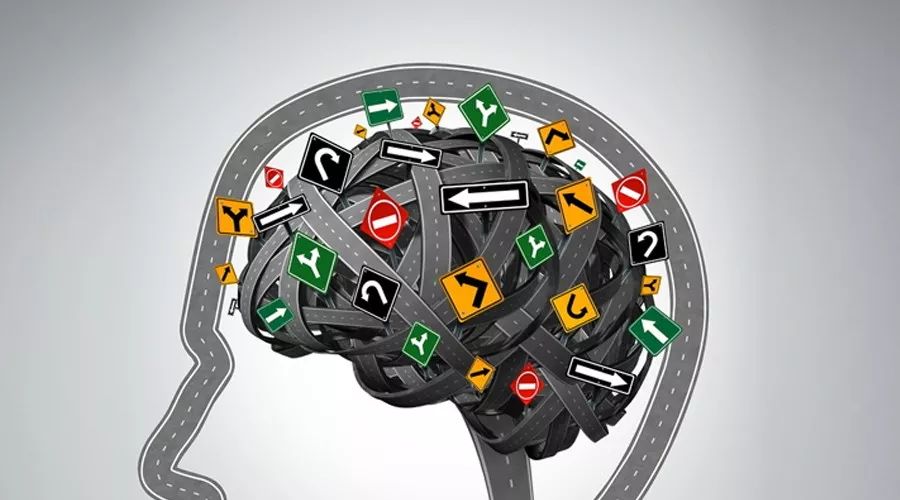 Friends in the city meet together, but when someone is late, the most likely reason is this one: traffic jam. It seems that everyone can say a lot of their own cities, "blocking", traffic jams become a topic that everyone can resonate. For this problem, professionals have proposed many solutions.For example, networked toll ETC systems, urban road electronic police, car navigation, signal control systems, urban bus system vehicle arrival/time broadcast, parking lot RFID identification, and driverless. However, although these technologies have their own advantages and functions, they often have their own politics. They still need a considerable degree of manpower supervision, and they cannot fundamentally alleviate traffic congestion.
In order to truly improve the status quo of urban traffic and build a new smart city, it is necessary to realize the intelligent transformation of traffic management, so that the transportation system can achieve independent thinking, independent decision-making and Smart operation. This is the purpose of Tsinghua University's "Future Traffic" research team and Kejin Yinghua Group to create the "Urban Traffic Super Brain" platform. The so-called "urban traffic hyper-brain" refers to an integrated traffic management platform based on "online traffic simulation technology", with big data, artificial intelligence and online traffic simulation as the core elements, integrating management and service.It consists of four systems: big data operation system, evaluation and evaluation system, expert decision-making system and management control system. The platform can realize real-time monitoring of traffic situation, online comprehensive management of traffic business, convenient transportation information service, traffic signal optimization control, regional traffic organization and traffic guidance science development, as well as traffic emergency forecasting and impact range estimation.
Driving behavior analysis
When exploring the causes of urban traffic problems, the effects of individual differences and overall traffic volume cannot be ignored. For example, when dealing with traffic congestion problems, it is necessary to consider the impact of mutual cooperation among traffic participants on the efficiency of traffic flow operation, while in traffic safety, the behavior of traffic participants needs to be identified and distinguished.Because of human participation, the transportation system becomes a complex system with strong nonlinearity, dynamics and randomness.
Similarly, the intelligent "city traffic super brain" platform construction process, the most important variable is the traffic participants (driver / pedestrian / bicycle Etc.) Behavior and interaction patterns, so the research team first conducted a study of driving behavior.
In order to collect driver's driving behavior data, the research team has enabled two real vehicle data collection platforms: one is the self-established traffic environment comprehensive inspection vehicle, two It is an instrumented inspection vehicle (Instrumented Vehicles, IV) established by the University of Southampton. The data collected from more than 100 drivers of different genders, age levels, driving age, etc., testing time of nearly a thousand hours, a total of millions of measured data, covering all types of urban traffic conditions. Innovatively established for the problem that driving behavior data cannot be directly used for identification.Driving style/driving state/driving behavior& quoquo; driving behavior analysis model, and proposed a dynamic kernel fuzzy C-means clustering algorithm to mine and quantify driving style.
In the process of simulating pedestrian and bicycle behavior, the research team used video surveillance platform to record static and dynamic information of pedestrians, motor vehicles and non-motor vehicles, and proposed real-time video space-time analysis. Algorithm for extracting pedestrian/bicycle behavioral trajectories. In addition, for the interaction between pedestrians and vehicles, a large number of behavior data of pedestrian crossings are collected, and a simulation model of bicycle conflict avoidance behavior at signal-free intersections is proposed, and the presence/absence of signal control and presence/absence of zebra crossing are verified.
Online Traffic Simulation
With massive traffic big data, you need to be able to truly reflect Microscopic traffic simulation model of traffic participant behavior. However, the traditional offline simulation technology is difficult to directly apply to urban traffic management decision-making. For this reason, the research team has created a city online dynamic traffic simulation that can be used for online traffic management and control through the "data-model-simulation decision". Platform FLOWSIM.
The urban dynamic traffic simulation platform FLOWSIM includes a sensing layer, a fusion layer, an application layer and a presentation layer. Due to the variety of ways to obtain traffic data, such as video obtained by video surveillance, semi-structured/unstructured data of pictures, streaming data obtained by geomagnetic circle, GPS data of taxis, etc., data structure, dimension, Density and characteristics are different, making docking with real-time traffic data a technical difficulty.The research team used the space-time storage technology based on big data to cross-domain fusion of these data through deep neural network technology to obtain standardized data that can be identified and used by the online traffic simulation platform.
The fusion layer and the application layer are based on the topological decomposition method, and the city is adaptively divided into small areas, which are separately calculated in different nodes of the computer cluster and communicated through the nodes. Combine the results. The presentation layer reproduces the traffic scene in two-dimensional and three-dimensional forms, and establishes a dynamic traffic simulation platform that conforms to China's national conditions.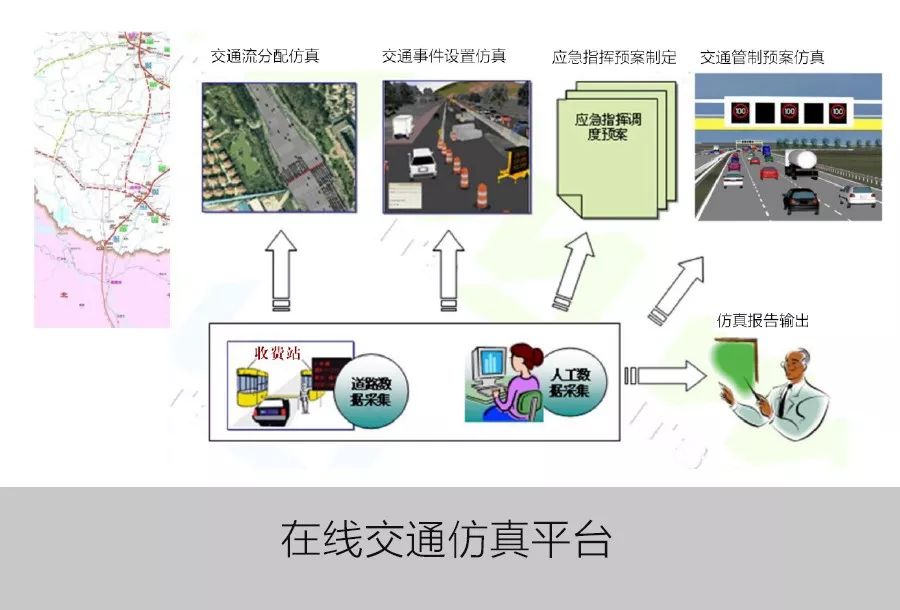 Multiple innovations improve decision making efficiency
City Traffic Super Brain can conduct real-time assessment of traffic conditions based on urban traffic big data, provide real-time online expert decision-making plan, and make top-level management decisions to comprehensively manage urban traffic. In urban traffic, various types of Decision-making needs to respond quickly, and traditional traffic simulation needs to traverse different solutions when solving traffic problems, so it has serious hysteresis. At this time, deep learning technology of computer neural network can play a role. Using deep learning technology , "Urban traffic super brain" can quickly find traffic assignments from the system based on past processing experience, saving computing time by more than 90%.
In severe weather conditions such as heavy rain, some road sections may fail or intersections may fail. For this situation, traffic simulation based on complete road network simulation will not be applicable, and node failure and dynamic road network reconstruction method will be replaced. The research team used this method to simulate the traffic, so that the simulation platform can accurately reconstruct the real-time motion. State road network, real simulation traffic network. The online traffic distribution plan developed by this,In the case of weather disasters, the city's car travel time can be reduced by 50%.
In order to improve the ability of transportation and brains, the research team has carried out many other technological innovations. For example, a hierarchical data evaluation method based on traffic big data is proposed, which combines dynamic data sources such as floating cars and taxis with GIS static data for fast map matching and data fusion, and actual operation status of road networks and roads of various grades. Functional hierarchy is assessed and evaluated. Different from the traditional static data analysis road network function level, the road network status and functional status online evaluation method supports online evaluation of urban road network traffic status, which is channelization and signal optimization, regional directed traffic guidance and traffic safety management. Premise and foundation.
Signals and intersections are also the focus of the research team. The research team proposed a real-time control method for road network signals based on deep enhanced network. With the support of the urban dynamic traffic simulation platform, the goal of maximizing the use of intersection road space per unit time isDynamically optimize the road channelization system and the intersection signal lights to maximize the road capacity, and then realize the urban transportation system's "time and space optimization" and the intelligent upgrade of the road network dispatch.
In terms of traffic dynamic allocation and orientation induction method, the research team proposed a regional traffic dynamic allocation calculation method to form regional traffic flow dynamics based on the dynamic traffic simulation platform. Deployment plan. The scheme is based on the maximum traffic capacity and traffic balance of the road segment. Traffic induction is based on dynamic OD, specific destination and different types of vehicles, and finally realizes the balanced distribution of traffic flow of the road network, thereby shortening the average travel time of urban traffic.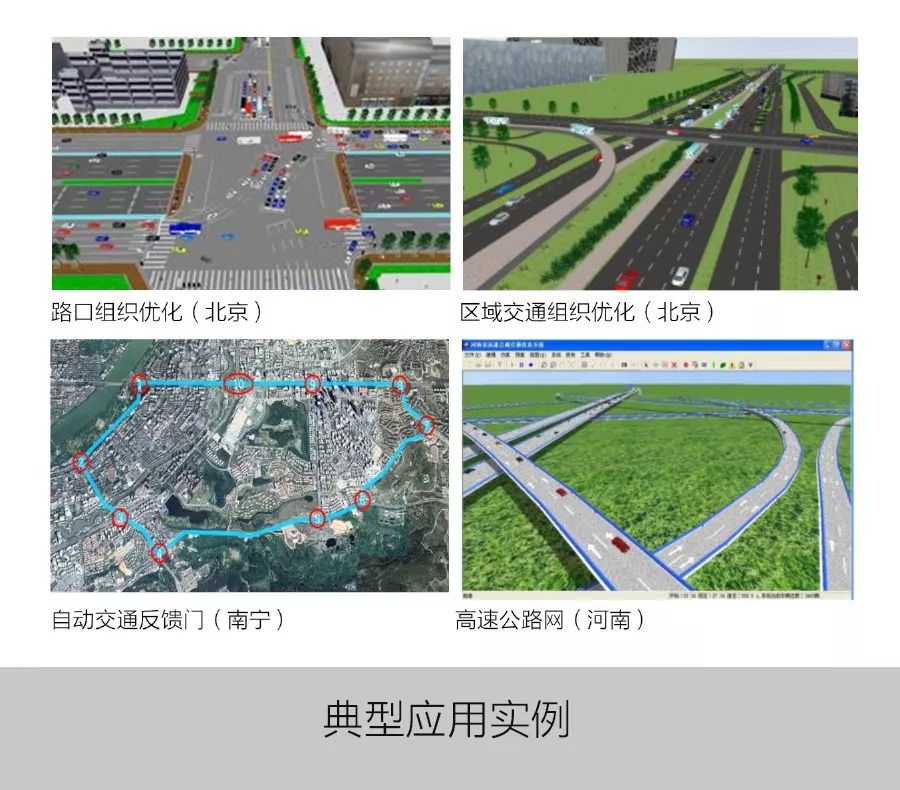 In addition,The research team also proposed innovative solutions involving traffic safety and anomalous event perception. For example, the warning method and system for occupying an emergency parking zone based on video surveillance can be "pre-awareness of traffic anomaly events, traffic organization and grooming technology". At present, through a series of innovative technologies, the research team has obtained 7 invention patents related to transportation super brain.
━━━━
Research team's research maximizes and exploits existing The potential of road facilities will not only reduce traffic bottlenecks and congested road sections, but also completely eliminate nodes and sections with low utilization of facilities and waste of resources, guide the balanced distribution of traffic flow, and improve the operational efficiency and service level of regional road networks. So far, the research team has promoted the related technologies of "Urban Transportation Super Brain" research technology to Beijing, Tianjin, Hangzhou, Nanning and other cities with various service types such as technology development, technical services, and technical consultation. Travelers are reduced by an average of 4% to 15% of travel time.
Currently, urban traffic super brain has become the core of future traffic management control for manned/unmanned mixed traffic systems and full driverless systems. Next, the research team will add the driving behavior of the driverless car to the simulation, and further extend the function of "Urban Traffic Super Brain" to make it the core of the city's future traffic management control, and maximize the development of urban traffic. Potential to help build smart cities.