Last week, IC Insights announced the revenue and ranking of the top 10 analog chip vendors in the world in 2018.
Because of the high threshold of analog chips in the IC industry, its products and technologies are difficult to replicate. Therefore, the gross profit margins of related manufacturers are considerable. Among the top global vendors, gross margins below 40% are relatively poor performance, and high is close to 70%.
In this context, the stronger the stronger, the greater the rule of the larger Evergrande. According to IC Insights, the top 10 IC vendors accounted for 60% of global sales of analog chips in 2018, reaching $36.1 billion, compared with $32.3 billion in 2017 and $28.4 billion in 2016, showing an upward trend year by year. . Of the top 10 vendors, 5 have revenue growth rates of 10% or more, and two have negative growth rates.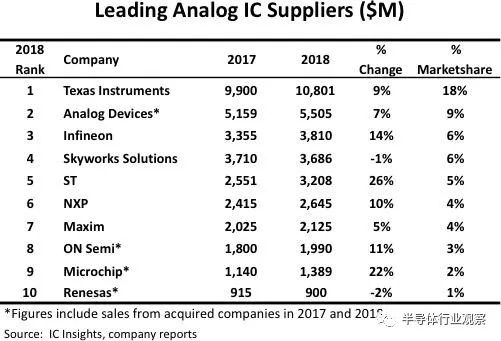 Figure 1: Ranking in 2018 (Source: IC Insights)
From the 2017 rankings shown in Figure 2 There are 8 companies with revenue growth rates exceeding 10%, and only one with negative growth. The decline in the semiconductor industry in the past year has also spread to the field of analog chips, but compared to memory and logic circuits, the impact of the analog chip market is relatively small.
Figure 2: 2017 rankings (Source: IC Insights)
Overlord is still strong
Obviously, whether it is revenue or market share, Texas Instruments< /u>(ti) is far ahead of other vendors, firmly occupying the position of the dominant player in the analog chip industry.
With With $10.8 billion in sales and 18% market share, Texas Instruments has once again become a leader in the analog IC industry in 2018. In 2017, TI's analog IC market share was also 18%, and in 2016 it was 17%. very stable.
In 2018, TI's simulated sales increased by $900 million year-on-year, almost double the number of second-placed adi Tenth place<10>Renesas 10 times. In 2017, the company's simulated sales increased by $1.4 billion year-on-year, with a growth rate of 16%, more than double the number of ADI companies ranked second.
TI's simulated revenue in 2018 accounted for 78% of IC's $13.9 billion in sales, and 72% of its total semiconductor revenue of $14.9 billion.
According to IDC, the growth rate of the industrial electronics and automotive electronics market will lead to around 2020, with annual growth rates expected to be 4% and 8% respectively. Exceeding the average annual growth rate of 2% in the chip market.
TI's main source of revenue in 2018 is industrial and automotive electronics.Industrial applications accounted for 36% of its 2018 revenue, automotive applications accounted for 20%, and personal electronics accounted for 23%. TI said that these three areas are highly profitable, providing them with the best opportunities for future growth.
TI was one of the first companies to produce analog chips on 300mm wafers. The company has said that manufacturing ICs on 300mm wafers can increase the cost advantage of each unpackaged chip by 40% compared to using 200mm wafers. In 2017, more than half of TI's analog revenue was generated using 300mm wafers.
In summary, TI's so eye-catching performance is largely due to the characteristics of the analog chip itself and its market, namely the difference in analog chips. Significant, long life cycle.
The technology of analog ICs comes from collecting information that captures the real world, because of the complexity and heterogeneity of the real world,Product designs used to capture this feature also have complex heterogeneity characteristics. The difference in analog chips is very significant, and it is especially important in the company's IP. At the same time, the analog chip emphasizes high signal-to-noise ratio, low power consumption, high reliability and stability, long life cycle and low price, which is significantly different from digital chips (digital chips follow Moore's Law, usually 1~) After 2 years, it is facing the elimination of higher process products).
In addition, from the supply side, the supply of research capabilities in the analog chip industry is limited. In the design process, human resources are difficult to copy. Analog chip design processes rely more on experience than digital chips, and rely less on computer models. There are more trial and error properties in the design process. Good engineers have more than 10 years of experience. Therefore, analog chip companies have built strong barriers to entry.
Furthermore, product differentiation and limited supply of research capabilities have reduced market competition, while the decentralized nature of the end market continues to magnify the strategic advantages of the analog chip industry.The terminal market for analog chips is very fragmented, with tens of thousands of product lines and a reduced number of orders. Industry leaders have an advantage in horizontal categories, and it is difficult for new entrants to compete effectively. The market competition pattern is stable, and the leader has the right to speak on the pricing power.
ADI is equally strong
the second-ranked ADI company, analog IC in 2018 Sales increased by 7% to $5.5 billion. ADI's revenue figures include sales of LINEARtechnology, and Analog Devices acquired Linear in the first quarter of 2017 for $15.8 billion in cash and stock. Currently, ADI's largest customer is Apple, and revenue from Apple in 2017 and 2016 accounted for 14% and 12% of its total revenue, respectively.
Analog's analog IC sales in 2017 increased by 14% to $4.3 billion.
Infineon goes beyond Skyworks
Infineon ranks One rises to the third, and the third in 2017 is Skyworks, which was swapped in 2018. In 2018, Infineon's analog product sales increased by 14% to $3.8 billion, accounting for 6% of the market. Infineon continues to expand its business in automotive (43% of sales in 2018) and power management (31% of sales in 2018). Industrial power control (17%) and chip cards and security (9%) complement other major end applications.
Reviewing Skyworks, a 16% year-on-year increase in 2017, and a sharp drop of -1% in 2018, as the company is one of the top three RF chip suppliers in the world. It is also Apple's main supplier, and it seems that it has taken a lot of business from several other companies.
ST is eye-catching
STMicroelectronics Sales of analog products increased by 26% compared to 2017, the strongest among the top ten vendors, with revenues of $3.2 billion in 2018 (market share of 5%). It is reported that most of ST's analog IC sales targets are motion control (motor drive IC and high voltage drive IC), automation (smart power switch) and energy management (power line communication IC) applications.
Nip counterattack
2017, NXP (NXP) is the only negative growth supplier among the top 10, and its analog IC sales fell by -1% year-on-year.Partly attributable to the sale of its standard products business to the China Investors Alliance, which consists of Jianguang Capital and Wise Road CaPItal. The $2.75 billion deal was completed in February 2017. The standard product business was renamed to Nexperia.
In 2018, the company's analog IC sales increased 10% year-on-year, as the world's leading automotive semiconductor and mcu Vendors, during the year, NXP's main growth area was automotive applications, and its analog chips were an essential component in emerging LiDAR, vehicle networks and<5>5G systems.
Three-literal Anson US
2018, Analog Semiconductor's analog sales increased by 11% to $2 billion, accounting for 3% of the market.After a 35% increase in simulated sales in 2017 and a 16% increase in 2016, Anson's sales achieved strong growth for three consecutive years, in part because the company acquired Fairchild Semiconductor in September 2016, in part because of its A large number of power management products are sold in the automotive market, especially for active safety, powertrain, body electronics and lighting applications.
History Review
Looking at the revenue and rankings of 2017 and 2018, I can't help but think of it The performance of analog chip manufacturers in previous years.
In 2014, the global analog IC market underperformed, facing the pressure of the global PC market demand being replaced by tablets, WINTEL The camp began to blew the counterattack horn, coupled with emerging applications such as wearables, optical lenses, wireless charging, and the Internet of Things (IoT), the 2015 simulation The IC market performed well.
So, in 2014, how is the analog IC market cake divided?
The McClean report released by IC Insights in 2015 shows that Texas Instruments has once again become the global leader in analog ICs in 2014 with a market share of 18%. Its revenue growth and market share are comparable to the company's performance in 2017.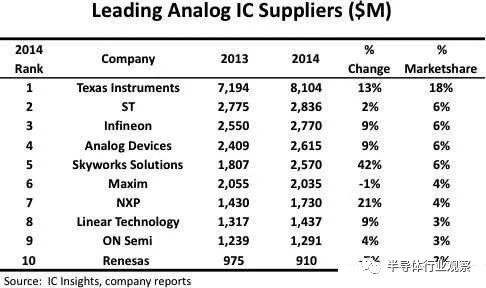 Figure 3: Rankings for 2014 (Source: IC Insights)
By comparing the rankings of analog chip manufacturers in 2014 and 2018, we found that the position and market performance of Texas Instruments is unchanged, and in terms of ranking and market share, Infineon, Maxim, NXP, The vendors of ON Semiconductor and Renesas have not changed much.
Anson and Renesas have only experienced significant changes in revenue growth rates, by ON Semiconductor in 2014 4% became 11% in 2018, mainly due to its acquisition in the past two years, and Anson acquired Confid Semiconductor to strengthen its position in the analog market.
MIcrochip ranked in the top 10, mainly because ADI and Linear were combined into one, and MICROCHIP came in.< /p>
The companies that have changed significantly are the three companies ADI, ST and Skyworks.
By acquiring Linear, ADI was ranked 4th in 2014, and in 2017 it rose to the second place in the industry, closely following TI.
Skyworks rose from the 5th in 2014 to the 3rd in 2017, and slightly dropped to 4th in 2018, but the market share did not change much. It has been between 6% and 7%. However, there is a huge change in the data, that is, the growth rate of revenue. In 2014, this figure was 42%, in 2017 it fell to 16%, and in 2018 it fell to -1%. It seems that this traditional RF IC manufacturer has encountered no small challenges in recent years.
As one of the top three global RF chips, Skyworks has a high level of RF chip dependence on mobile phones, and 40% of its revenue comes from the iPhone. Followed by China's Huawei, Oppo and Vivo. Although its 2017 performance is good,However, the impact of the downturn in the mobile phone market has been lagging behind and was reflected in 2018.
The growth rate of Skyworks revenue dropped from 42% in 2014 to -1% in 2018, largely due to the weakening of the mobile phone market in the last two years. Impact. In this way, Skyworks, which is highly dependent on mobile phones, does not know whether it will adjust its strategy in the next few years to meet market challenges. Perhaps the high-performance application market such as industry and automobile is the focus of its future development.
Looking at ST below, the company's ranking dropped from the 2nd in 2014 to the 5th in 2017. The reason should be multifaceted. First of all, ADI acquired Linear, the volume increased dramatically, from the original 4th to the 2nd, naturally squeezed ST; and from the performance point of view, ST's market share decreased from 6% in 2014 to 5% in 2018 (actually not very big), but its revenue growth rate is excellent, from 2% in 2014 to 26% in 2018.
In such a good change in revenue growth, the rankings have dropped significantly. Mainly due to fierce competition. In fact, the gap between the 2nd and 5th vendors is very small, the market share is basically one percentage point lower, and the relevant performance is slightly changed, the ranking will be very different. This also shows from one side that the competition in the analog chip market is becoming less and less inferior to the storage and logic chip market. Especially in the case of the weak performance of the largest mobile phone market, many difficulties have been raised for major analog manufacturers.
Texas Instruments is clearly the best in dealing with the market. The company was originally a traditional leader in the analog IC industry. In the early years, it saw the sluggish mobile phone business, and decisively abandoned the digital chip business of related processors, focusing on the best analog ICs, and constantly strengthening the high. Development of performance application products. It has been at the forefront of the market and has always been in the dominance of the analog chip market.
Conclusion
In the future, the analog chip market will have the following characteristics: more advanced technology, higher integration, high-voltage and ultra-high voltage chips will be mass-produced, Digital-to-analog mixing will become more popular, and silicon-based analog chips will enter the market in small quantities.
It can be seen that numbers and simulations will be further integrated, and It can make the analog chip achieve higher integration. Therefore, the future analog IC market will be a manufacturer proficient in mixed-signal technology.