From last Friday, there was such a news that many parents who were very concerned about vision problems began to struggle, that is "French health authorities say LEDs cause permanent damage to the retina" news.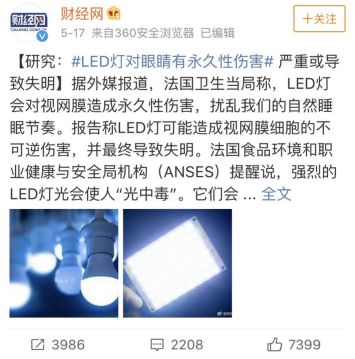 This sounds really scary, so there are quite a few students who come to consult. Then let's take a look today, what the French health authorities, ANSES report, said.
The full name of ANSES is:"Agence nationale de sécurité sanitAIre de l'alimentation, de l'environnement et du travail" translated by the National Food Safety, Environment and Labor Bureau. On May 14th, the official website of ANSES issued this press release on LED research.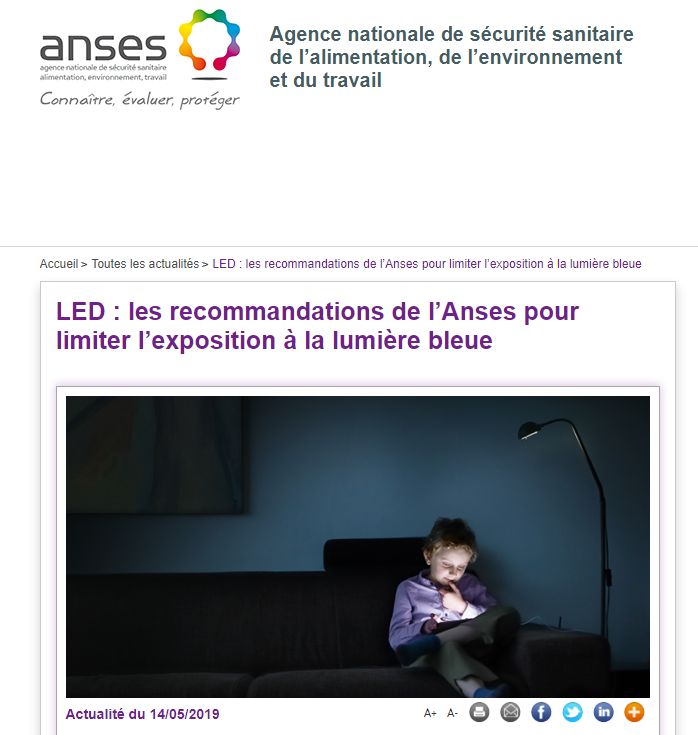 Because of environmental advantages, more and more countries have banned energy consumption such as incandescent bulbs The product,And LED has become the world's most important artificial light source. But for any new product, we need to be cautious, constantly researching what risks it may have and setting safer standards. This is a scientific attitude towards technological progress, and it has also made our era a life and health case in human history.
For the potential risks of LED light sources, relevant research institutions in various countries are constantly researching and mining. France ANSES will also regularly analyze and summarize the global research on the risk of LEDs, give advice to the French people using LEDs, and regulate and demand LED products sold in France.
This news is that ANSES updated its risk assessment for LED light sources (last time in 2010), summarizing relevant research for about 10 years. What did the report say? Is the LED really so terrible?
LED's concern is mainly due to the blue light. Different lights have different spectra because of different light-emitting principles. We used to test "eye-protection lamps" in the previous year. In that article, we used to Comparing the spectrum of different lamps: Compared with traditional incandescent lamps, the proportion of blue light of LED is higher, which is the part that everyone is worried about and the focus of this report of ANSES.
* Although many of the models in this article are too mad, but the test methods and principles can still be used for reference when purchasing, you can read through the search method at the end of the text.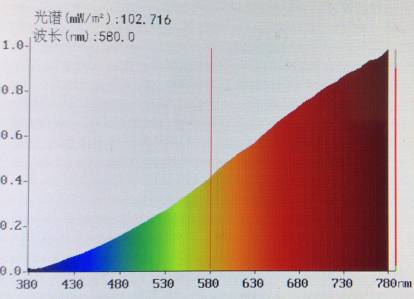 ▲ incandescent spectrum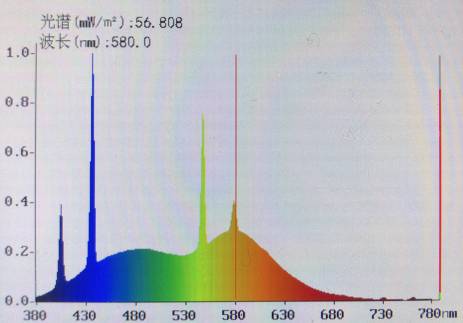 ▲lightlight spectrum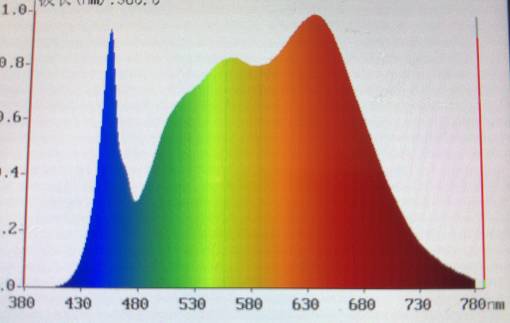 ▲LED Table Lamp Spectrum
The official name of Blu-ray is called high-energy visible light because Among all visible light, blue-violet light has the highest energy, so this part belongs to the most worrying part of visible light that may affect the human body. The reason why the visible light is focused is because the sun has ultraviolet light in addition to visible light. The infrared line, in which the ultraviolet energy is higher, has a clear risk of injury to the body, which is why we must pay attention to sun protection and wear sunglasses in the summer.
And we always see that we never care about sun protection, I feel that wearing sunglasses is more than one move, but the one who is scared to death when I hear blue light is the documentation of the idiom "Inverted".
Blu-ray is natural in the sun The existence, so our life can not really "isolated Blu-ray", otherwise we will not see white. We have previously tested the spectrum of sunlight (left) with LED lights (middle) and mobile phone screen (right), it is obvious Seeing that the ratio of high-energy blue-violet light with a wavelength of less than 430 nm in sunlight is higher than that of LEDs and mobile phone screens.

So the point is not to isolate the blue light, but to isolate the unreasonable use of light, or the risk of blue light caused by unqualified lighting, mainly from Two aspects:
1, the risk of damage to the retina caused by high-intensity blue light exceeding the allowable value;
2, the long-term exposure to blue light at night affects the circadian clock.
This is also the core content of the French ANSES report.
Because the report is in French, we have translated a few core content from the newsletter on the ANSES website:
ANSES believes that the risk of LED Blu-ray is:
Short-term intense blue light or long-term blue light exposure can cause eye damage, leading to decreased vision and increased age-related risk of macular degeneration after age.
A nighttime exposure to a strong blue light source can disturb the biological clock and affect sleep. ANSES reminds you to pay attention to this problem when using a computer, mobile phone or tablet at night.
The light intensity of some LED lights varies greatly, and the illumination is uneven. This can cause discomfort to some specific sensitive people, such as headaches and visual fatigue for children and adolescents. .
But not all LED lights can cause eye damage. In the ANSES report, the risks of different LED sources are clearly differentiated.
The warm white LED home lights are not particularly different from traditional lighting, and the risk of light damage is low."
On the other hand, LED lights such as flashlights, car headlights, building lights and toys can emit high levels of blue light. Light, which belongs to the second risk group, is not covered by the current regulations of the European Union.
About how to reduce the negative effects of LED blue light on the human body, ANSES gives some suggestions, such as:
It is recommended to use a warm white (color temperature below 3000K) lamp as the home lighting;
in order to prevent the circadian confusion, it is recommended user,Especially for children, reduce the use of mobile phones, tablets, computers before going to bed;
Specify and limit the biosafety risks of LED light sources in flashlights, toys, etc.; /p>
There is also a limit on the brightness of the motor vehicle headlights to ensure road safety.
At the same time, ANSES also gave advice on home lighting. It is recommended to use the European Photobiosafety Certification IEC/EN-62471 at home, which belongs to the 0th or 1st. Lighting products for risk groups.
In fact, this standard is not very difficult for most reading lamps in China. We searched some of the current mainstream reading lights/learning lights in China. Many of the products on the page indicate that they passed the EN-62471 test certification. If your home's lights are also passed, it belongs to the category recommended in this French ANSE report, no need to be afraid.
Take two figures for example: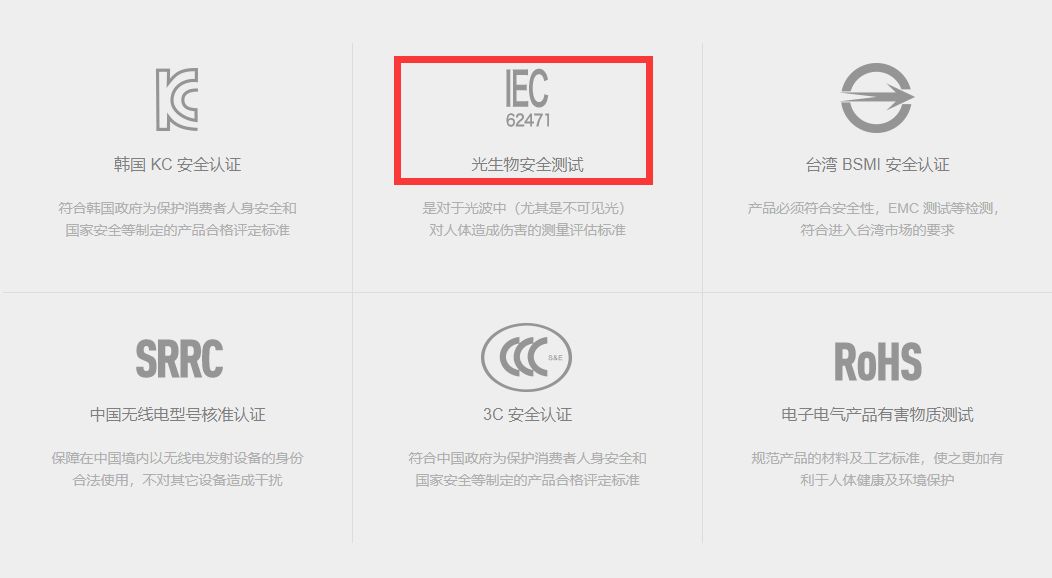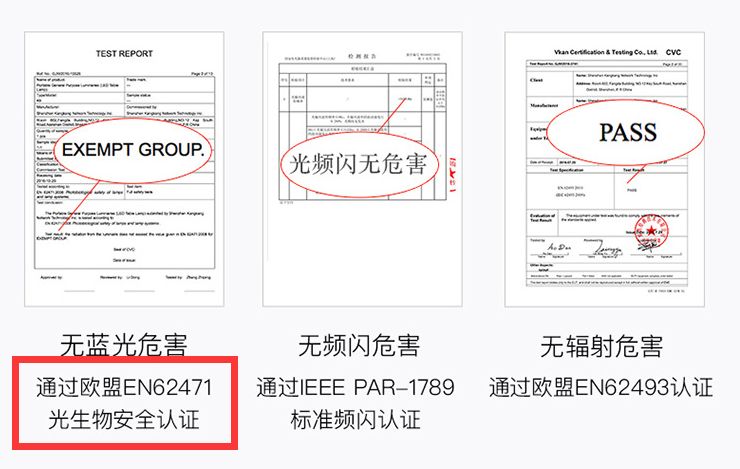 < /p>
But there is one more point to note: because most European children don't read books at home in the evening, so Europe needs to use the "warm white" below 3000K, which is actually a yellow light to reduce the impact on sleep. But for The Chinese children doing homework, 3000K is slightly yellowish, and 3000-4000K is a suitable range. If the color temperature of the lamp is adjustable, it is of course more flexible.
On the other hand, we are concerned about anti-blue contact lenses, glasses or screen products that are currently available to the general public. This organization emphasizes that these products are very resistant to the blue light of the retina. Inconsistent. And their role in ensuring the law of the biological clock has not been confirmed."
This also verified our last year about anti-blue glasses And anti-Blu-ray screen film test and conclusion: it is not recommended to waste money to buy and use.
This ANSES report is not what many media have said, or what many readers are worried about : It's not that the LED lights are terrible. Its core purpose is to suggest further specification of some LED lights (flashlights, toys, car headlights, etc.) that were not previously regulated by France. For lamps that already comply with EU standards, especially for warm white (less than 3000K), ANSES believes that it is safe for the human body to worry about.
But "Blu-ray" has become a huge market demand, especially in China. Any panic associated with Blu-ray can have enormous commercial value. So this report is interpreted as LED home lights are terrible, it is not difficult to understand.
But whether you are worried about Blu-ray, whether you choose to buy any lighting products.Don't forget the most critical point: the key to protecting your vision is always to develop good eye habits, reduce long-term close reading, and ensure outdoor activities.